South Chalybeate Wood
Details for this wood
Guide price: £100,000 - Freehold
Size: About 10½ acres

Location: Kilndown - Rogers Rough Road, near Lamberhurst, Kent
OS Landranger: 188
Grid ref: TQ 704342
Nearest post code: TN17 2RP
Contact: Bob Liles
Phone: 07793 140 010
Email: bob@forests.co.uk
Email to a friend
Description   To be found in the centre of a large native oak and chestnut woodland Chalybeate Wood is a delight of nature. The wide areas of bluebells and wood anemone found in these woods can be enjoyed in spring. Bird song at this time of year is particularly strong here. High forest, mostly wide-spreading oaks, occupy the high ground while deep ghylls cutting through the wood in a northerly direction provide home to the rare Atlantic bryophytes which are one of the features protected and cited in the SSSI (site of special scientific interest). Click here for info on the SSSI
Guidance for the management for these valuable habitats has been provided by Natural England and can be access by clicking here, Management recommendations from Natural England.  The woodland here hosts a good community of woodland owners, cooperating and enjoying the help and assistance from Natural England to manage their woods.
Either side of the ghyll and feeding the stream flowing in the ghyll are areas of soft ground where chalybeate spring waters emerge, these are rich in iron and other minerals, a description can be read by clicking here  Chalybeate.
Sporting rights   are included
Access    from Rogers Rough Road along a hard track to an access gate, then over a stream and up to the start of the woods. There is a right of way for all purposes and at all times along this track with shared maintenance according to use made.
Wide-spreading oaks with coppice below, a stream running in the ghyll to the west with a chalybeate spring running for most of the year. Bluebells and wood anemone spread over the clear open ground making their display even more dramatic.
Boundaries are: edge of the tracks on the east and south sides, the track centre on the western side.
Our Maps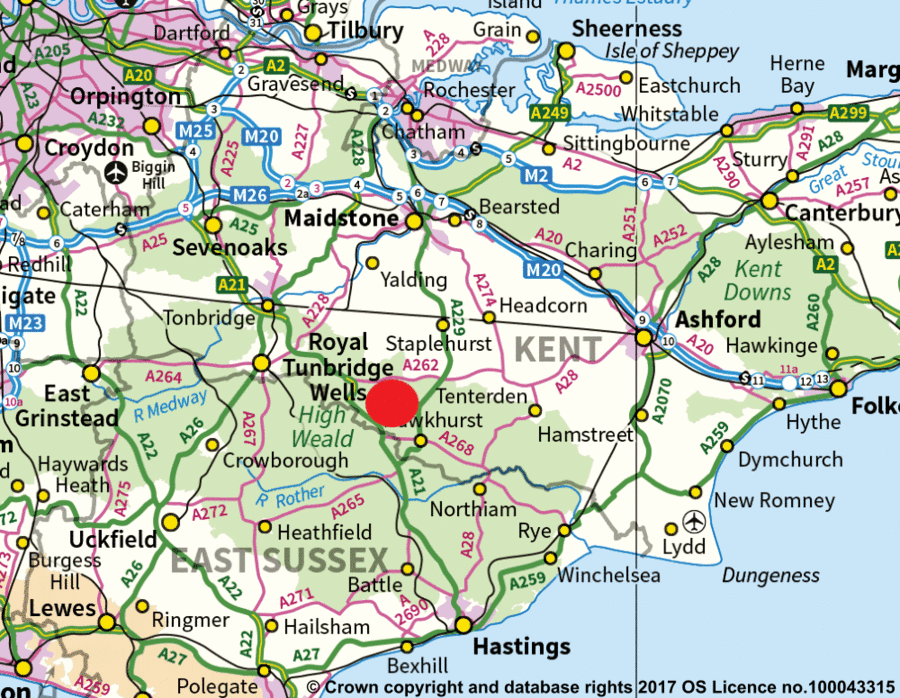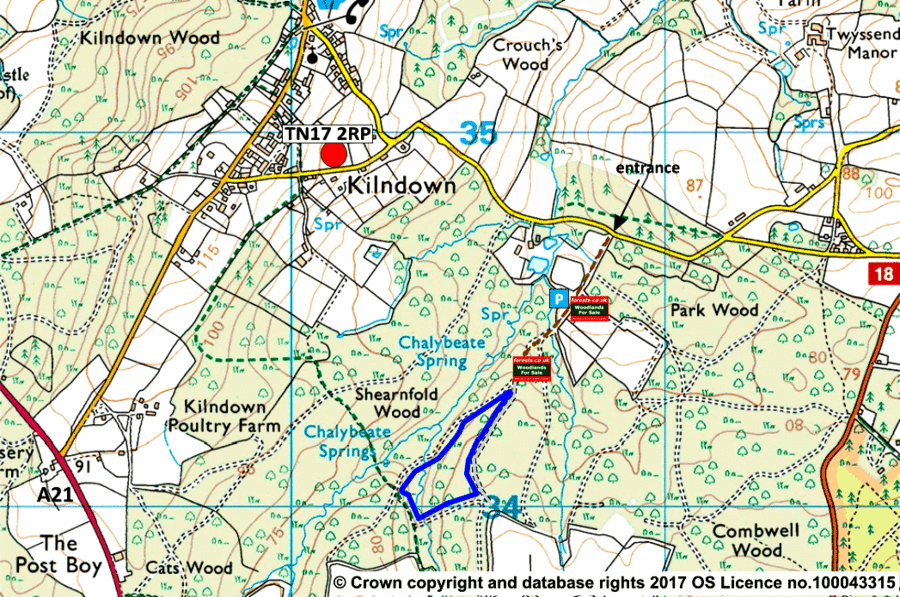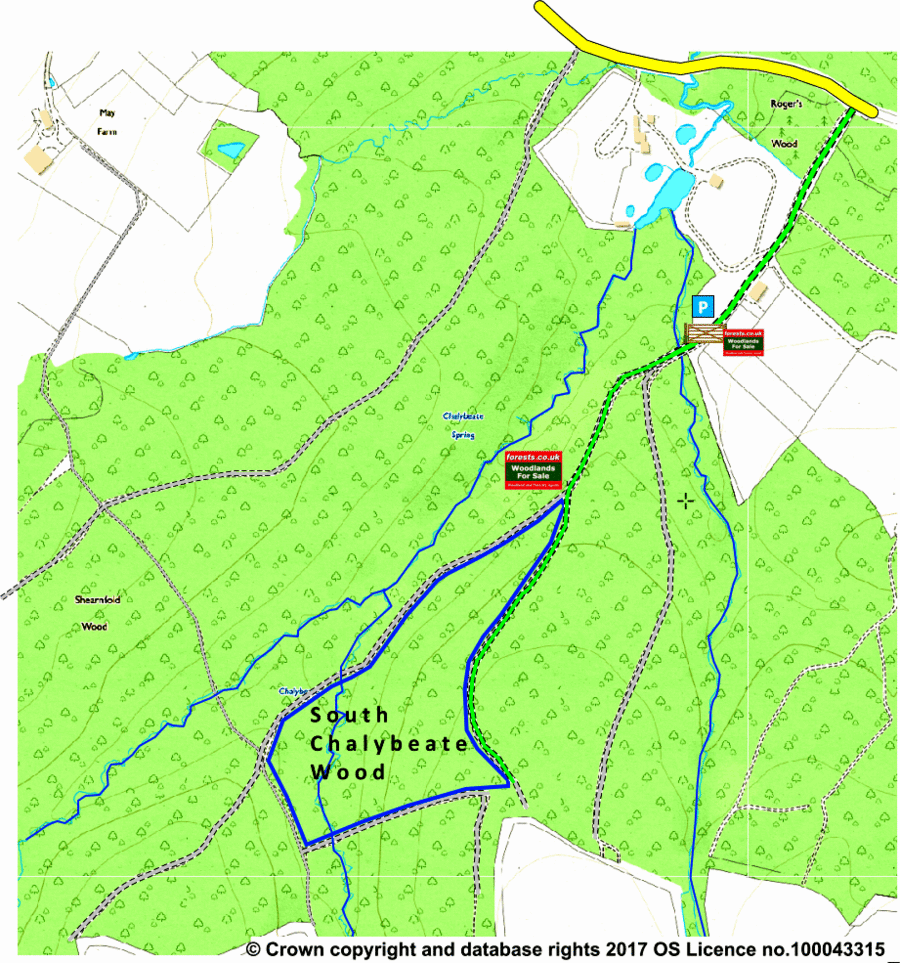 Directions
South Chalybeate Wood is just east of Kilndown and about 10 miles south of Tunbridge Wells.
Click here for Bing Maps Directions enter your own postcode, entrance coordinates are already entered, and click on the "Directions" box. 
From Rogers Rough Road pass through the open double gates, along the stone track and stop at the 'for sale' sign. Park here to one side. Either climb the gate or before viewing ring (07793 140010)  for the combination padlock number.
Walk up the track, over the stream, keeping right and at the next 'for sale' sign you have reached the start of the woods.  South Chalybeate is to the left of this track.
Satnav: the postcode TN17 2RP is for the point shown by the red dot on the location maps. Coordinates for satnav are:  N51.086231, E0.438091
Interested in this woodland? Get in touch with us:
Contact Bob Liles on 07793 140 010 or use the form below