Hyes Copse - Sold
Details for this wood
Guide price: £119,000 - Freehold
Size: About 12 acres

Location: By Rudgwick, Horsham, West Sussex
OS Landranger: 187
Grid ref: TQ 112 337
Nearest post code: RH13 0RA
Contact: Richard Scholfield
Phone: 07811 818 277
Email: [email protected]
Email to a friend
Description
Truly one of the best of woodlands, containing mature broadleaves, a small plantation of Scots pine, regeneration following conifer removal and new planting.  The broadleaves form the basis of the wood and are designated as ancient and semi-natural (ASNW), the Scots pine - one of our native conifers - is a worthy contrast with year round colour associated with its own assemblage of woodland birds. They are long-lived. The relatively new planting, now beyond 'pole' stage is in a vigorous growth stage and its development can be seen year by year. The natural regeneration - now considered as ASNW - is mostly silver birch and will provide an ideal source of firewood as it is thinned to create more space.
Set well away from any road, surrounded by large area of woodland it is sheltered and private.
Boundaries
Along the northside there is an ancient woodbank, the east there is a ditch, fence and bank against the pasture, along the south and west sides the boundary is the trackside.
Viewing
There is a combination lock on the forest gate. Please phone Bob Liles, saying who you are, on 07793 140010 to obtain the code. Please take a copy of these particulars with you. Please do not park by the gate but take your vehicle into the wood.
Maps
To download and print a larger map click here
Note In some browsers to see the OS map in Bing Maps under Location Maps below you will need to zoom out several stages
Our Maps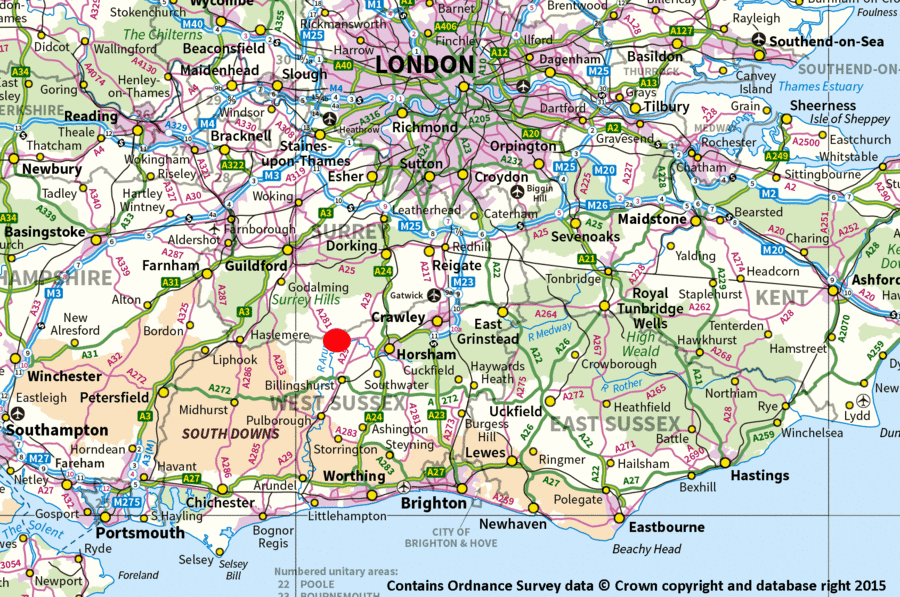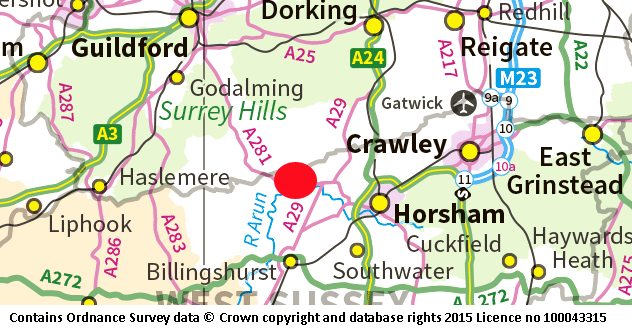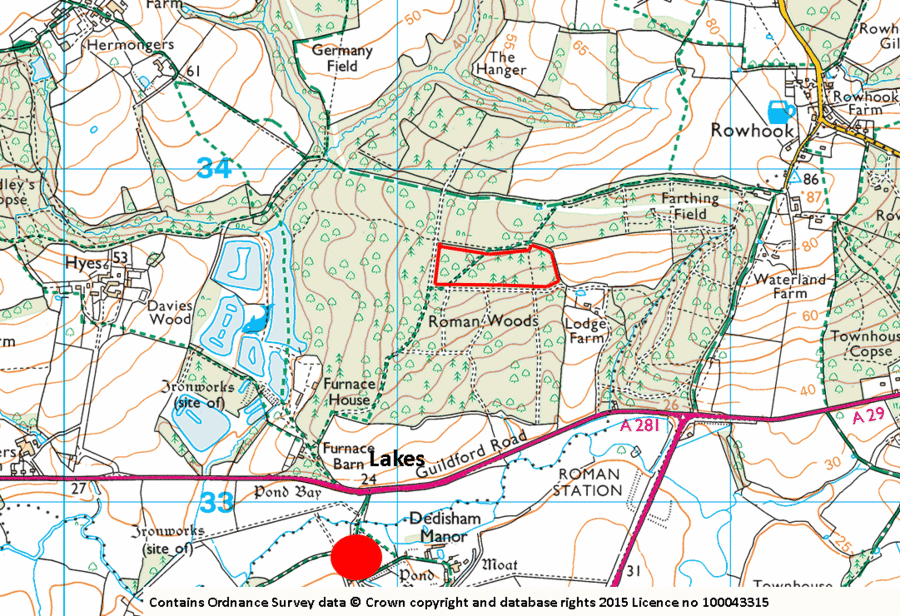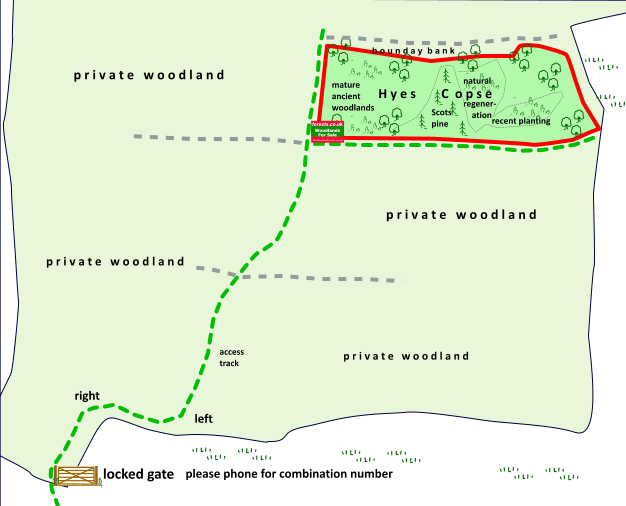 Directions
Hyes Coppice just east of Rudgwick is about 10 mins drive from Horsham, in West Sussex.
PLEASE CONTACT BOB LILES BEFORE VIEWING TO GAIN ACCESS.
Click here for Bing Maps Directions enter your own postcode, entrance coordinates for parking are already entered and click on the blue "Go" box. This will take you to the track off the A281 Guildford Road entrance.
For Satnav   the nearest postcode is RH13 0RA as shown by the red dot on the map and the coordinates are: N 51.086457 and W 0.419566
From Horsham head west on the A29. About 3 miles out of town the A29 will turn south at a roundabout, and the A281 will continue due west. Take the A281 westbound here.
After just over 1000 metres, turn right off the A281 onto a private tarmac drive signposted for Furnace Lake Carp Fishery.
Drive up this drive for about 100 metres and turn right at a gravelled area, past the pond, to a locked metal gate.
Hyes Coppice is through this gate along the forest track - turning right then left - continue straight for about 400 metres when the wood will be seen on the right with the Forests.co.uk For Sale sign.