Seven Oaks Wood - Sold
Details for this wood
Guide price: £110,000 - Freehold
Size: 10 acres

Location: Round Green Lane, Colliers Green, Cranbrook, Kent
OS Landranger: 188
Grid ref: TQ 752 391
Nearest post code: TN17 2NB
Contact: Richard Scholfield
Phone: 07811 818 277
Email: [email protected]
Contact: Ben Williamson
Phone: 07958 213 914
Email: [email protected]
Email to a friend
Description  Situated on a quiet edge of a large forest Seven Oaks Wood  has been well-managed in the past as can be seen from the fine 'form' of the large oaks along the southern part of the wood. The plantation is level, with spruce, larch and oak originally planted about 30 years ago.With these are larch and other conifers  further into the wood.  The wood is designated as PAWS, a plantation on ancient woodland,  lots of wildflowers typical of ancient woodland are found here.
The whole area is part of the very large Old Park Wood Site of Nature Conservation Interest identified by Kent Wildlife Trust. This recognises the special value of the wood for nature conservation, but does not imply any obligations or any loss of privacy.  The track in from the south corner by the 'for sale' sign and after about 100 metres there is a clearing and in this a shepherd's hut.
The shepherd's hut   this fine hut is included in the sale, the contents (cupboards etc) are not included but their inclusion could be negotiated. To be able to stay on site in comfort, have a place to shelter from the rain and have somewhere to relax after a hard-days forestry,  is a rare luxury in a woodland and greatly enhances time enjoyed in these woods.
Access   from the gated entrance along a hard stone track where there is a full right of way, the track curls round off the main track and leads to the wood's entrance. Maintenance of the track is according to use made.
Boundaries   to the north east there is a bank, north west there is the field edge, the south west is the track edge as is the south east.
Covenant    There is a covenant click here to read designed to ensure that all can have quiet and peaceful enjoyment of their woodland.
Our Maps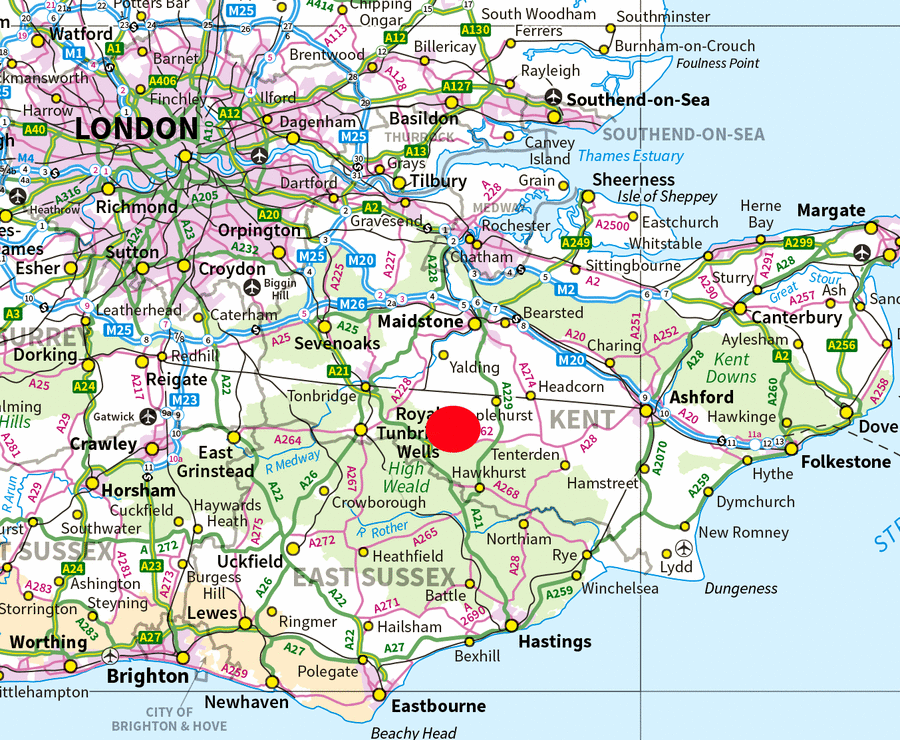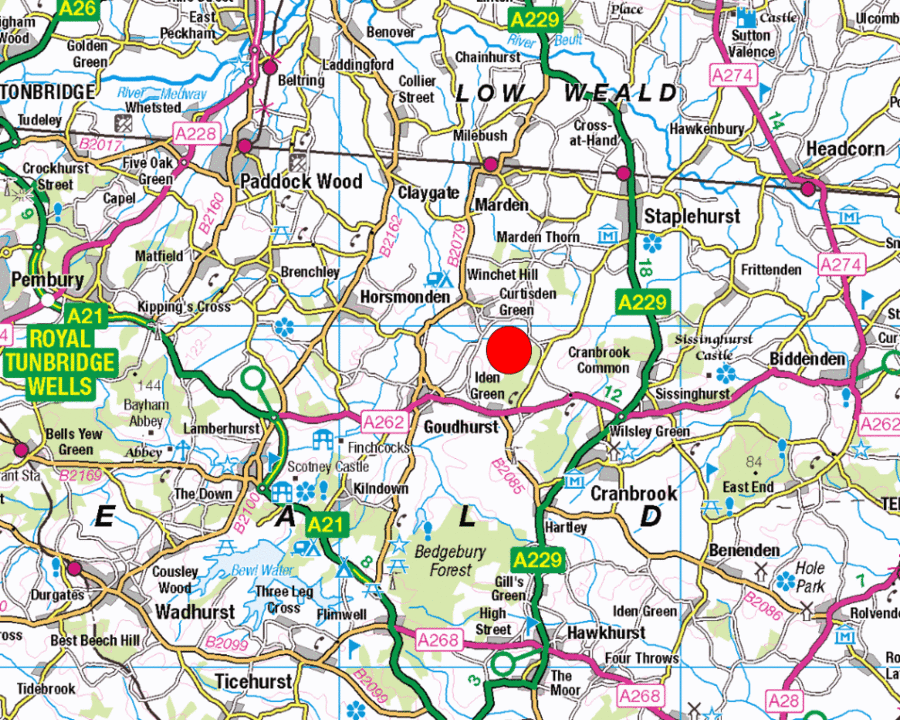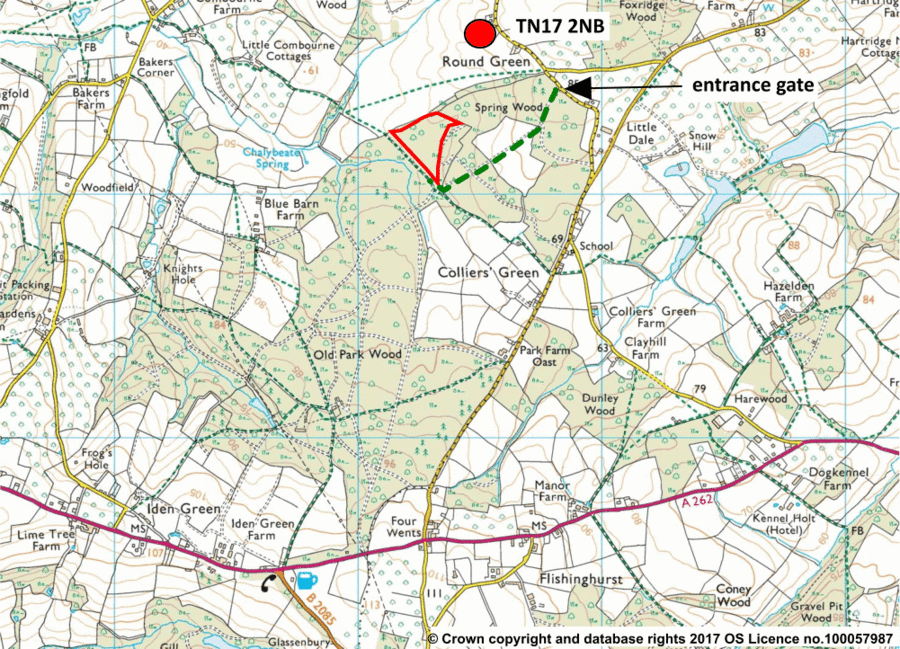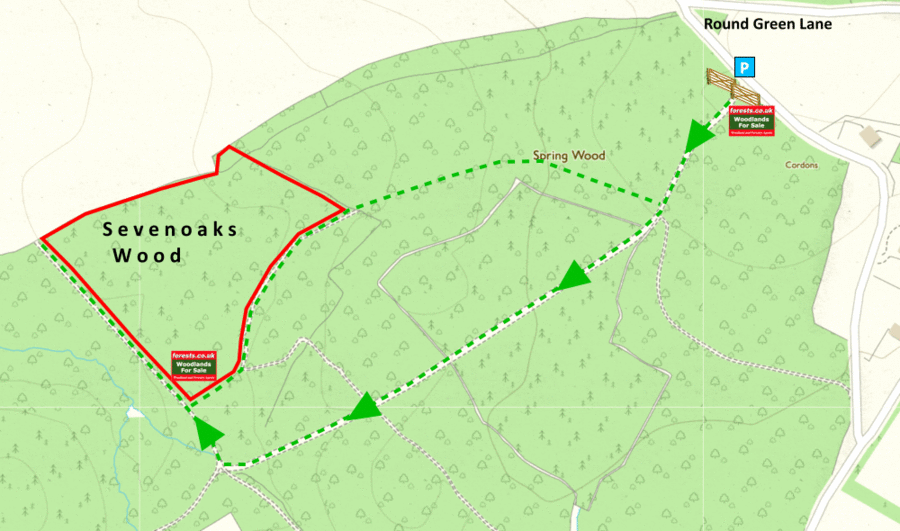 Directions
Seven Oaks Wood  is situated midway between Tunbridge Wells ( 13 miles ) and Ashford ( 24 miles ).
Click here for Bing Maps Directions  click on 'Directions to here', enter your own postcode (the coordinates for the entrance gate are already entered) and click on 'Go'.  Park at this point by the double gates.
For Satnav: the nearest postcode is TN17 2NB as shown by the red dot on the maps. Coordinates for satnav are:  N51.127197, E0.511527