Kings Wood
Details for this wood
Guide price: £129,000 - Freehold
Size: About 17½ acres

Location: Warsop, Newark and Sherwood, Notts
OS Landranger: 120
Grid ref: SK 586 62
Nearest post code: NG20 0EP
Contact: Richard Scholfield
Phone: 07811 818 277
Email: [email protected]
Email to a friend
Kings Wood in Sherwood Forest lies within the National Forest area of Nottingham. It's packed full of mature oak and chestnut, a substantial timber resource but also a fascinating display of trees to watch and enjoy as they grow and change through the seasons. On the ground it has a wealth of bluebells in spring with these are remnants of ancient woodland indicator species including snowdrops, lesser periwinkle, wood sorrel and wild daffodils. There are grassy
glades and many old trees.       
This is a good candidate for Inheritace Tax planning, woods commercially managed and owned for more than two years can qualify for IHT relief. This can be as much as 100%.  Do consult an accountant who can explain the conditions to qualify more fully.  Timber income is free of income tax.
This woodland has always been part of the ancient Sherwood Forest. Until recent times part of Birklands and the Welbeck Estate. The woodland has a history of royal deer management stretching back to King John's Palace Deer
Park at Clipstone. King's Wood contains a medieval 'deer leap' – a large ditch and earthwork construction used in
conjunction with access to the original Clipstone Deer Park. Gorsethorpe Lane was the boundary between King's Wood
and the Royal Deer Park. On maps dated from the early 1600's it was marked as a Hollins. At the end of the English Civil War the holly trees were replaced with sweet chestnut to facilitate fence repairs in the regeneration of the royal deer park. Since then it has always been a woodland used for coppicing. And this tradition is maintained on a small scale by the present owners. It is referenced in an 1816 Warsop Perambulation document. In this document it is written that in the 1200's King John held a parliament close by at Parliament Oak. Earlier in the history of Sherwood Forest the area
surrounding the woodland was populated by Danish Viking warrior farmers. The whole area contains village and
landscape names that reflect the occupation - including Thynghowe a unique Viking Assembly site only just over a
mile north.
The boundaries are clear, the two roadsides and the edge of the wood on the southeast.
Please note, none of these woods are suitable for residential development, other uses such as summer camping may well be suitable.
Viewing is by appointment only.  Please ring 07811 818277 or email [email protected]
Full-scale maps  Click HERE to download and print a map showing the location of Kings Wood.
Click HERE to see free OS maps  scroll in for closer view.
Maps are : © Crown copyright and database rights 2021 OS Licence no.100057987
Our Maps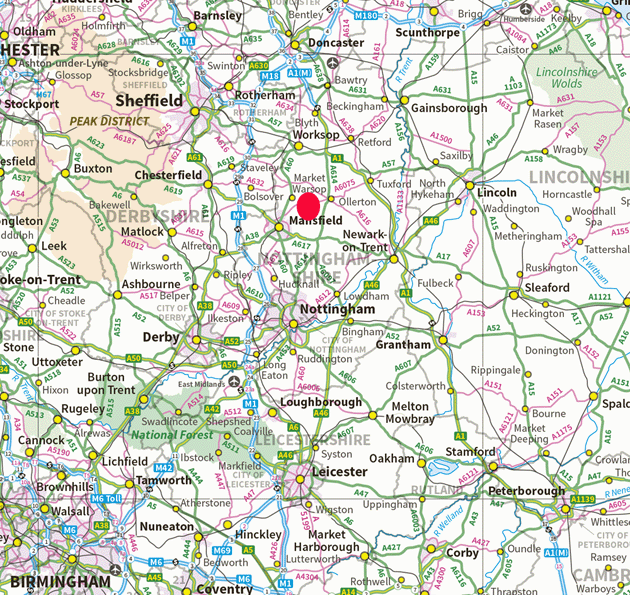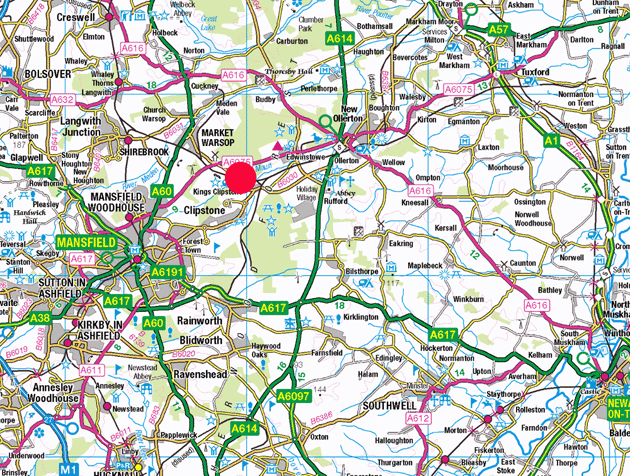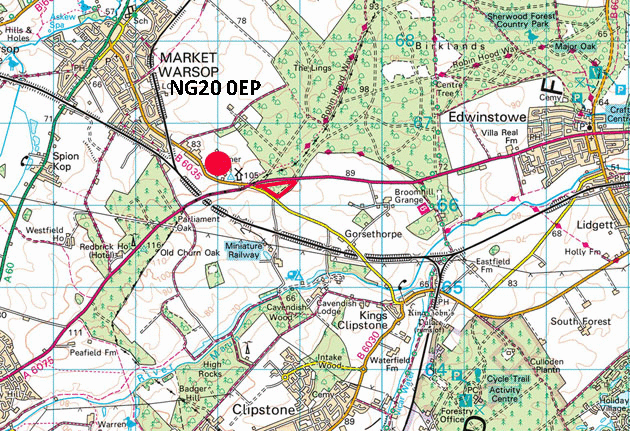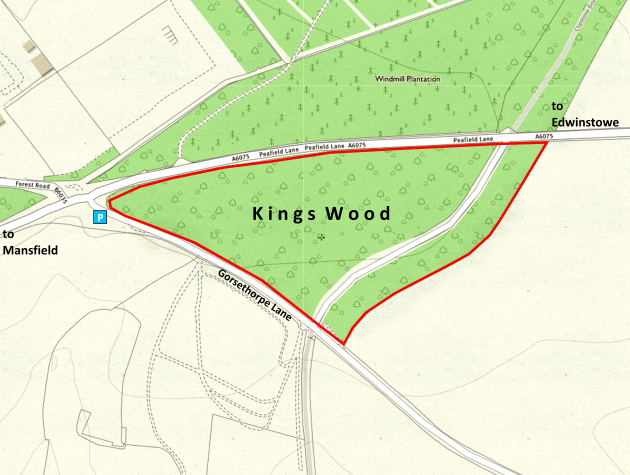 Directions
Kings Wood is close to Market Warsop and about 3 miles north est of Mansfield in Nottinhamshire.
Click here for Bing Maps Directions enter your own postcode, entrance coordinates are already entered and click on the "Go" box. This will take you to a suitable parking space, on the verge by the roundabout.
Use these coordinates in your SAT NAV to get to the same place.   N53.189770, W1.127031
Using the nearest postcode NG20 0EP is for the red spot on the location maps.
Interested in this woodland? Get in touch with us:
Contact Richard Scholfield on 07811 818 277 or use the form below