Cottage Wood, Charing, Kent
Details for this wood
Guide price: £77,000 - Freehold
Size: Two woods: about 7 acres and (10 acres SOLD)

Location: Between Charing and Challock, near Ashford, Kent
OS Landranger: 189
Grid ref: TQ 991 508
Nearest post code: TN25 4DW
Contact: Richard Scholfield
Phone: 07811 818 277
Email: [email protected]
Email to a friend
Two adjacent woods for sale as a whole or in two lots - one wood, Greenhout Wood is now sold .
Cottage Wood Guide price is £77,000  for approx 7 acres, with its own gated entrance off Monkery Lane, although not used at present.
Boundaries are: the roadside with the gate, two metres from the centre the track leading to up Greenhout Wood, the field edge and the track edge at the far end, marked with red tags along the single strand wire fence.
**  SOLD  Greenhout Wood  Guide price is £110,000  for approx 10 acres. **
Boundaries:  at the roadside there is the gate, the track is included, at 350 metre mark there is a track to the right, the boundary follows this track on the right hand side as far as the field side. There are red tabs along the single strand wire fence marking this line.
Description:  These woods are considered as ancient replanted.  Mostly sweet chestnut coppice with a spread of mature oak, ash and silver birch. Beech is found on the boundary. Beautiful bluebells in spring cover the woodland floor,  other wildlife include fallow deer, badgers, many species of birds including buzzards and blackcap; four species of reptile including the common lizard, slow worms, grass snakes and adders. Butterflies including the white admirals thrive.
A small log cabin is tucked away in Greenhout Wood, in other locations several log stores shelter stacks of firewood. Firewood in these stacks is being used while the wood is being marketed.  At point of sale any firewood not used will be included. There is approximately 130 cu.m of felled timber stacked as seasoned cords (40 cu.m in Greenhout, 90 cu.m in Cottage Wood.   Also included are three high seats with sporting rights. The woods are being managed by the present owner for firewood and conservation, coppicing in small coupes is on a 12 year cycle. There is a Forestry Commission approved management plan and felling licence in place.  At the northern end the ground is kept open to encourage the butterflies and reptiles.      
Woodland to the north west is owned by the Woodland Trust (see their website for info) where there is open access for walkers. Walkers do not enter Greenhout or Cottage Woods which are private and where there are no rights to roam. In addition, there are no other privately owned plots adjacent to these woods, meaning that these woodlands have a very secluded feel.
Designations:   Kent Downs AONB click here for link and LWS click here for link, and there is an Article 4 but these and the TPO do not hinder normal forestry management.
Please note these woods are NOT suitable for residential development.
Access:  is along track A-C included within Greenhout Wood, there is a right of way along A-B for Cottage Wood, through a locked gate off the public highway and along a woodland track.
Full-scale   Click here  to download and print a map showing the location of Greenhouse and Cottage Wood.
Click HERE to see free OS maps  scroll in or out to change zoom view.
Viewing: You are welcome to visit this wood by yourself, but please ensure that you have a copy of these sales details with you - many of our woodlands do not have mobile phone reception or internet access so we recommend either printing the details or downloading them to your phone or tablet. Please take care when viewing as the great outdoors can contain unexpected hazards and woodlands are no exception.
Maps are : © Crown copyright and database rights 2020 OS Licence no.100057987
Our Maps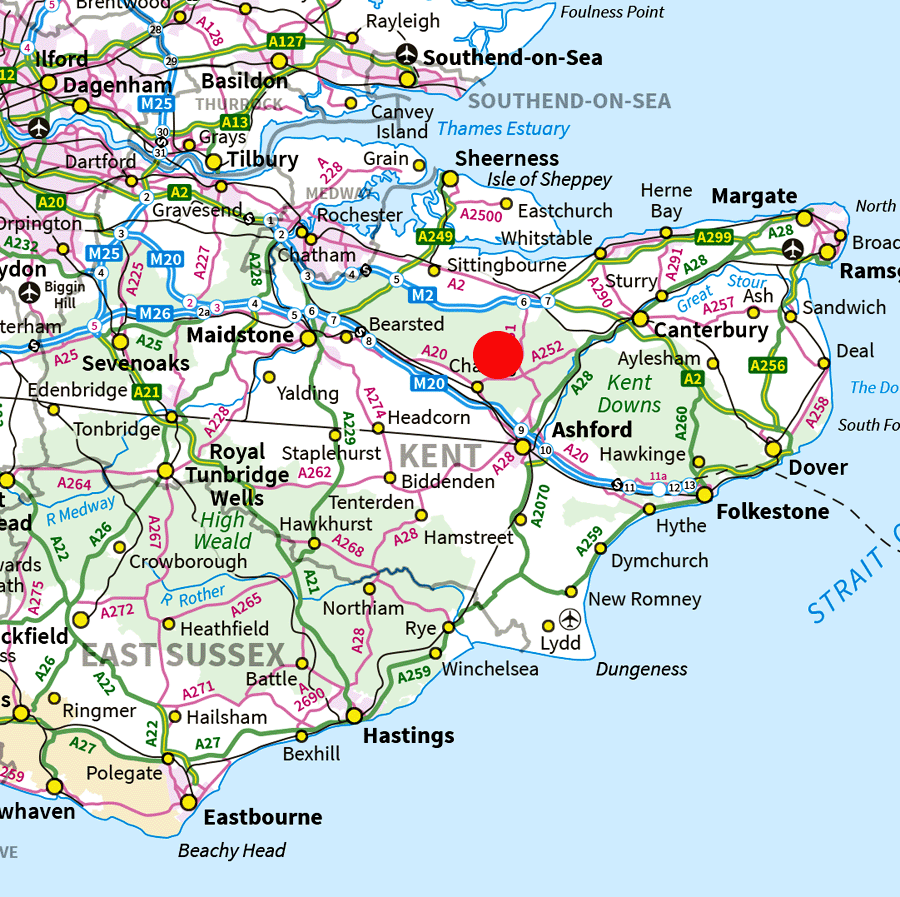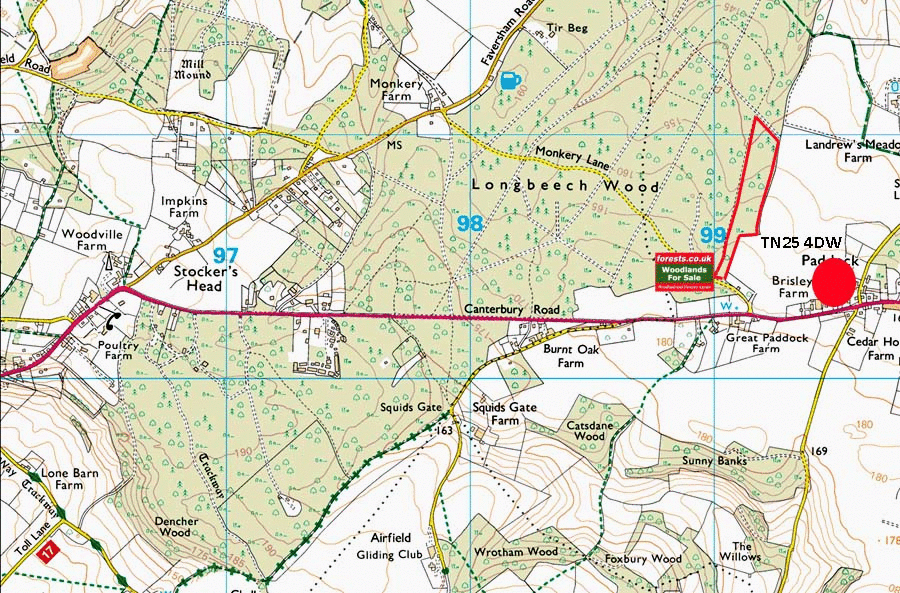 Directions
Cottage and Greenhout  (sold) woods between Charing and Challock are about 20 mins north of Ashford and 20 mins west of Canterbury in Kent.
Click here for Bing Maps Directions  click on the Directions box, enter your own postcode (the wood coordinates are already entered) click Go. The route will take you to the gated entrance. Remove two of the posts (they lift out) and park by the wooden gate. Squeeze past the gate. Cottage Wood is on the right, there is a right of way along the track. Greenhout Wood is further, there is a red tag at the start of this wood. Please replace the posts when leaving.
Satnav: the postcode TN3 9AG  is for the point shown by the red dot on the location maps. Coordinates for satnav are: N51.118924, E0.316488
Interested in this woodland? Get in touch with us:
Contact Richard Scholfield on 07811 818 277 or use the form below