Speckled Wood
Details for this wood
Guide price: £29,000 - Freehold
Size: Almost 2½ acres

Location: Branscombe, Devon
OS Landranger: 192
Grid ref: SY 184 907
Nearest post code: EX12 3BP
Contact: Bob Liles
Phone: 07793 140 010
Email: [email protected]
Email to a friend
What could be more enjoyable on a sunny spring day than walking through a glade of beautiful flowers and plants that include primroses, violets, bluebells, wood sorrel and wood spurge with the fragrance of water mint and wild garlic following your every step? Well this is a reality within the many glades of Speckled Wood.
The variety of trees is unique as Speckled Wood is a mosaic of woodland types and habitats that is seldom found. At the entrance is a stand of mature Douglas fir and if you follow the internal private track deeper into the woodland you will soon arrive at an area of mature broadleaved wet woodland. Wet woodland is one of our least common woodland habitats and is rich in wildlife. Tree species here consist of oak, ash, birch, sycamore, alder and hazel. Deer tracks can be seen at various points within this area.
Further on a sturdy boardwalk takes you into a sheltered area of spruce trees which were planted in 1986. The spruce trees provide shelter for forestry activities. Here the sun rays intercept the trees and cause a 'speckled' effect which the woodland is named after. The woodland is a perfect place to enjoy watching butterflies on a sunny day such as the Speckled wood.
Meander through the conifer trees to the north east of the woodland and there you will discover a magical glade of woody flora within the open canopy of mixed broadleaved trees that take you down to a stream and bench. Spending time here is a great escape from a busy life and is very inspirational for writing, painting and mindfulness.
Speckled Wood is accessed from the A3052 via a metalled track and then a good forestry track suitable for most family vehicles The local area is very peaceful and has plenty of quiet lanes to enable country walking.
https://osmaps.ordnancesurvey.co.uk/50.97631,-3.91435,17/pin
Our Maps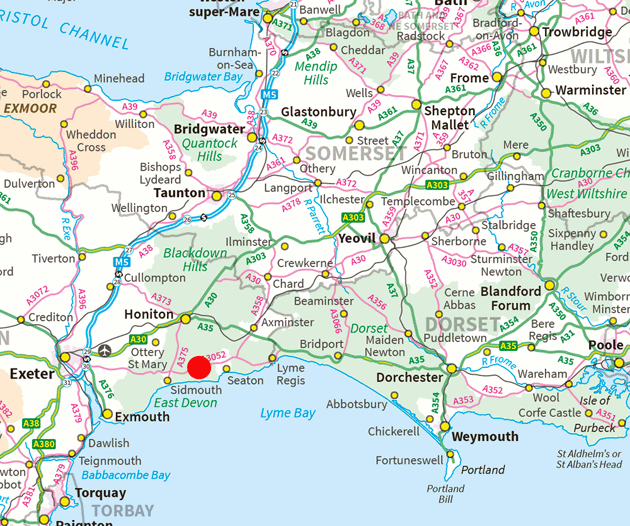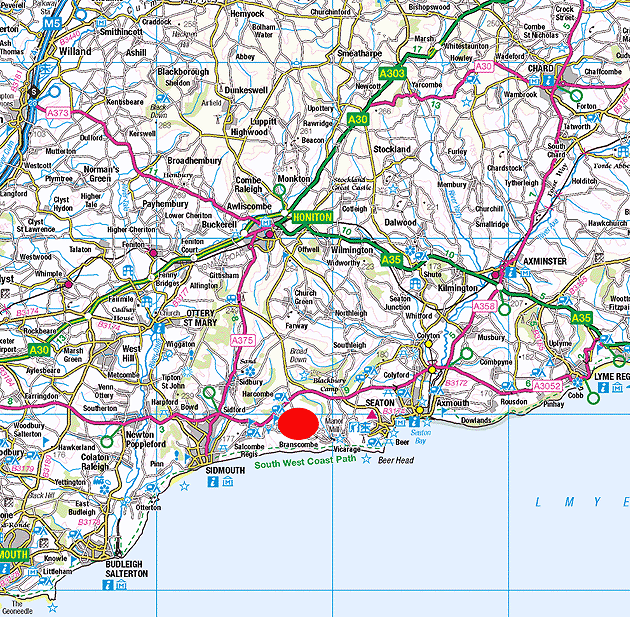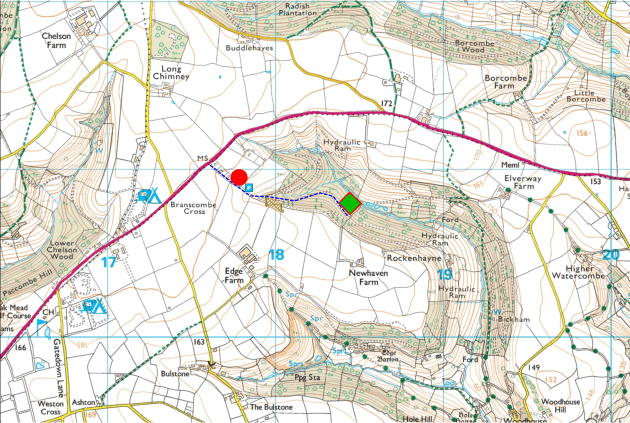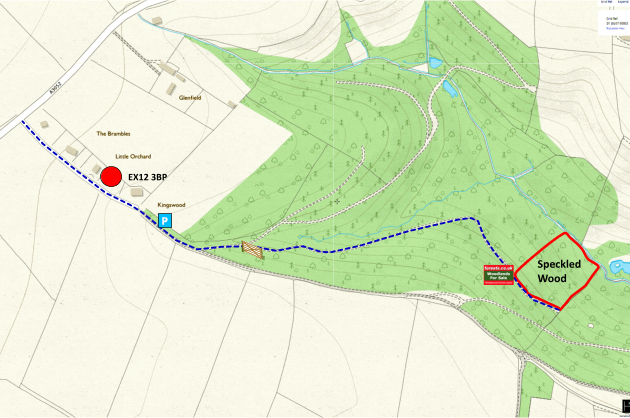 Directions
Speckled Wood is about 3 miles north of Branscombe and roughlt equidistant between Sidmouth to the west and Seaton to the east.
Click here for Bing Maps Directions   enter your own postcode, (the coordinates for the track entrance off the A3052 are already entered).
For Satnav: the nearest postcode is EX12 3BP as shown by the red dot on the maps. Coordinates for your satnav are N50.712898, W3.168114
Turn down a minor lane signposted to 'Rockenhayne holiday cottages'.
This track is suitable for most vehicles. Please stick to the track as there are deep drainage gulley's at certain points. There are cleared pull-in areas along the track if you do meet another car.
Drive down the track for about 400 metres until you see a stoned car parking area just before a wooden gate with a 'woodlands for sale' sign on your left.
Park here for viewing and climb carefully over the access gate mentioned above onto the main track.
Walk down the track and turn right where the track forks.
Walk along this track for around 400 metres until you see the entrance to the woodland on your left indicated with a 'Speckled Wood' name sign at the entrance.
Interested in this woodland? Get in touch with us:
Contact Bob Liles on 07793 140 010 or use the form below