Sunnyside Wood, near Umberleigh, Devon
Details for this wood
Guide price: £24,000 - Freehold
Size: About 3 acres for sale

Location: Warkleigh near Umberleigh in Devon
OS Landranger: 180
Grid ref: SS 640 221
Nearest post code: EX37 9DE
Contact: Bob Liles
Phone: 07793 140 010
Email: [email protected]
Email to a friend
Sunnyside Wood, as might be imagined, is a warm southeast-facing woodland that contains a superb mix of hazel coppice with Douglas fir in a truly amazing and peaceful location.  Definitely somewhere to relax and get away from the hurly-burly of modern life.  Red deer, barn and tawny owls, buzzards and foxes reside here, signs of dormice have also been seen. Set on the valley side of a tributary of the otter-rich river Taw views can be enjoyed across the small valley. The local area is very rural with a beautiful landscape of small green fields, woodlands and picturesque villages.  The small hamlet of Warkleigh has rather a fine church,  St Johns Church and is well-worth a visit. Umberleigh caters for most of a woodland owner's needs, a country store, an Inn and a tea-room.
Covenant   There is a covenant, click here to read, on the woodland designed to ensure the quiet and peaceful enjoyment of this and adjoining woodland.
Our Maps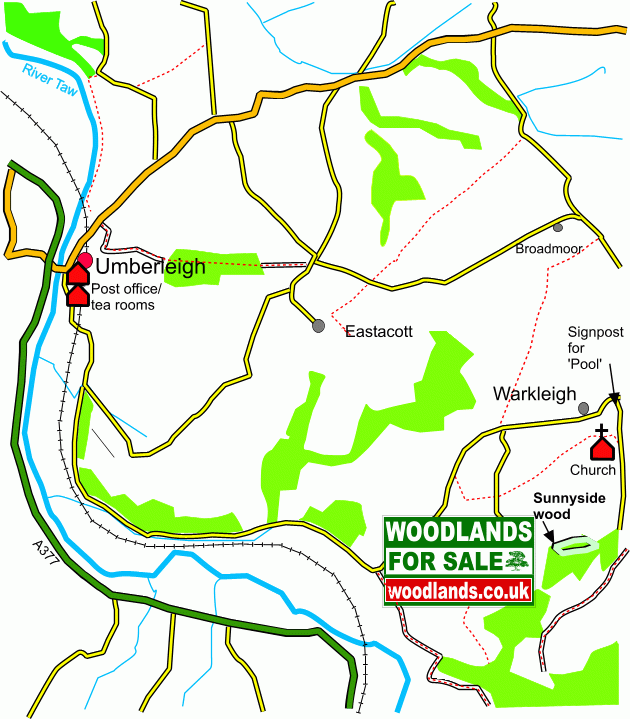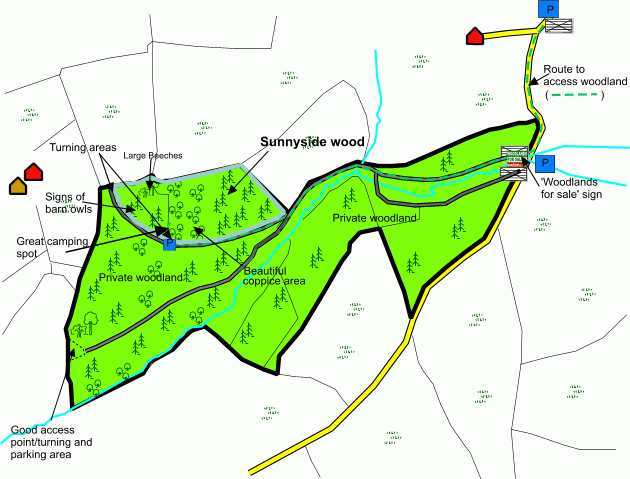 Directions
Sunnyside Wood is about 30 miles north west of Exeter and 12 miles south east of Barnstaple. The nearest village is Umberleigh.
For Satnav: the nearest postcode is  EX37 9DE as shown by the red dot on the maps. Satnav coordinates are   N 50.990031, W 3.934148  
Click here for Bing Maps Directions enter your own postcode, (the coordinates for the destination are already entered) and click on the blue "Go" box. This will take you to the junction with Pool Lane, continue down this lane to the parking place.  These directions can be printed out.
At Warkleigh, look for a farmhouse and the large church.  About 100 metres from here is the turn at Pool Cross, signposted 'Pool' (a no through road). Follow the track down for around 200 metres until it splits into two.
If you have a car you will need to park to the left just before the split, making sure you don't block access to the field gate and the lane itself. If you have a 4x4 or the ground clearance you can continue.
Follow the track straight on down the hill, passing the 'woodlands for sale' sign on the first gate to the right, to where the river crosses the track. Park to the left just after this.
Enter the first gate at the bottom of the hill and follow the track until it there is a track up hill to your right, take this right hand track and walk up until you see a turning area and just after this is the Sunnyside wood sign where there is a track into the coppice area.
Interested in this woodland? Get in touch with us:
Contact Bob Liles on 07793 140 010 or use the form below