Gladdon Wood, Sutton Veny - Sold
Details for this wood
Guide price: £35,000 - Freehold
Size: About 2½ acres

Location: Sutton Veny
OS Landranger: 183
Grid ref: ST 880 428
Nearest post code: BA12 7BH
Contact: Ben Williamson
Phone: 07958 213 914
Email: [email protected]
Email to a friend
Gladdon Wood occupies a peaceful location within The Cranbourne Chase and West Wiltshire Downs Area of Outstanding Natural Beauty. The primary purpose of the AONB designation is to conserve and enhance the natural beauty of the area, now and for future generations. The area has an important historic legacy from the Bronze and Iron ages, when the area became settled and large areas of pasture and arable farmland were created. The pastures of the Downs date from this period and basic woodland management was practised.
Within this diverse and precious landscape of rolling grassland, ancient woodlands, chalk escarpments and river valleys, Gladdon Wood is a mixed woodland of beech, oak and ash and some areas of mature conifer.
There is great variety here of both tree type and age making for an unexpected encounter at every turn as young self seeded hazel and ash thrive amongst mature beech and spruce. Bright red berries on the holly and vivid pink flowering rhododendron also add colour and variety to the understory, whilst impressive blue blankets of bluebells cover the woodland floor in spring.
Gladdon Wood has the added benefit of its own private access from the highway and an open area of grassland which makes a delightful sunny camping area and offers a great opportunity for replanting of native broadleaf trees or wild flower meadow. Gladdon, from which the wood takes its name, is a native type of Iris found in woodland and grassland in Southern Britain.
The local area is farming country and the nearby town of Warminster offers a range of small town services and a branch of Mole Valley Farmers a few minutes away is great for tools and forestry equipment of all types. Within half an hour in either direction you have Bath and Salisbury.
Maps   For full-scale maps click HERE and print out for your visit.  The Ordnance Survey's very useful open source maps can be accessed HERE.
Please note, none of these woods are suitable for residential development, other uses such as summer camping may well be suitable.
Viewing: You are welcome to visit this wood by yourself, but please ensure that you have a copy of these sales details with you - many of our woodlands do not have mobile phone reception or internet access so we recommend either printing the details or downloading them to your phone/tablet/laptop. Please take care when viewing as the great outdoors can contain unexpected hazards and woodlands are no exception.
Covenant   The purchasers of this woodland will be asked to enter into a covenant to ensure the quiet and peaceful enjoyment of adjoining woodlands and meadows.
Maps are : © Crown copyright and database rights 2019 OS Licence no.100057987
Our Maps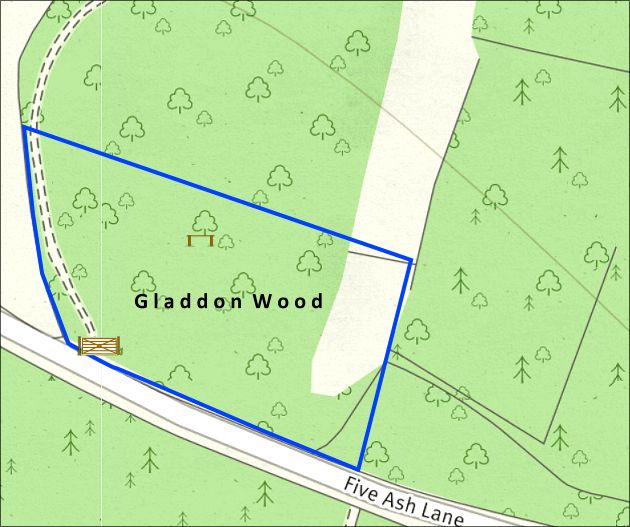 Directions
Gladdon Wood at Sutton Veney is a little over a mile south of Warminster.
Click here for Bing Maps Directions enter your own postcode and click on the "Go" box. This will take you to the metal entrance gate off Five Ash Road.
Use these coordinates in your SAT NAV to get to the same place  N51.184697, W2.172796
Nearest postcode is BA12 7BH as sown on the location maps.
The ground at this entrance has been improved with a stone base. There is a name sign for 'Gladdon Wood'.  You can park near the locked gate and proceed into the woods on foot. The new owner will be provided with a key. For the purposes of viewing, access on foot is possible over the bank by the signboard.