Greyhone Wood - Sold
Details for this wood
Guide price: £69,000 - Freehold
Size: About 6¾ acres

Location: Rotherfield Peppard, near Henley on Thames, Oxon
OS Landranger: 109
Grid ref: SU 700 832
Nearest post code: RG9 5LY
Contact: Ben Williamson
Phone: 07958 213 914
Email: [email protected]
Email to a friend
Description   Woods in this part of Oxfordshire don't come on the market very often and here is the opportunity to acquire a multi-use woodland perfect for timber production, conservation, firewood and camping. Wide areas of bluebells are a welcome sight in spring. Centrally located in the dramatic Foresty Commission woods where their magnificant conifers are a favoured perch for the resident buzzard.
Part of Greyhone Wood is shown on most maps as Greyhone Shaw, the area to the north is integral with the larger area of Greyhone Plantation and Shaw. A mostly larch and Norway spruce plantation now semi-mature is ready for thinning. There is a bridleway along the eastern boundary and across the upper part.
Boundaries   posts with two strands of plain wire enclose the woodland and show the boundaries. These are mostly standing although in one or two parts fallen trees have pushed the fence over.
Access  is along a private right of way off Coldmoor Lane, a public highway. The barrier gate usually has a combination lock, the owner of Greyhome will have this code for their access. See below for details.
Our Maps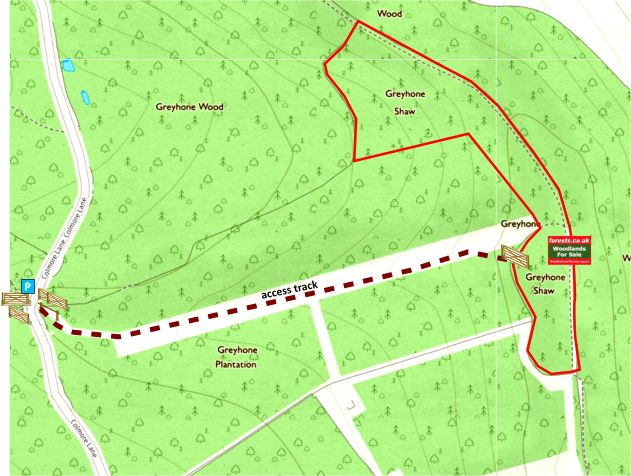 Directions
Greyhone Wood is about 5 miles west of Henley-on-Thames.
Click here for Bing Maps Directions enter your own postcode, location coordinates are already entered, and click on the "Directions" box. This location is for the start of Coldmoor Lane, by the Unicorn Pub. Continue along the lane for about ¾ mile where there is an open area with 5 ways. Park somewhere here but please don't block any of the gateways.
Satnav: the postcode RG9 5LY is for the point shown by the red dot on the location maps, just south of Coldmoor Lane. Coordinates for satnav are:  N51.530633, W0.990905 (by the pub).
Look for the single bar gate. See photo 2. Walk down here as on the plans following the track, this opens out, the wood is directly ahead. Its about 500 metres from the barrier to the wood. The access gate is slightly to the right.