Horsepond - Sold
Details for this wood
Guide price: £65,000 - Freehold
Size: About 4 acres

Location: Bensgrove, Goring Heath, Oxon
OS Landranger: 175
Grid ref: SU 660 801
Nearest post code: RG8 7RY
Contact: Ben Williamson
Phone: 07958 213 914
Email: [email protected]
Email to a friend
A beautiful Chiltern wood in a most desirable location, Horsepond Wood forms part of an extensive semi-natural ancient woodland known as Bensgrove and Abbotts Woods. Tucked away from the busy world, the woodland is surrounded by other woodland now in private ownership and has all the benefits and protection of being part of a large wood.
The shrill screech of a hunting buzzard pierces the calm; often seen here surveying the woodland landscape from their viewpoint high up in the woodland canopy. If you are quiet you may see one of the secretive muntjac deer who live within the wood. Foxes, badgers and rabbits are also present and their activity is much in evidence to the keen-eyed observer.
Horsepond Wood has numerous tall straight mature beech trees, approximately 60-70 years old, which were probably planted after the 1940s and are now impressive specimens. There is also a thriving understory of holly and a number of young oak. At the time of planting the timber would have been used for wheel spokes and matchsticks. Large open glades offer plenty of places to camp or picnic and enjoy a variety of woodland flowers including bluebells, in the spring.
Horsepond Wood was for centuries a place where in a time of only equestrian transport, travelling folk could pause to water their mounts. During World War 2 this area was used as an RAF supply depot before being decommissioned and returned to nature. It is set in the Chilterns Area of Outstanding Natural Beauty a designation which recognises the beauty of the area, characterised by extensive beech woodlands and chalk hills.
Access is for all times with and without vehicles along a woodland tracks as shown green on the plan.
Please note, none of these woods are suitable for residential development, other uses such as summer camping may well be suitable.
Viewing: You are welcome to visit this wood by yourself, but please ensure that you have a copy of these sales details with you - many of our woodlands do not have mobile phone reception or internet access so we recommend either printing the details or downloading them to your phone/tablet/laptop. Please take care when viewing as the great outdoors can contain unexpected hazards and woodlands are no exception.
Our Maps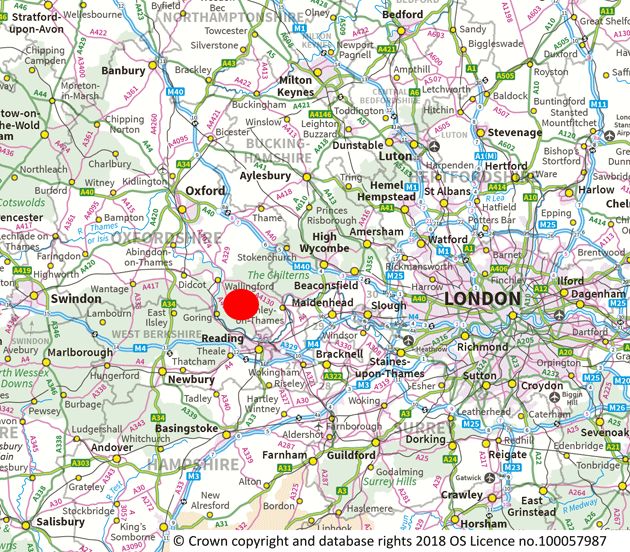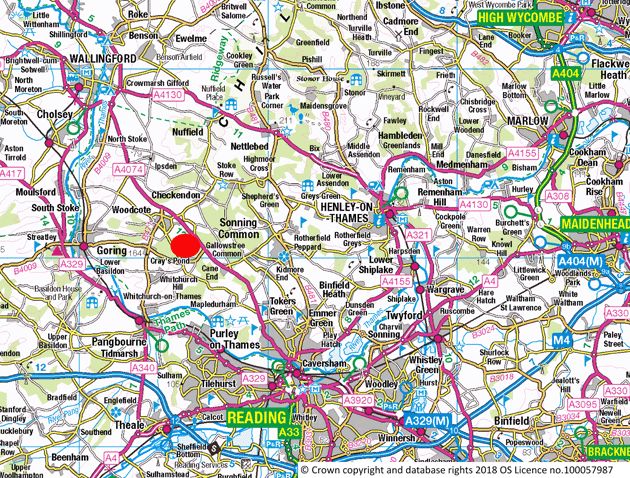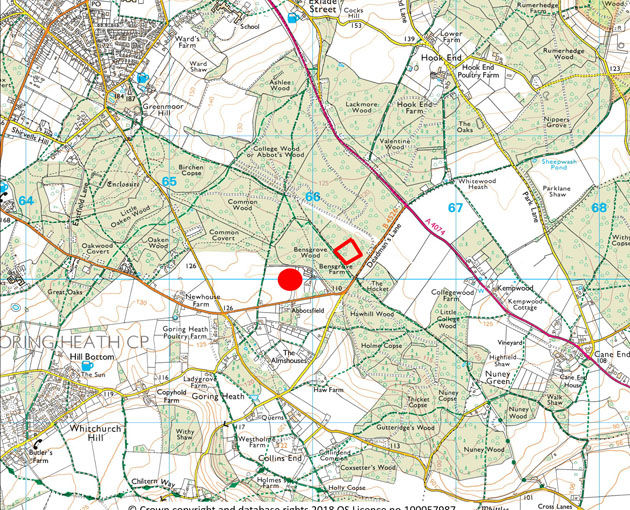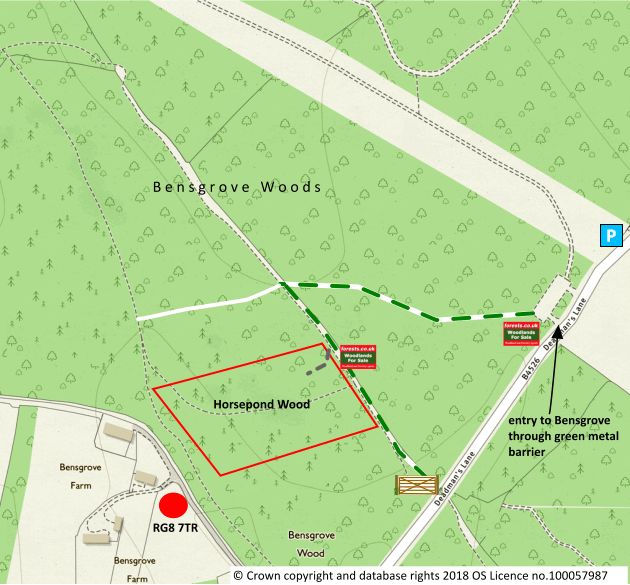 Directions
Horsepond Wood at Goring Heath is about 20 mins north of Reading.
Click here for Bing Maps Directions enter your own postcode, entrance coordinates are already entered, and click on the "Directions" box. This will take you to the green metal barrier, there is a pull-in a few metres east  of this by the 'For Sale' sign, park here.
Satnav: the postcode RG8 7RY is for the point shown by the red dot on the location maps. Coordinates for satnav are:  N51.51604, W1.0445879 for the metal barrier.