Ashurst Wood
Details for this wood
Guide price: £62,000 - Freehold
Size: About 4¼ acres

Location: Purleigh, Maldon, Essex
OS Landranger: OS No 168
Grid ref: TL 826 030
Nearest post code: CM3 6RG
Contact: Richard Scholfield
Phone: 07811 818 277
Email: [email protected]
Contact: Ben Williamson
Phone: 07958 213 914
Email: [email protected]
Email to a friend
Ashurst Wood is part of a semi-natural woodland near Maldon in Essex. Full of wildlife, it is an absolute joy to be in. Old maps show there has been woodland on this site for hundreds of years. Once called Birchwood, it gave its name to the road running along its southern boundary between Cock Clarks and Purleigh. Ashurst Wood is now mostly a hornbeam coppice with oak standards, but the odd birch and sweet chestnut can be found too. In the spring the woodland is carpeted with bluebells and wood anemones.
This woodland is of particular interest to those with a passion for nature and British wildlife. Because this is a special woodland the woodland is covered by a Tree Preservation Order (TPO). 
Parish is Purleigh, district is Maldon DC in Essex County
Boundaries are indicated by orange markings on trackside trees and along the eastern boudary on free-standing posts.
Access there is a hard track leading from the main gate on Birchwood Road. 
Covenant  There is a covenant on the wood designed to ensure the quiet and peaceful enjoyment of this and adjoining woodlands, click HERE to read and download.
Click HERE  to see free OS maps and scroll out for a wider view.
Viewing:  You are welcome to visit this wood by yourself, but please Click here to download and print a map showing the location of the woodland and ensure that you have a copy of these sales details with you. Many of our woodlands do not have mobile phone reception or internet access so we recommend either printing the details or downloading them to your phone or tablet. Please take care when viewing as the great outdoors can contain unexpected hazards and woodlands are no exception.
Maps are : © Crown copyright and database rights 2022 OS Licence no.100057987
Our Maps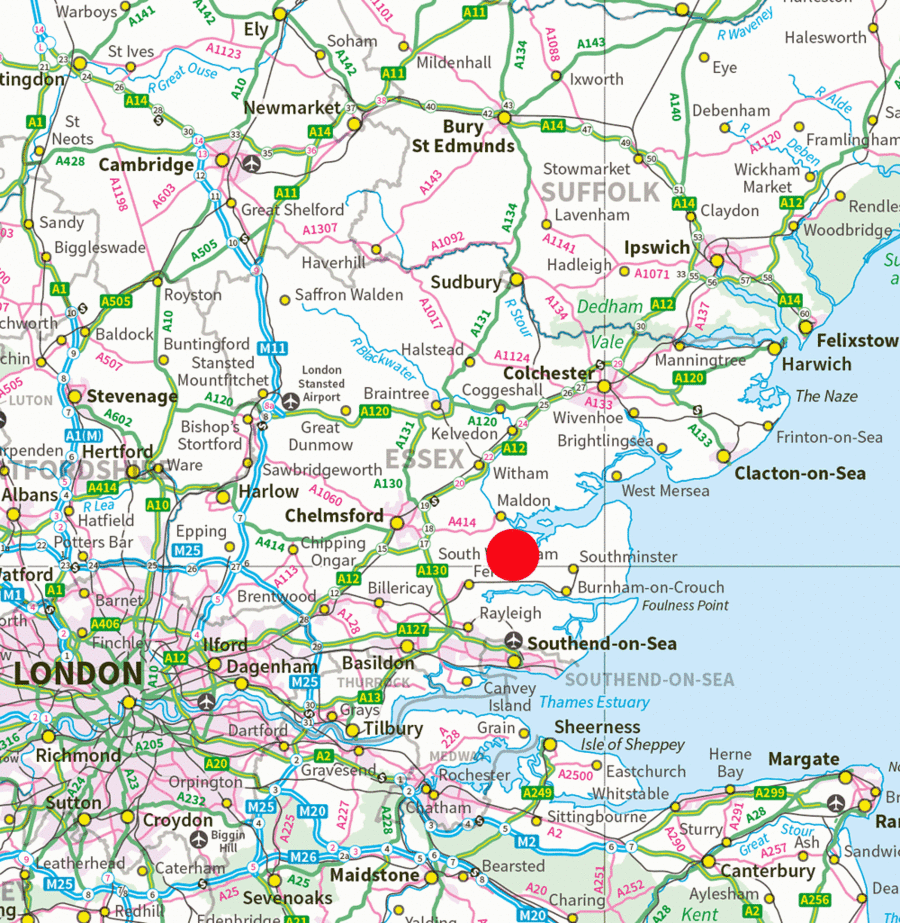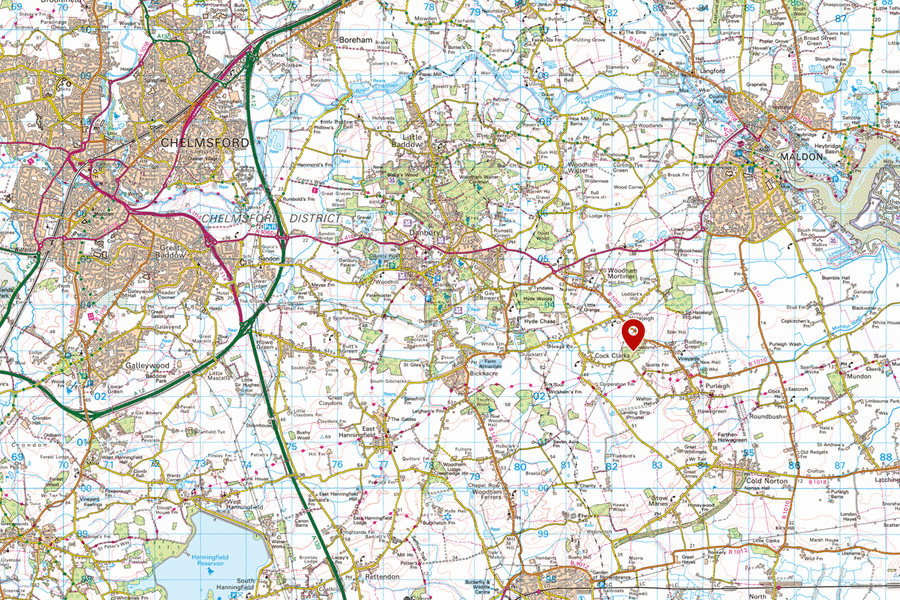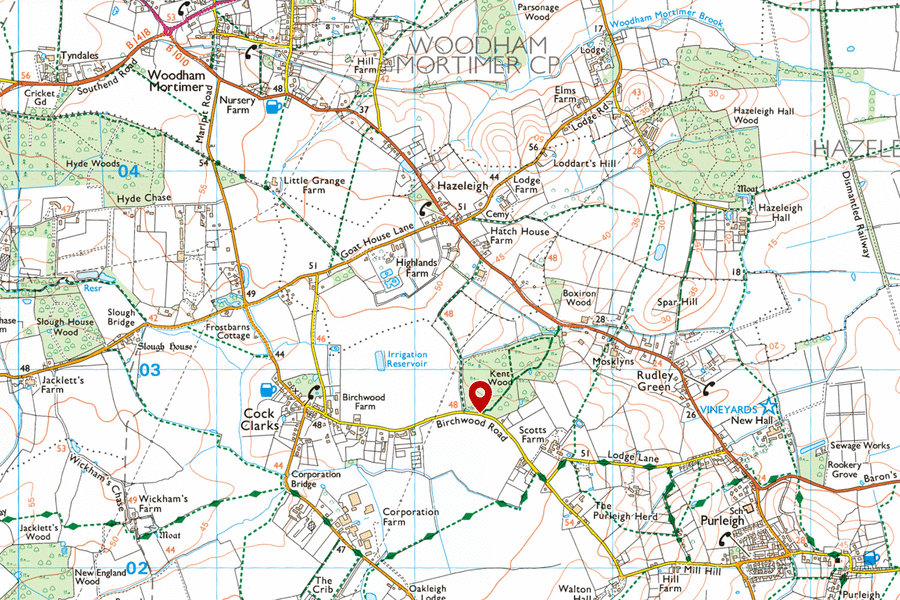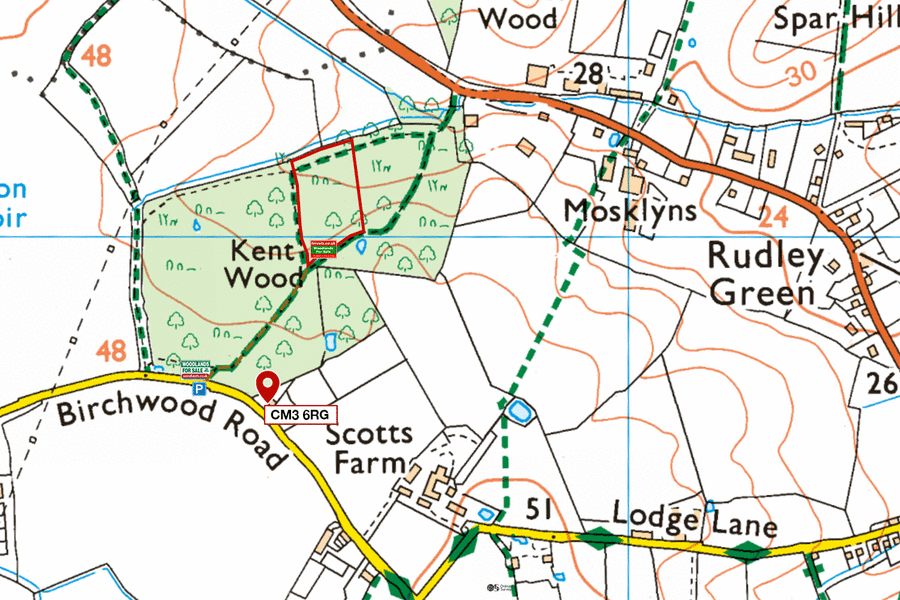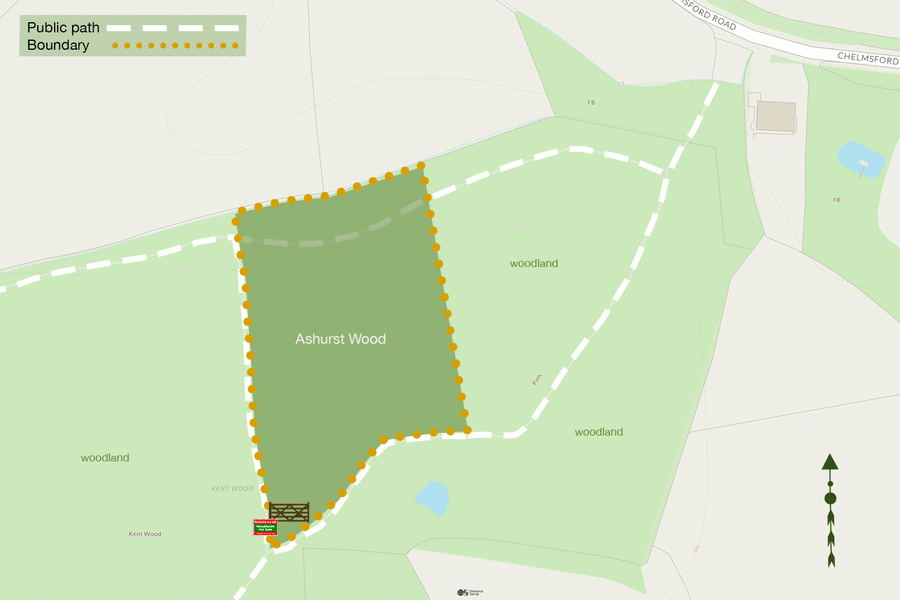 Directions
Ashurst Wood, Birchwood Road, Purleigh, Chelmsford
1. Click here for Bing Maps Directions  enter your own postcode, and click on the "Directions" box.
Park near main entrance on the Birchwood Road. Please don't block the gate. Pass to one side of the gate and follow the track bearing right. 
Follow through the woodland down into a valley until the path forks, a small gate can be found on the left.  This is the start of Ashurst Wood and is indicated in orange on the fence line
2. For Satnav: the nearest postcode is CM3 6RG on Birchwood Road, as shown by the marker on the maps. The main entrance coordinates for the access and parking are:  51.694015, 0.636823
Interested in this woodland? Get in touch with us:
Contact Richard Scholfield on 07811 818 277 or email us at [email protected] with your details.