Hazeleigh Wood - Sold
Details for this wood
Guide price: £58,000 - Freehold
Size: About 4½ acres

Location: Cock Clarks, Essex
OS Landranger: 183
Grid ref: TL 823 028
Nearest post code: CM3 6RG
Contact: Ben Williamson
Phone: 07958 213 914
Email: [email protected]
Email to a friend
A hornbeam woodland where the tree cover provides habitat for a variety of species, including tawny owls and wood ants. It also includes specimens of Britain's rarest native tree, the wild service tree. Its natural scenic beauty is enhanced in spring by an unbroken carpet of bluebells. Accompanying the hornbeam are oak and sweet chestnut with silver birch. Hornbeam is perhaps one of our most under-rated trees, originally grown for firewood and charcoal its place was taken by the introduction of cheap coal. Hornbeam in this area would probably have supplied London with fuel. Richard Mabey in Flora Britannica notes that in spring with the aid of a stethoscope the pulse of rising sap can be heard and is most 'thunderous in the hornbeam'.
Boundaries   To the west there is a fence, along the north the edge of the stream, to the south there is the gate and a fence, the east is unfenced and there are occasional posts and markings on trees.
Access   Is off Birchwood Road, along a short right of way to the wood's gate. The right of way is in perpetuity and for all purposes with maintenance according to use made.
Covenant  There is a covenant on the wood designed to ensure the quiet and peaceful enjoyment of this and adjoining woodlands, click HERE to read and download.
CLICK HERE  for better quality maps to print out.
Click HERE to see free OS maps  scroll out for a wider view.
Viewing: You are welcome to visit this wood by yourself, but please ensure that you have a copy of these sales details with you - many of our woodlands do not have mobile phone reception or internet access so we recommend either printing the details or downloading them to your phone/tablet/laptop. Please take care when viewing as the great outdoors can contain unexpected hazards and woodlands are no exception.
Maps are : © Crown copyright and database rights 2020 OS Licence no.100057987
Our Maps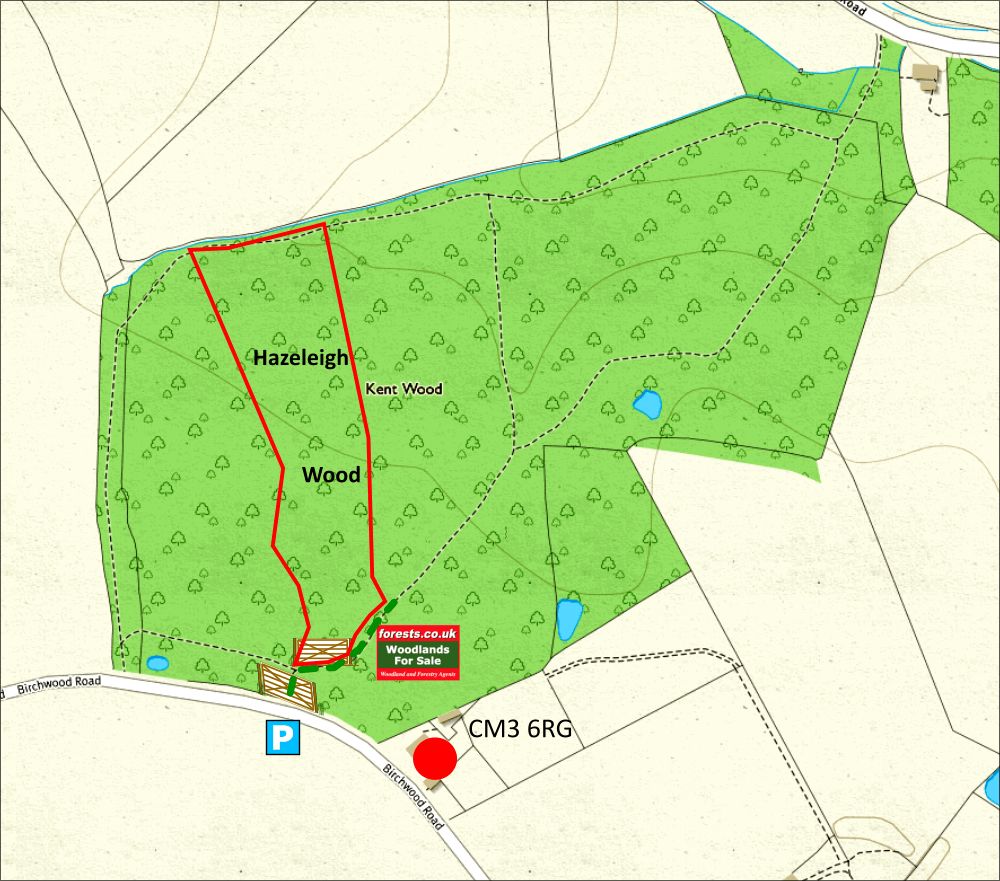 Directions
Hazeleigh Wood is about 8 miles east of Chelmsford and about 3 miles south west of Maldon.
Click here for Bing Maps Directions enter your own postcode, entrance coordinates are already entered, and click on the "Directions" box.
Park on the opposite side of the road (please do not block the gate) and
pass to the side of the wooden gate
Hazeleigh Wood's gate will be see ahead.
Either climb the gate or walk down the track to the right and enter the wood on the left where the fencing ends.
Satnav: the postcode CM3 6RG is for the point shown by the red dot on the location maps. Coordinates for satnav are:  N51.694140, E0.636979