Irton Wood - Sold
Details for this wood
Guide price: £58,000 - Freehold
Size: About 6 acres

Location: East Ayton, Scarborough, East Yorkshire
OS Landranger: 101
Grid ref: TA 002 870
Nearest post code: YO12 5TG
Contact: Richard Scholfield
Phone: 07811 818 277
Email: [email protected]
Email to a friend
Description  From Irton Wood there are great views across the Yorkshire Wolds and is located close to the popular tourist destinations of the North York Moors and Scarborough. It is a fairly mature wood with the majority of the trees having being planted around 1953, as well as a small area which was planted 16 years ago. There are also some areas where birch has self-seeded which, combined with the more mature trees, provide great habitat for wildlife. The wood also has some flat areas which would be suitable for occasional camping.
Access to Irton Wood is via the metal gate and a good clear woodland track.
Covenant  There is a covenant, click here to read, on the woodland designed to ensure the quiet and peaceful enjoyment of this and adjoining woodland.
Our Maps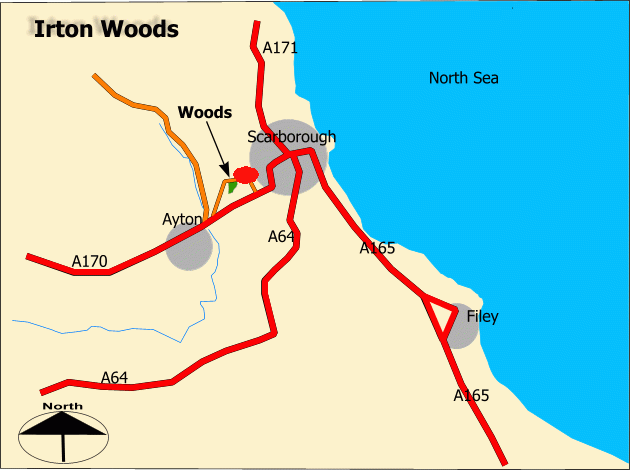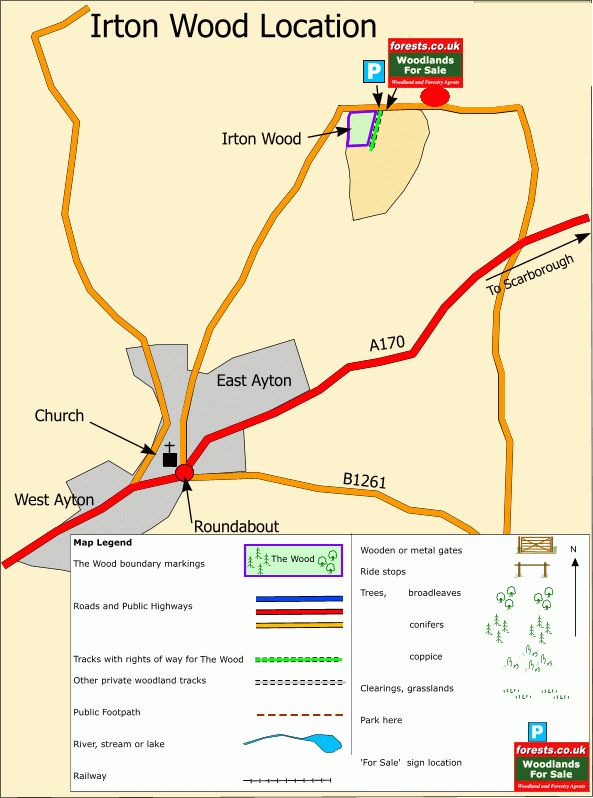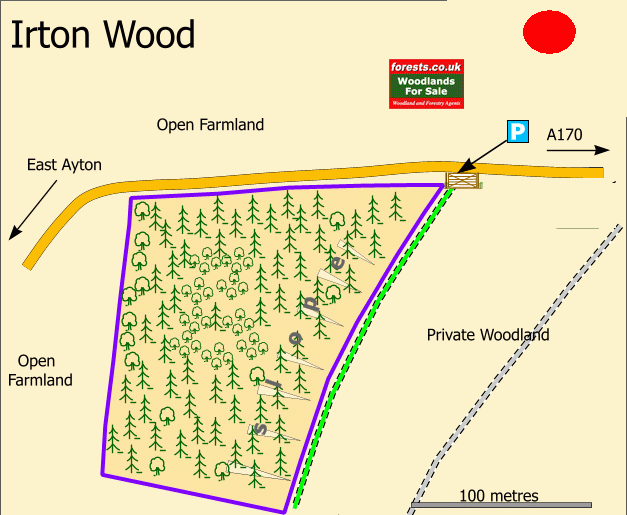 Directions
Just 10 mins drive west of Scarborough and about 40 miles north east of York.
Sat Nav: The post code YO12 5TG is for the point shown on the location map by the red dot.
Coordinates will also work in a satnav and are for the parking place.  N 54.269579, W 0.461737 
Click here for Bing Maps Directions enter your own postcode, the woo'ds entrance coordinates are already entered and click on the blue "Go" box. This will take you to the roadside gate.
 From Pickering travel towards Scarborough on the A170
At East Ayton bear left into Moor Lane when you come level with the turning for the B1261 (on your right). At this point there is a church immediately on the left
Proceed up the lane for about 1 mile then turn right at the cross roads in front of the farm buildings
After about 500 metres you will reach the roadside gate on your right
Park to the side of  the gate, climb over it and you will find Irton Wood on the right.