Owlett Fell - Sold
Details for this wood
Guide price: £65,000 - Freehold
Size: Over 8 acres

Location: Simpson Ground, Cartmell Fell, Cumbria
OS Landranger: 96
Grid ref: SD 404 866
Nearest post code: LA11 6NU
Contact: Richard Scholfield
Phone: 07811 818 277
Email: [email protected]
Email to a friend
Description  Owlet Fell represents a rare opportunity to purchase a picturesque and beautiful area of fell land in the south of the Lake District. There is good access along quiet country lanes from the A590. Once on the land, you will be able to enjoy the peace and tranquility of the surroundings as well as the stunning outlook to the surrounding fells.
It is set in the Lake District National Park, the land being typical of the southern lakes area with a variety of features such as streams, rocky outcrops and grassy areas including some flat pieces suitable for occasional camping. There are also some elevated areas with excellent views. Owlett Fell would lend itself to being a fascinating conservation project in encouraging increased woodland cover either through planting new trees or assisting natural regeneration. Species already growing include birch, willow, mountain ash, hawthorn, oak, ash and hazel. There is also a very diverse ground flora including orchids, pignuts, grasses and ferns plus much more. Juniper is found very locally and could be encouraged.
Access: after the first gate the road is classed as a BOAT, byway open to all traffic.
Our Maps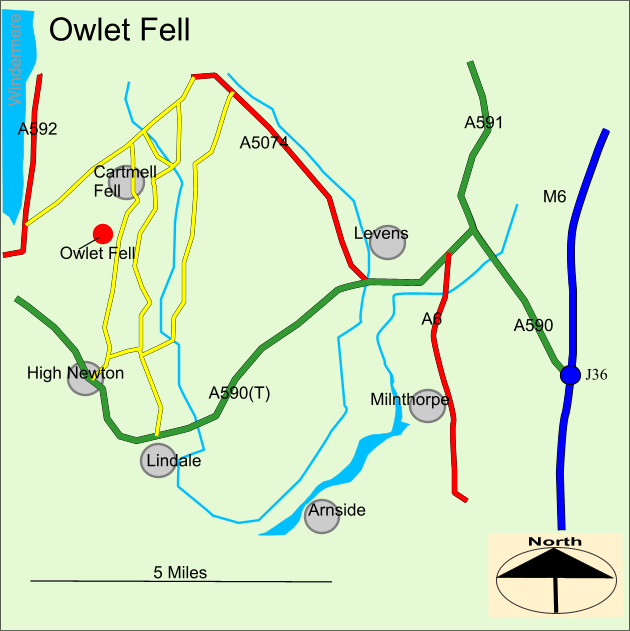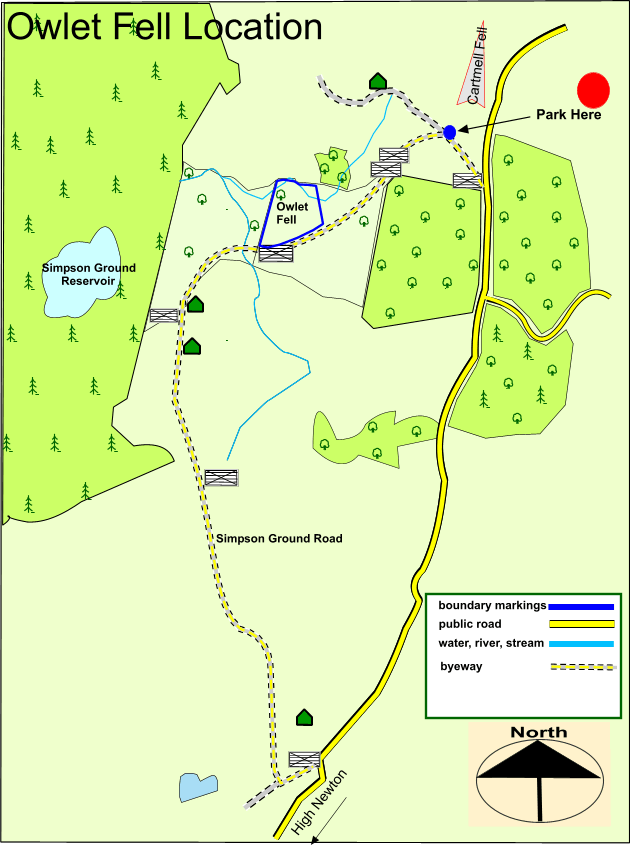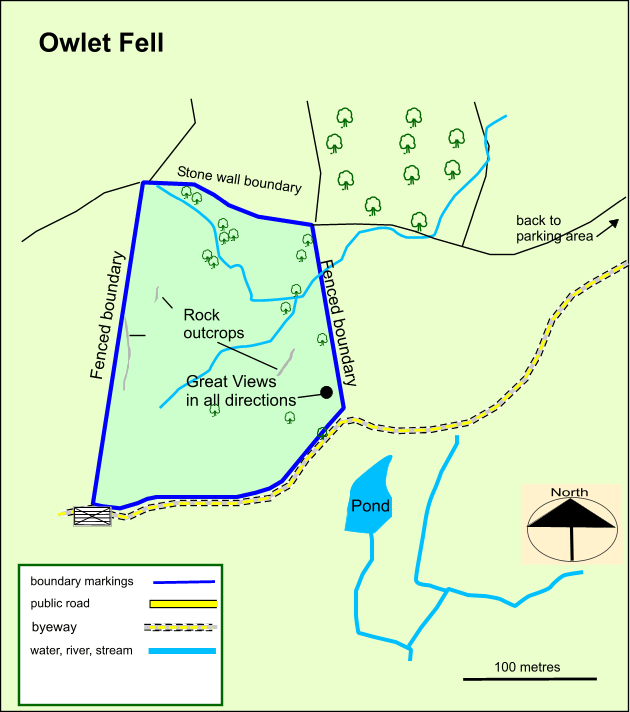 Directions
Owlett Fell is about 16 miles east of   M6 J36 and 7 miles north of Grange over Sands. 
Click here for Bing Maps Directions enter your own postcode, entrance coordinates are already entered and click on the blue "Go" box. This will take you to the track entrance off  the public highway through the wooden field gate.
For SatNav the postcode is LA11 6NU
Coordinates:   N 54.272553, W 2.906592
Travelling west along the A590 (T)  exit the dual carriageway signed (Cartmell High Newton Low Newton)
pass under the road and continue until 
the second right turn signed Cartmell Fell at High Newton
At the junction in High Newton turn right next to the Inn
Take the next fork left, past the Lindale sign
Follow the road over the top of the hill and into valley, cross over the bridge at the bottom of the hill.
Pass some recently felled woods on the left then fork left through a new closed wooden gate. Please close the gate after passing through.
Proceed up the road for approximately 300 metres until you reach a track on your left.
Park on the grass verge and walk up the track until you reach the gate after approximately 200 metres.
Pass through these two gates and Owlet Fell is approximately 300 metres along the track on the right hand side. Please close the gates after passing through.
The access track to Owlett Fell from the minor road is classed as a "boat" (byway open to all traffic).