Warrenby Wood - Sold
Details for this wood
Guide price: £59,000 - Freehold
Size: About 7½ acres

Location: Brantingham Dale, South Cave, East Yorkshire
OS Landranger: 106
Grid ref: SE 947 310
Nearest post code: HU15 1QN
Contact: Richard Scholfield
Phone: 07811 818 277
Email: [email protected]
Email to a friend
Description   Located in on the edge of the Yorkshire Wolds and within Brantingham Dale, Warrenby Wood lies on the west side of the pretty Brantingham Dale valley. There is a good variety of open meadows and wooded areas which provide a broad range of habitats that encourage wildlife into the area. Within sight of Dale Road, which passes along the south eastern boundary, are plenty of self seeded ash trees as well as some much larger ash. Further into the wood there is a large grass covered meadow with trees bordering it on all sides, a place to spot butterflies as well as many different grassland plants. There is a foot track which passes across the top of the meadow and gives access along the wood past a grove of birch trees which stand tall with white trunks in the winter. Towards the top of the dale there is a flat area with some hawthorn, sycamore, ash and birch. 
The land is part of the Brantingham Dale Site of Special Scientific Interest (SSSI) and Warrenby Wood would make a great conservation project and an ideal location to watch wildlife. A new owner may wish to manage the grassy clearings in line with the recommendations suggested by Natural England in their Views About Management. Click on the following for details - VAM, Citation, Operations
Vehicle access to Warrenby Wood is provided by way of a solid woodland track which leads along the top of the dale to a small parking area. The new owner would also be able to access the wood on foot from the bottom of the Dale.
There is a covenant, click here to read, on the woodland designed to ensure the quiet and peaceful enjoyment of this and adjoining woodland.
Our Maps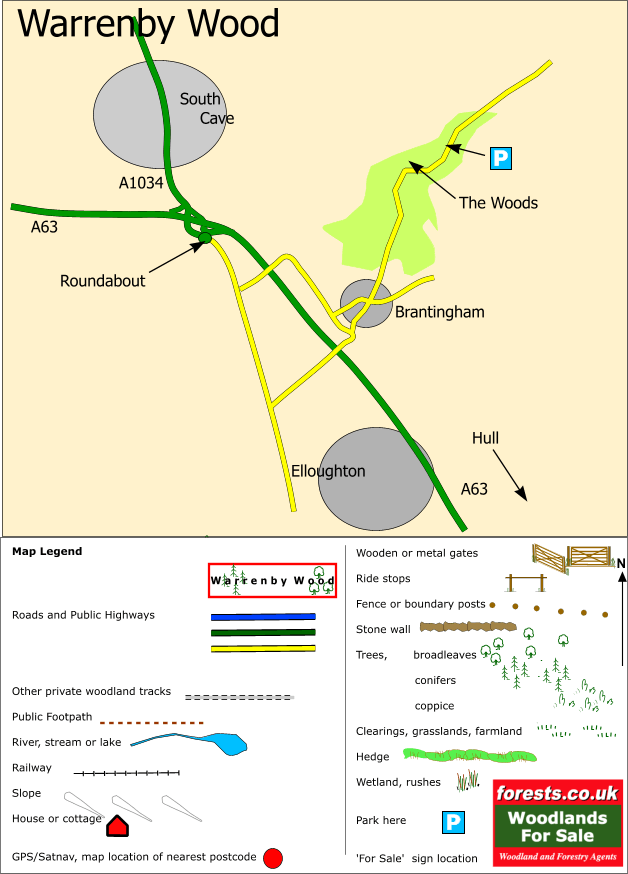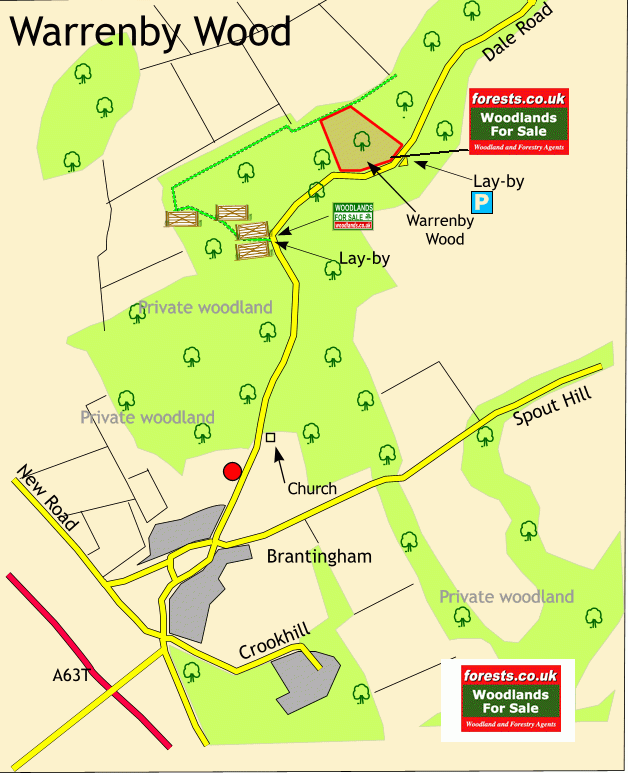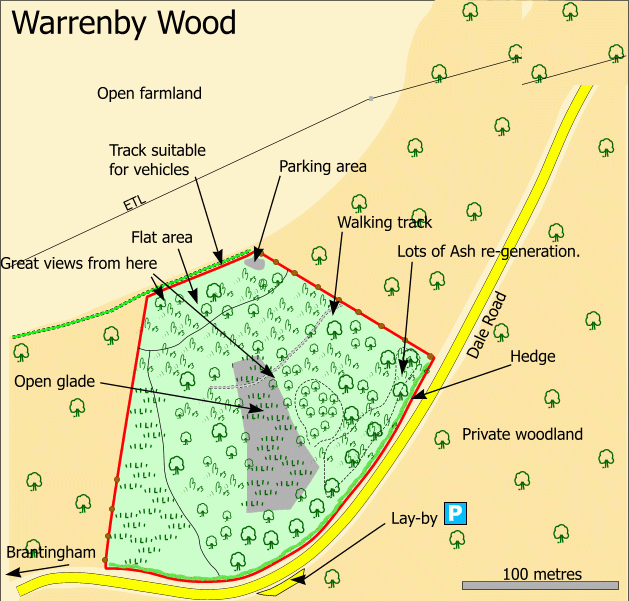 Directions
Warrenby Wood at Brantingham is about 20 minuits west of Hull off the A63
Click here for Bing Maps Directions enter your own postcode, (the coordinates for layby are already entered) and click on the blue "Go" box. 
For Satnav: the nearest postcode is HU15 1QN as shown by the red dot on the maps. These coordinates will get up to the gate. 53.765271, -0.564337
Travelling towards Hull on the A63(T) turn off at the junction for Elloughton and South Cave.
Turn right over the dual carriageway, signed to "Elloughton".
At the roundabout take the second exit. Take the next left signed to Brantingham.
After the sharp right bend take the next left in to Brantingham.
At the T junction turn left onto Dale Road.
Pass a church on the right.
Pass the layby on the left with the "Woodlands For Sale" board.
Park in the next layby on the right.
Warrenby Wood is across the road and through the hedge.
Note. The purchasers will be given a key for the gate.