Weatherstones Wood - Sold
Details for this wood
Guide price: £45,000 - Freehold
Size: Over 5 acres

Location: Neston on the Wirral, Cheshire
OS Landranger: 266
Grid ref: SJ 315 753
Nearest post code: CH64 8TA
Contact: Richard Scholfield
Phone: 07811 818 277
Email: [email protected]
Email to a friend
Weatherstones Wood is very secluded with a real mix of different tree species. A large proportion of the wood contains mature Scots pine that are well-spaced. On closer inspection there is an understory of young oak, ash, holly, hazel, silver birch and rowan. In the summer months, when the leaves are in full bloom, there is a great sense of seclusion and privacy. There are also some mature beech trees that are scattered through the woodland. In a few of the beech-tree areas there is a potential to create a camping area or simply an area for carrying out woodland related activities.
You can see and hear buzzards, barn owls, ravens and woodpeckers and in the lower canopy of young broadleaf you can find many songbirds and other birds such as jay, woodcock and pheasant.
The wood is very flat with both woodland and fields bordering the edges. There is a lot of sandstone here which was used to create the main track to Weatherstones Wood. The main track that leads to the wood was originally created in the 1600s for the local residents to walk to St Nicholas Parish Church in Burton.
Nearby there are the Ness Botanical Gardens, next to the village of Burton, where there is also an RSPB nature reserve. Birkenhead and Liverpool are only a few miles away.
There is a covenant, click here to read, on the woodland designed to ensure the quiet and peaceful enjoyment of this and adjoining woodland.
Our Maps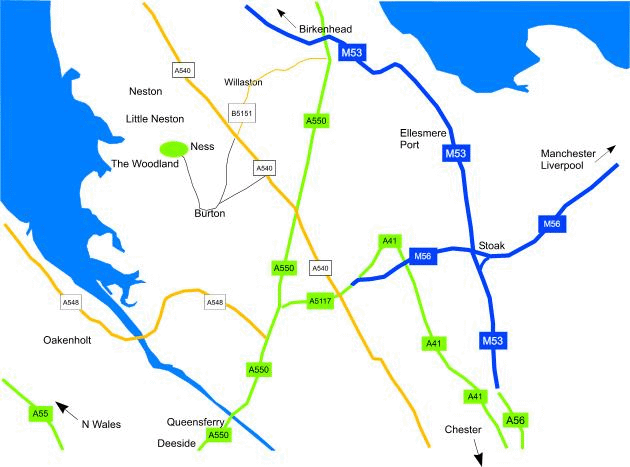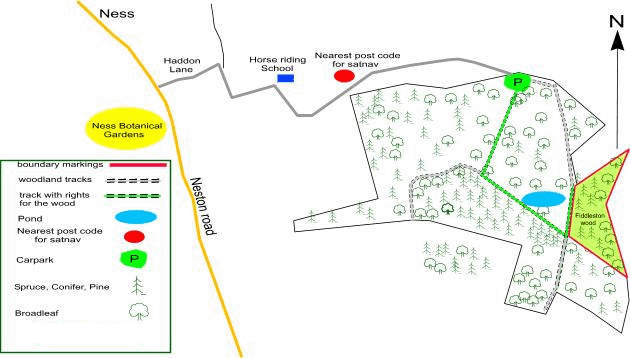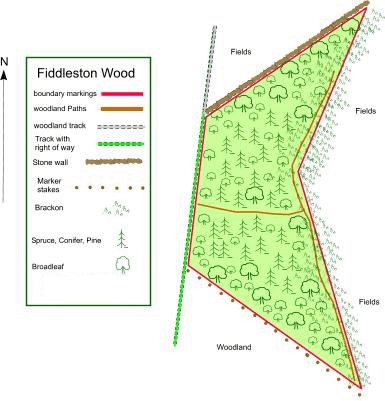 Directions
 Click here for Bing Maps Directions enter your own postcode, (the coordinates for the main entrance gates are already entered) and click on the blue "Go" box.  
For Satnav: the nearest postcode is CH64 8TA as shown by the red dot on the maps. 
If you are travelling along the A550 take the exit onto the A540 (Parkgate Road) and head north towards Barnston.
Carry on along this road until you reach a set of traffic lights where you can take a left turning signposted 'Ness Gardens'.
This road is called Dunstan Lane, follow this road through Burton until you get to the entrance of the Ness Botanical Gardens which is on the left hand side.
Opposite the turning into the gardens there is a lane called Haddon Lane.
Follow this lane past the horse riding centre until the lane comes to an end.
At the end you will see some metal railings on the right hand side with a 'Woodlands For Sale' sign. Park here (please be careful not to obstruct the wooden gate leading to the field).
Follow the woodland track to the 'T' junction and turn left; follow this track past the pond on your left and you will see Weatherstones Wood on the right hand side of the track.