Wedmans Wood - Sold
Details for this wood
Guide price: £58,000 - Freehold
Size: About 3⅓ acres

Location: Cowfold Lane, Rotherwick, near Hook, Hants
OS Landranger: 186
Grid ref: SU 724 564
Nearest post code: RG27 9QT
Contact: Ben Williamson
Phone: 07958 213 914
Email: [email protected]
Email to a friend
 Quiet mature woodland frequented by deer enjoying the large wooded area known as Street End Woods, Wedmans is part of this on the far side. Trees are mature and could supply firewood to a home, timber for woodworking and wood for campfires. Hazel is widespread and field maple, a beautiful autumn tree is occasional. Open enough to be able to walk through but with enough cover for secliusion.
The steam along the western boundary is a delight in winter and for most of the summer, in dry periods it will dry though.  A perfect safe place for children to enjoy splashing around in the water and forming dams.
Tents:  these can be left for a new owner, they are located centrally in the woodland where rhododendron has been cleared for a perfect camping spot, and somewhere to base woodland activities in. Some rhodo remains but if kept under control does afford shelter. There is a footpath on the southern boundary.
The nearby village of Rotherwick offers a friendly welcome at the village pubs if staying overnight to complete a woodland project. Hook is only a couple of minutes drive and for more specialist woodland tools and supplies Basingstoke is within easy reach in this most accessible yet peaceful woodland location. Convenient to but not affected by the M3 at Hook.
Coventant  There is a covenant on the wood designed to ensure the quiet and peaceful enjoyment of this and adjoining woodlands, click HERE to read and download.
Access  is off Cowfold Lane then along a private track where there is a full right of way in perpetuity for the owner of Wedmans Wood. Maintenance is shared and is according to use made.
Boundaries  are the edge of the field, the centre of the stream the far side of the path at the sounth and a bank to the north. There are mauve markings.
Full-scale   Click here  to download and print a map showing the location of Wedmans Wood.
Click HERE to see free OS maps  scroll out for a wider view.
Viewing: You are welcome to visit this wood by yourself, but please ensure that you have a copy of these sales details with you - many of our woodlands do not have mobile phone reception or internet access so we recommend either printing the details or downloading them to your phone or tablet. Please take care when viewing as the great outdoors can contain unexpected hazards and woodlands are no exception.
Maps are : © Crown copyright and database rights 2021 OS Licence no.100057987
Our Maps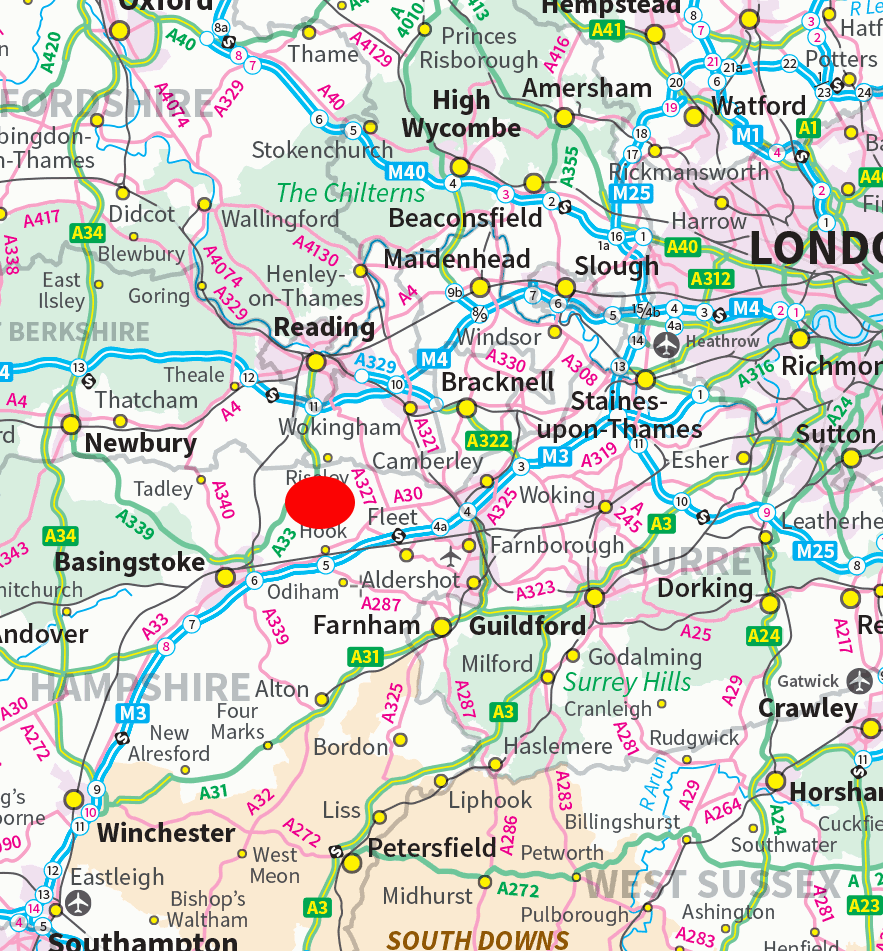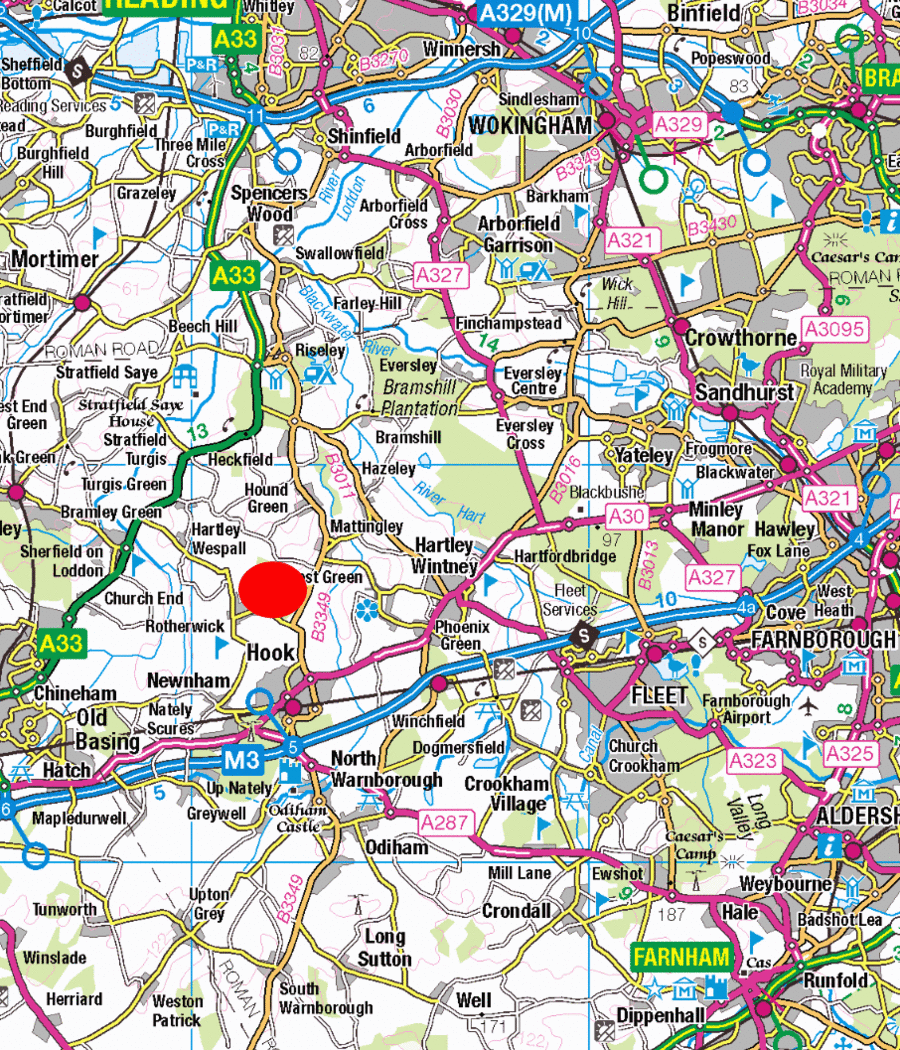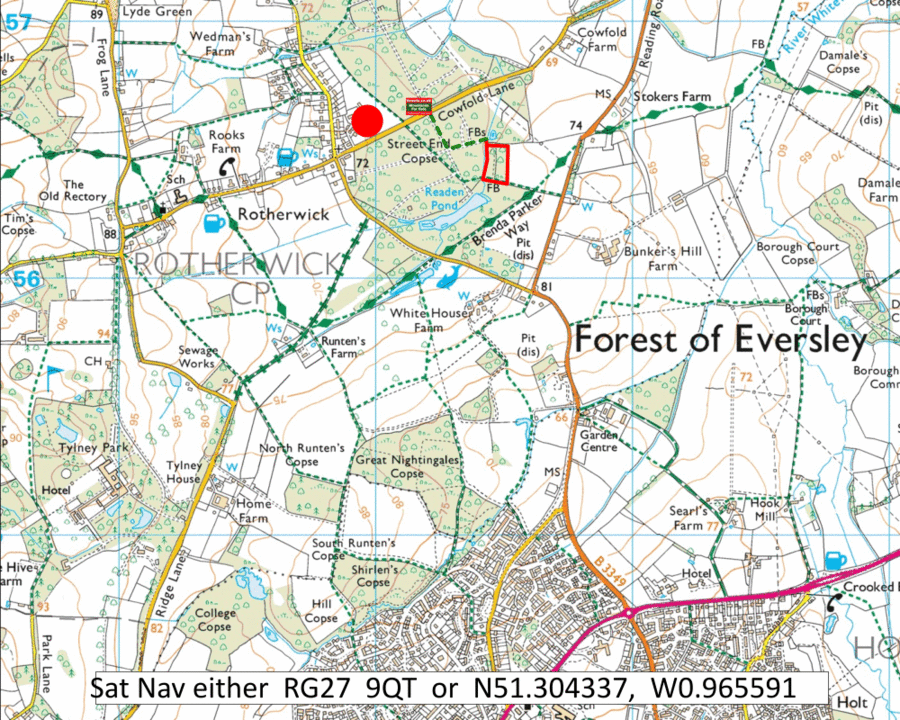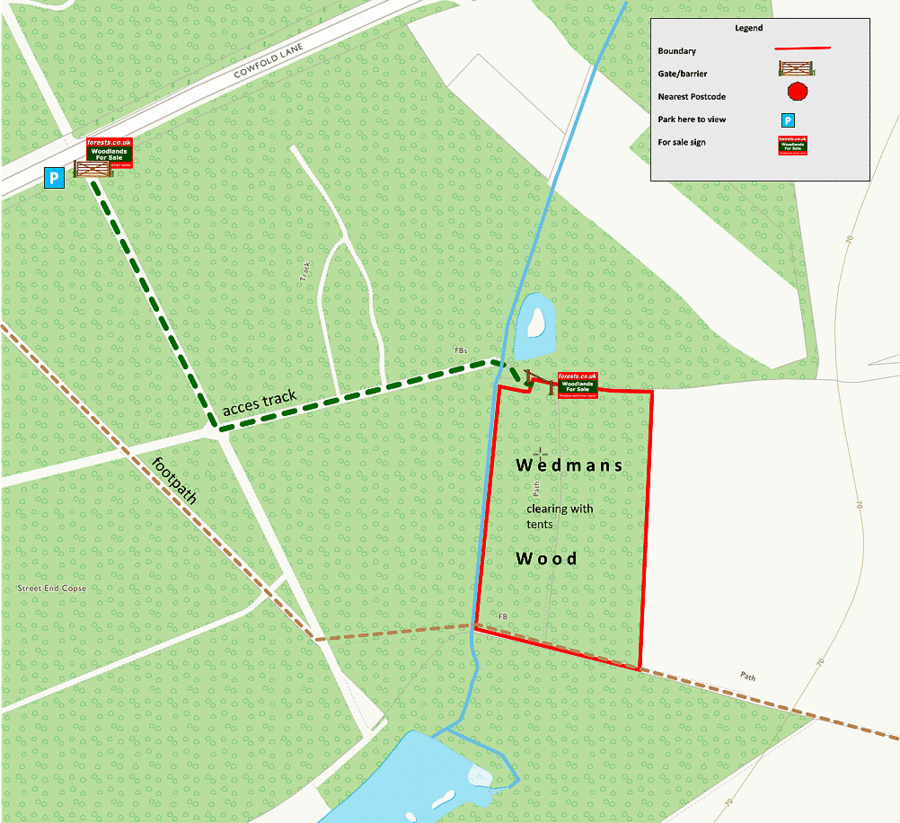 Directions
Wedmans Wood lies just east of Rotherwick and north of Hook.
Click here for Bing Maps Directions enter your own postcode, (the coordinates the entrance gate are already entered).  Park on the verge to one side, please do not obstruct the gate.
Pass to one side of the gate and walk down the track taking the left turn after about 150 metres then for another 150 metres and Wedmands Wood will be seen on the right after crossing the bridge. There is a name sign and a for sale sign.
For Satnav: the nearest postcode is RG27 9QT as shown by the red dot on the maps. Coordinates for your satnav are N51.304337, W0.965591