Hares Down Wood - Sold
Details for this wood
Guide price: £32,000 - Freehold
Size: About 2⅓ acres

Location: Stoodleigh, Tiverton, Devon
OS Landranger: 181
Grid ref: SS 889 200
Nearest post code: EX16 9QQ
Contact: Ben Williamson
Phone: 07958 213 914
Email: [email protected]
Email to a friend
Hares Down Wood is an upland oak woodland in the Devonshire heartlands with well spaced trees. It has good access from a quiet country lane, is very peaceful and ideally suited for family camping, wildlife enjoyment and small scale forestry projects. The ease of access to the woodland make it suited for a camper van.
Birds such as woodpeckers, tree creepers and long tailed tits are to name but a few of species that can be observed here. Many mammals frequent the area including red and roe deer, both of which enjoy grazing on the bilberries in the summer.
Hares Down Wood has access along the northern boundary via a shared forestry track. It has a useful private second entrance track along the southern boundary.
A forest shed, with timber store and a greenhouse can be found centrally located, planning permission was previously granted for these and they are a great asset.
Covenant  The purchasers of the woodland will be asked to enter into a covenant to ensure the quiet and peaceful enjoyment of this and adjoining woodlands, click HERE to read and download.
Viewing: You are welcome to visit this wood by yourself, but please ensure that you have a copy of these sales details with you - many of our woodlands do not have mobile phone reception or internet access so we recommend either printing the details or downloading them to your phone/tablet/laptop. Please take care when viewing as the great outdoors can contain unexpected hazards and woodlands are no exception.
Access   is off the public highhway along a woodland track.
Full-scale   Click here  to download and print a wood map and location.
Click HERE to see free OS maps  scroll out for a wider view.
Maps are : © Crown copyright and database rights 2020 OS Licence no.100057987
Our Maps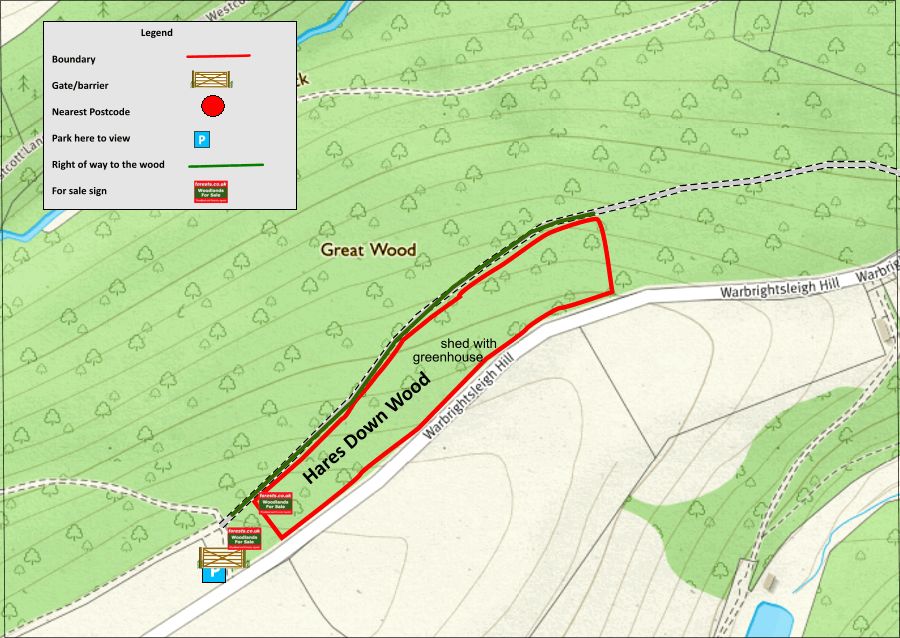 Directions
Hares Down Wood is about 8 miles north of Tiverton and just over 1 mile from the A361 the North Devon Link Road.
Click here for Bing Maps Directions enter your own postcode, (the coordinates for the entrance gate are already entered). This will take you to the parking area by the access gate.
For Satnav: the nearest postcode is  EX16 9QQ as shown by the red dot on the maps. Coordinates for your satnav are N50.968216,W3.583950
After parking, the wood will be found on the right hand side, running parallel to the lane behind the hedge and bank.