Coed Derw Dau (Two Oak Wood)
Details for this wood
Guide price: £65,000 - Freehold
Size: 3½ acres

Location: Gwehelog, Raglan, Monmouthshire
OS Landranger: 161
Grid ref: SO 396 044
Nearest post code: NP15 1RD
Contact: Sandra Colley
Phone: 07388 057 446
Email: [email protected]
Email to a friend
Description: Coed Derw Dau has interesting potential as woodland, forest garden, and maybe One Planet Development (OPD). Big Wood, the larger woodland of which it is a part, is located on the brow of a hill which means the whole area of land benefits from good exposure to sun and light and Coed Derw Dau also benefits from being protected on three sides by thick woodland. A line of shrub as well as mature standard trees on its northern boundary also afford shelter.
The large central area is mainly given over to grasses, bracken and bramble at the moment, but a variety of broadleaf trees are gradually establishing themselves, and could be encouraged and supplemented by planting, or removed for growing food.  Along the western and northern boundary there is some semi mature growth of oak, ash and birch among other broadleaf.
Standing proud of their surroundings are two superb mature oaks for which the wood is named, each host to their own complex universe of creatures and micro creatures.
This land could either provide a great opportunity to increase the existing wooded areas with more native broadleaf planting, or it could be an exciting opportunity to create something more along the lines of a productive forest garden, and may be suitable for One Planet Development.
Good access and its flat level nature make it a practical and inviting option for any other forestry enterprise.
Access: Coed Derw Dau is accessed over a very good stone track, that winds through Big Wood.  There is a section of that track that is quite steep, and it is likely that a four wheel drive vehicle is necessary to be able to drive all the way to the wood. There is an area where a car could be parked just inside the main entrance gate to Big Wood.
The M4 and M50, both within easy reach, make the woodland very accessible.
Public access: None
Sporting rights: Included.
Mineral rights: Included, except as reserved by statute.
Covenants: in common with the neighbouring woodlands, there is a covenant designed to ensure that all can have quiet and peaceful enjoyment of their woodland.
Local area and history:  Nearby Raglan has pubs, shops, post office and petrol station as well as a fantastic castle and Abergavenny as well as the Brecon Beacons National Park are a short drive away.
Big Wood was once part of the Cefn Tilla estate. Cefn Tilla Court, the 16th century house of the estate located in nearby Llandenny, was given to the 2nd Lord Raglan, Richard Somerset, as a testimonial to the services of his late father, Field Marshal Lord Raglan, who had been Commander in Chief in the Crimean War.
Boundaries: The southern boundary is the main access track. The western boundary is delineated by a storm ditch running along its length. The northern boundary is fenced from adjoining farmland, and the eastern boundary is the edge of the adjoining woodland, and also marked by a line of stakes, further indicated by blue paint.
Photographs: were taken in March 2022 and August 2023.
Our Maps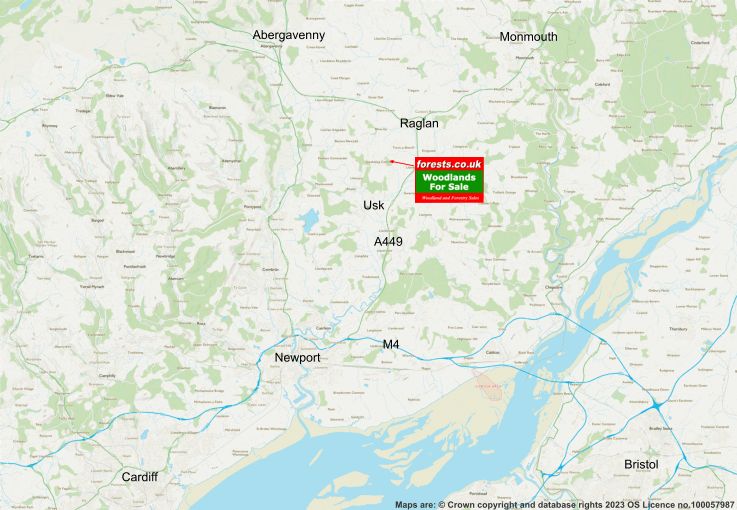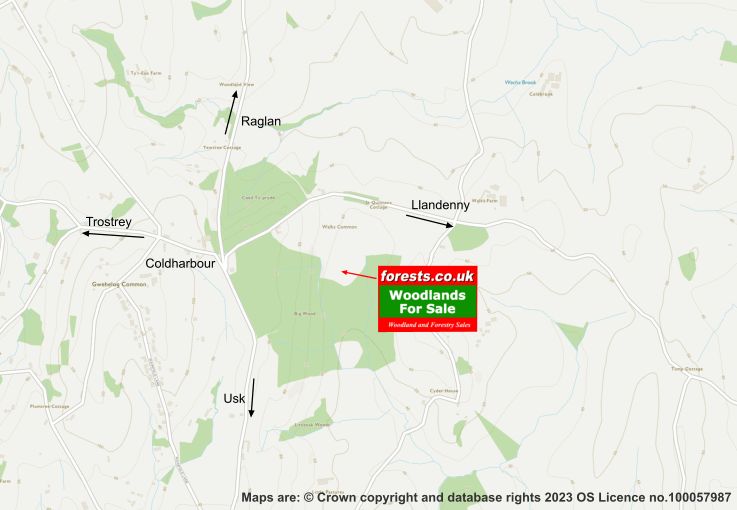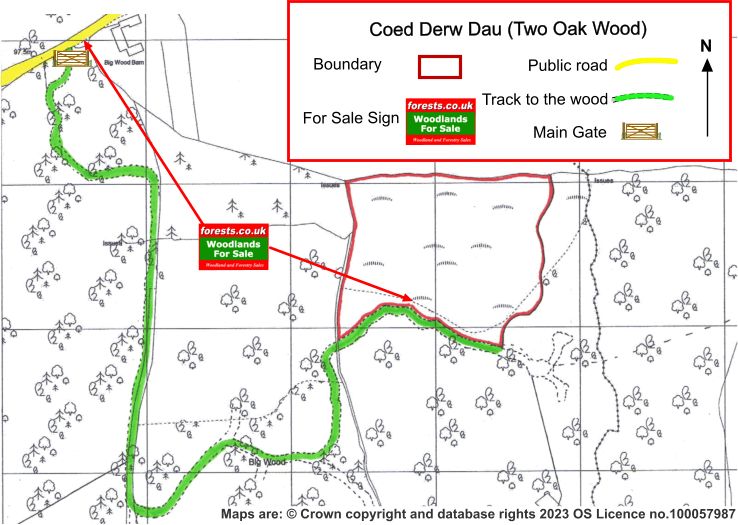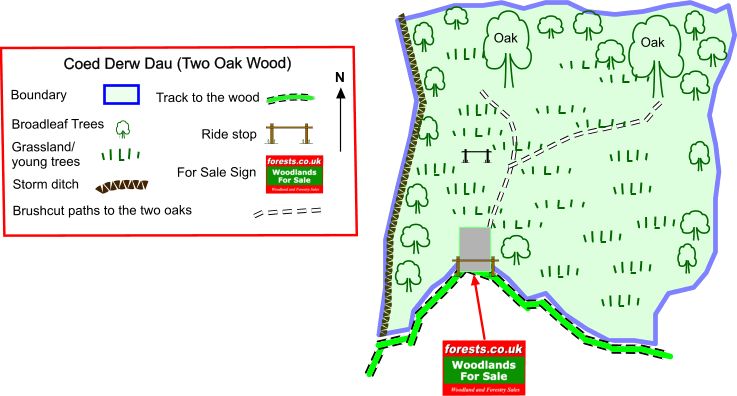 Directions
From the M4 - exit at Junction 24 and take the A449 northwards towards Usk.
Take the exit onto the A472 towards Usk, As you enter Usk, just after the start of the 30mph limit, turn right signposted Gwehelog. After 2 miles you will see our "For Sale" board on the right hand side. Take the next turning right, signposted Llandenny. The turning and parking area for Big Wood is on the right after a few hundred metres.
Coming from north of the wood, from the A40, take the turning from the roundabout at Raglan signposted Usk, Gwhelog and Brynbuga. Follow this road for a couple of miles or so until you see a sign for Gwehelog followed shortly by a sign for Coldharbour. The turning to the wood is immediately after this on the left, a very sharp hairpin turn, which is very difficult to take. It may be easier to take the right turn directly opposite and then, taking great care for traffic coming from both directions, traverse the road and continue onto the minor road until you come to the entrance to Big Wood very shortly on your right.
Please park at the gate taking care not to block access and continue on foot through the wood taking the left fork and continuing downhill until you come to Derw Dau your left. The second half of the track is almost certainly suitable for four wheel drive vehicles only.
Postcode for Satnav:        NP15 1EB (a farm half a mile east of the woodland entrance)
Coordinates for Satnav:   51.7368, -2.8797 (the main entrance gate)
Interested in this woodland? Get in touch with us:
Contact Sandra Colley on 07388 057 446 or email us at [email protected] with your details.