Coed Ffynonwen - Sold
Details for this wood
Guide price: £210,000 - Freehold
Size: 22½ acres

Location: Llangynog, Carmarthenshire
OS Landranger: 159
Grid ref: SN 348 151
Nearest post code: SA33 5BS
Contact: Sandra Colley
Phone: 07388 057 446
Email: [email protected]
Email to a friend
Short video of the wood.
Coed Ffynonwen in Carmarthenshire is a large, fairly level, woodland with excellent access directly off a minor country lane. The wood is partly conifer (mostly mature Norway Spruce) and part broadleaf, and has two streams running through it, and a three-quarter acre lake.
Description: Coed Ffynonwen is a relatively large and level woodland, set down a quiet country lane and feels very private, with much to explore. Part of the woodland is conifer (mainly Norway Spruce planted in 1962 and 1970) and part is broadleaf. There is a wide entrance and from here a stoned track runs down through the woodland, before opening out into a large clearing just before the stream.  Just to the south of the clearing there is a beautiful and secluded lake framed by trees. The lake is about three quarters of an acre in size and originally twelve foot deep at the centre (although probably somewhat silted up now), with various different levels and wildlife habitats. It is stream fed with an outlet and there are islands within the lake, home to some attractive native trees and nesting ducks. There are plenty of places on the waters edge to sit and take in this rich habitat and the watch the tree reflections dancing on the water. Just beyond this a clear stream meanders in and out of the woodland and as well as attracting many varieties of Dragonflies, Eels have also been spotted swimming in the water here.
Beneath the conifers, Wood Sorrel can be found on the forest floor (this is usually an indicator of ancient woodland, although this is not classified as such). Beyond this is the lake which offers another diverse habitat for both flora and fauna. There are small glades around the stream which encourage a good mix of wild flowers, including Bluebells in Spring, Purple Loosestrife and Wild Angelica. At the far right end of the woodland there is a mix of conifers and many well spaced broadleaves. The woodland is surrounded on all sides by meadow land.
Access: Coed Ffynonwen is accessed directly off a minor country lane, and is accessible with an ordinary car. An excellent hard track leads down into the heart of the wood.
Public access: None
Sporting rights: Included.
Mineral rights: Included, except as reserved by statute.
Local area and history:  Coed Ffynonwen is near Llansteffan, on the Twyi/Taf estuary, with a castle worth visiting. Laugharne, where Dylan Thomas' house and writing shed can be visited, is just across the Taf estuary to the west. Coed Ffynonwen used to form part of the 'Plas' Estate, which centred around a large mansion house in Llansteffan, a picturesque coastal village a couple of miles away.
Boundaries: The boundaries of the wood are all fenced from adjoining farmland, except for the very short southern boundary from adjoining woodland.
Photographs: were taken in February 2022, with summer and aerial photographs taken in June 2017.
Our Maps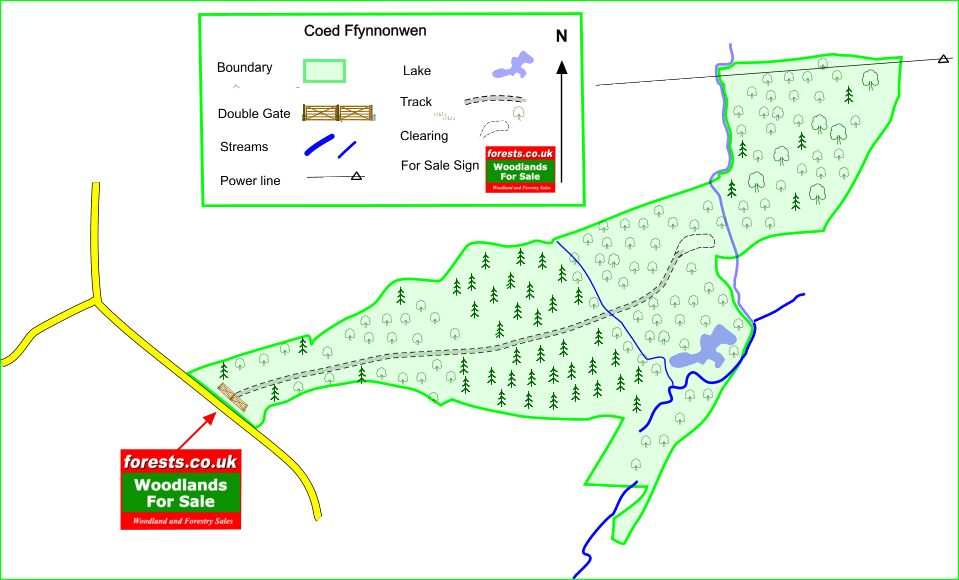 Directions
From Carmarthen take the A40 towards St. Clears. Follow signs to Johnstown and Llansteffan.
Turn right at the traffic lights, pass through Johnstown and follow this road (B4312) along for a few miles until you see a sign for Llanybri and Coomb Cheshire home.
Turn right here and follow the road as it winds round. Past a caravan park on the left, then take a right turn signposted Llangain and Carmarthen. Follow this road round, over an old stone bridge and turn left at the T junction.
Take the first right turn, ignore the next right turn, but just after this look out for the woodland which is on your left. Park in the pull in, in front of the Forests.co.uk `Woodlands for sale` sign.
Postcode for Satnav:        SA33 5BS (half a mile north of the entrance gate)
Coordinates for Satnav:   51.809600 ,-4.4007593 (the entrance gate)