Gelli Glyd Wood - Sold
Details for this wood
Guide price: £17,000 - Freehold
Size: About 0.9 acres

Location: Whitemill, Carmarthen, Carmarthenshire
OS Landranger: 159
Grid ref: SN462243
Nearest post code: SA32 7HJ
Contact: Sandra Colley
Phone: 07388 057 446
Email: [email protected]
Email to a friend
Description: Gelli Glyd woodland is a self-contained flat broadleaf woodland, mostly surrounded by open farmland. Small parcels of woodland are very rarely offered for sale, so this represents an ideal opportunity to make a start with woodland ownership.
While there are larger trees, especially around the boundaries, most of the trees in the wood itself are small enough to work with hand tools.
Access: The wood is accessed directly off a very quiet unclassified road.  There is an overgrown gateway with a metal gate near the southern end of the wood. There is also an opening in the earth bank around the middle of the wood, somewhat overgrown now, but which could easily be cleared and gated.  It is understood that there is a stone hardstanding inside this entrance, meaning that it should be easy to park a vehicle inside the wood.
Public access: None. 
Sporting rights: Understood to be included.
Mineral rights: Included, except as reserved by statute.
Official designations: none known
Boundaries:  The eastern boundary runs alongside the road, and is separated from the road by a tree-lined earth bank. The western and southern boundaries are also formed by tree-lined earth banks.  There is a drainage ditch along the inside of the western boundary, but this is quite silted up.
Local area and history:  The wood is not named on Ordnance Survey maps, but is registered as land at Gelli Glyd Farm (which is about a third of a mile to the south). Nothing else is known about the history of the land.
VIEWING: You are welcome to visit this wood by yourself.  Please ensure that you have a copy of these sales details with you: we recommend either printing the details or downloading them to your phone/tablet/laptop before you go. Please take care when viewing as the great outdoors can contain unexpected hazards and woodlands are no exception.
Our Maps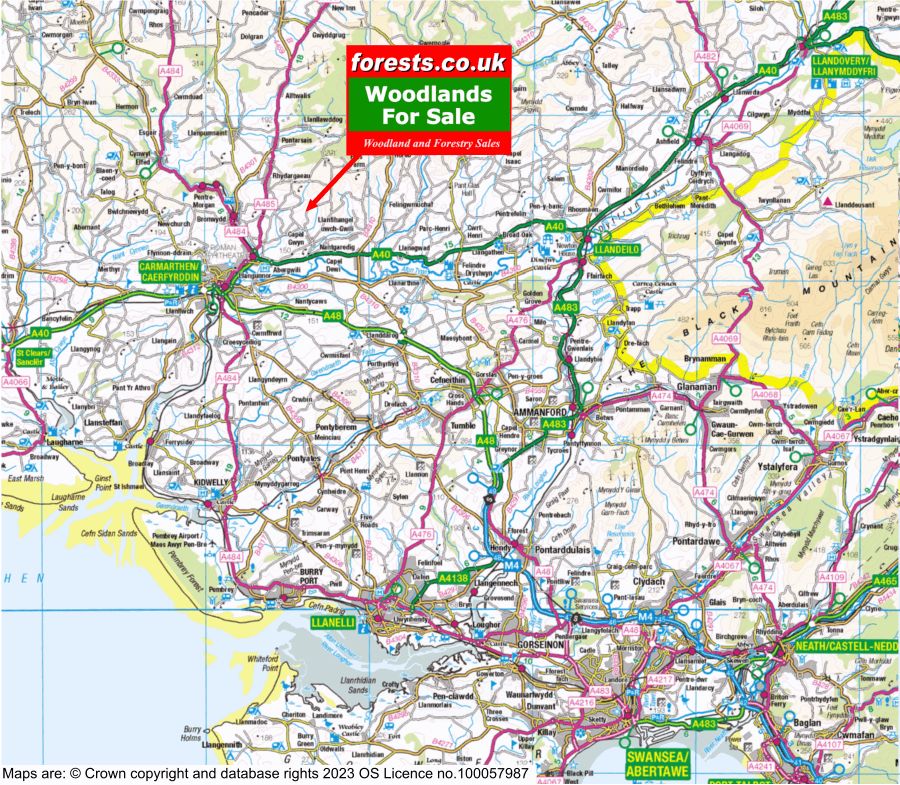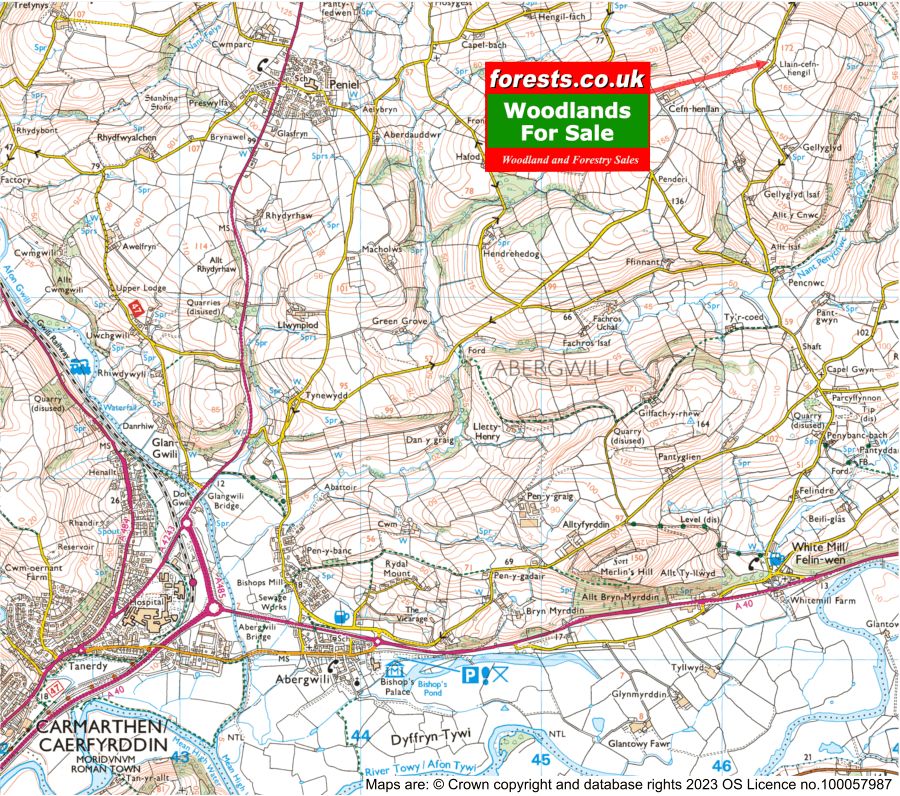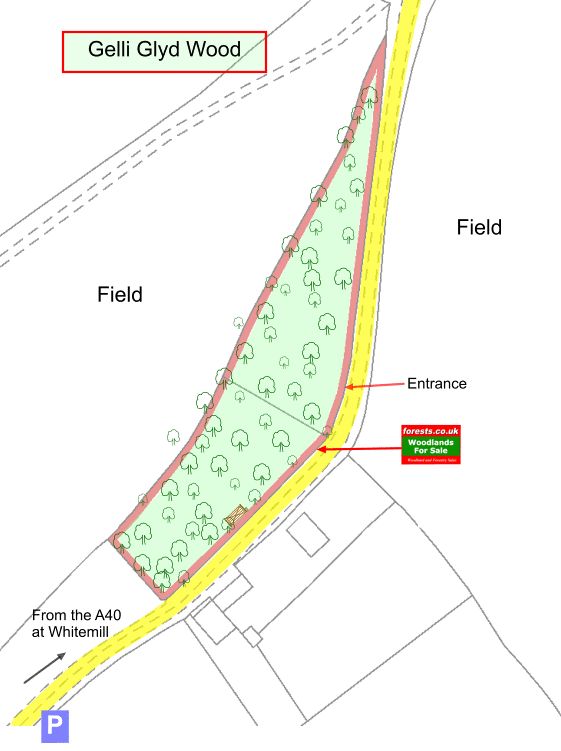 Directions
From the A40 just east of Carmarthen, turn off the A40 signposted Felin-Wen / Whitemill.
If coming from Carmarthen, take the first left, opposite "The Mill".
OR, If coming from the east, go past the first turning with the White Mill Inn on the corner, and take the next right.
Follow that road for three quarters of a mile, then turn left, signposted Abergwili.
Take the first turning on the right, after a third of mile.
Follow the road for just under one mile, where you will see our "For Sale" board on the left.
(If you reach Felinwen Holidays you have gone too far!)
Postcode for Satnav:        SA32 7HJ (Felinwen Holidays, half a mile north of the wood)
Coordinates for Satnav:   51.89555,-4.23605 
If following Satnav using the postcode, coming from Whitemill, note that you will reach the wood just over half a mile before your postcode destination.​
Maps are: © Crown copyright and database rights 2023 OS Licence no.100057987