Fortress Wood, Snetterton - Sold
Details for this wood
Guide price: £40,000 - Freehold
Size: About 3 acres

Location: Snetterton, Norfolk
OS Landranger: 144
Grid ref: TL 986 897
Nearest post code: NR16 2LQ
Contact: Ben Williamson
Phone: 07958 213 914
Email: [email protected]
Email to a friend
Fortress Wood is accessed via a good quality stone track across open water meadows. Continue along this track as it meanders through other areas of private woodland until you reach the entrance to the wood, by the 'for sale' sign.
It's part of Larling Fenn  and Carr a valuable type of wet woodland.
Wildlife is much in evidence and there are deer racks criss-crossing the woodland. New "slot marks" can be clearly seen and if you're not quiet enough to see one of the various species of deer that inhabit the woodland, you may be able to identify them from the footprints left by red, roe or muntjac deer.
The woodland is made up of mainly alder with some birch and ash. These trees in this area and cope well with the winter months when the woodland is wetter due to its proximity to the River Thet.
Thick in parts, the floor is covered in sedges and rushes and forms a soft underbelly below the mature trees. Alder is a wonderful wood and was used in the past to make clogs due to its resistance to rotting. It is also a great wood to make charcoal from and was thought to be the best source of high-grade charcoal for gunpowder.
Access   Is off a private track where there is a full right of way.
Boundaries  Are the trackside, free-standing posts and the dyke on the east side.
Covenant  There is a covenant on the wood designed to ensure the quiet and peaceful enjoyment of this and adjoining woodlands, click HERE to read and download.
CLICK HERE  for better quality maps to print out. Click HERE to see free OS maps  scroll out for a wider view.
Viewing: You are welcome to visit this wood by yourself, but please ensure that you have a copy of these sales details with you - many of our woodlands do not have mobile phone reception or internet access so we recommend either printing the details or downloading them to your phone/tablet/laptop. Please take care when viewing as the great outdoors can contain unexpected hazards and woodlands are no exception. We do advise wellingtons!
Maps are : © Crown copyright and database rights 2020 OS Licence no.100057987
Our Maps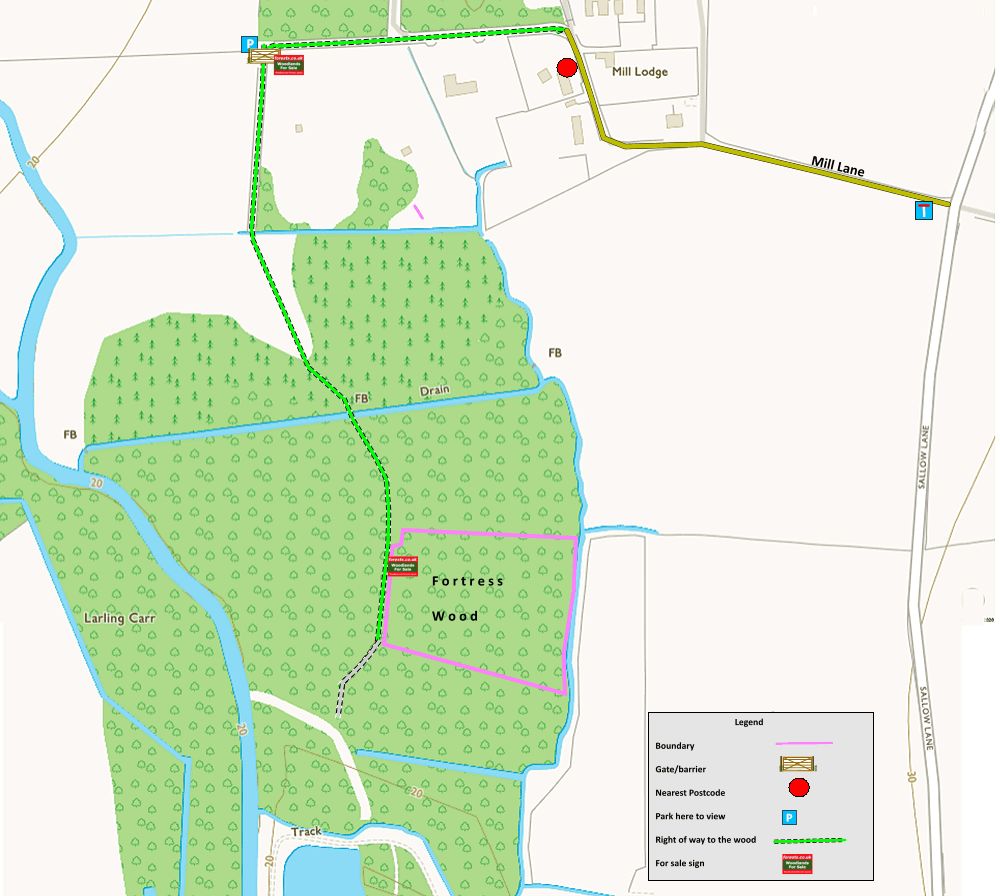 Directions
Fortress Wood lies between Attleborough and Thetford in Norfolk close to the A11. The nearest village is Larling.
For Satnav: the nearest postcode isNR16 2LQ  as shown by the red dot on the maps. Coordinates for your satnav are N52.471507, E0.920665
Click here for Bing Maps Directions  enter your own postcode and click on the "Go" box. This will take you to the gate, with a 'for sale' sign, leading to the woods.  Park by the gate. 
Walk down the track for about 350 metres.  Fortress Wood is on the left by the 'for sale' sign. There are mauve markings on trees and posts for the boundary.