Downstream Wood - East Sussex - Sold
Details for this wood
Guide price: £120,000 - Freehold
Size: About 6¾ acres

Location: Buxted, East Sussex
OS Landranger: OS No 199
Grid ref: TQ 515 228
Nearest post code: TN22 4PY
Contact: Ben Williamson
Phone: 07958 213 914
Email: [email protected]
Email to a friend
Downstream Wood  is semi-natural ancient woodland, and set within the High Weald  Area of Outstanding Natural Beauty. There is a wide variety of trees including, mature oak, ash, cherry, chestnut, alder, holly, rowan, hawthorn, hazel, as well as Norway spruce. The ground flora is enhanced by the wet flushes and the stream which flows through the southern part of the wood. There are plenty of wildflowers including bluebells, wood anemones, cuckooflower and marsh marigold. There are also two large areas with newly planted seedlings, including oak.
The woodland has a management plan implemented by English Woodlands. The current owners made the woodland available to Plumpton College for their tree felling and chainsaw courses. They managed the wood by felling small pines close to deciduous trees. They also built sweet chestnut timber pedestrian bridges across the stream. 
District is Wealden District Council
Boundaries are indicated by a deer fence on the northern side and the shared woodland track to the east. The western boundary to the north is the woodlands own stream and western boundary to the south is farmland and an open field.
Access There is a hard track leading from the main gate on Pound Lane of which the owner will have vehicle rights. There is space to park and also a turning circle at the end.
Covenant  There is a covenant on the wood designed to ensure the quiet and peaceful enjoyment of this and adjoining woodlands, click HERE to read and download.
Click HERE  to see free OS maps and scroll out for a wider view.
Viewing:  You are welcome to visit this wood by yourself, but please Click here to download and print a map showing the location of the woodland and ensure that you have a copy of these sales details with you. Many of our woodlands do not have mobile phone reception or internet access so we recommend either printing the details or downloading them to your phone or tablet. Please take care when viewing as the great outdoors can contain unexpected hazards and woodlands are no exception.
Maps are : © Crown copyright and database rights 2022 OS Licence no.100057987
Our Maps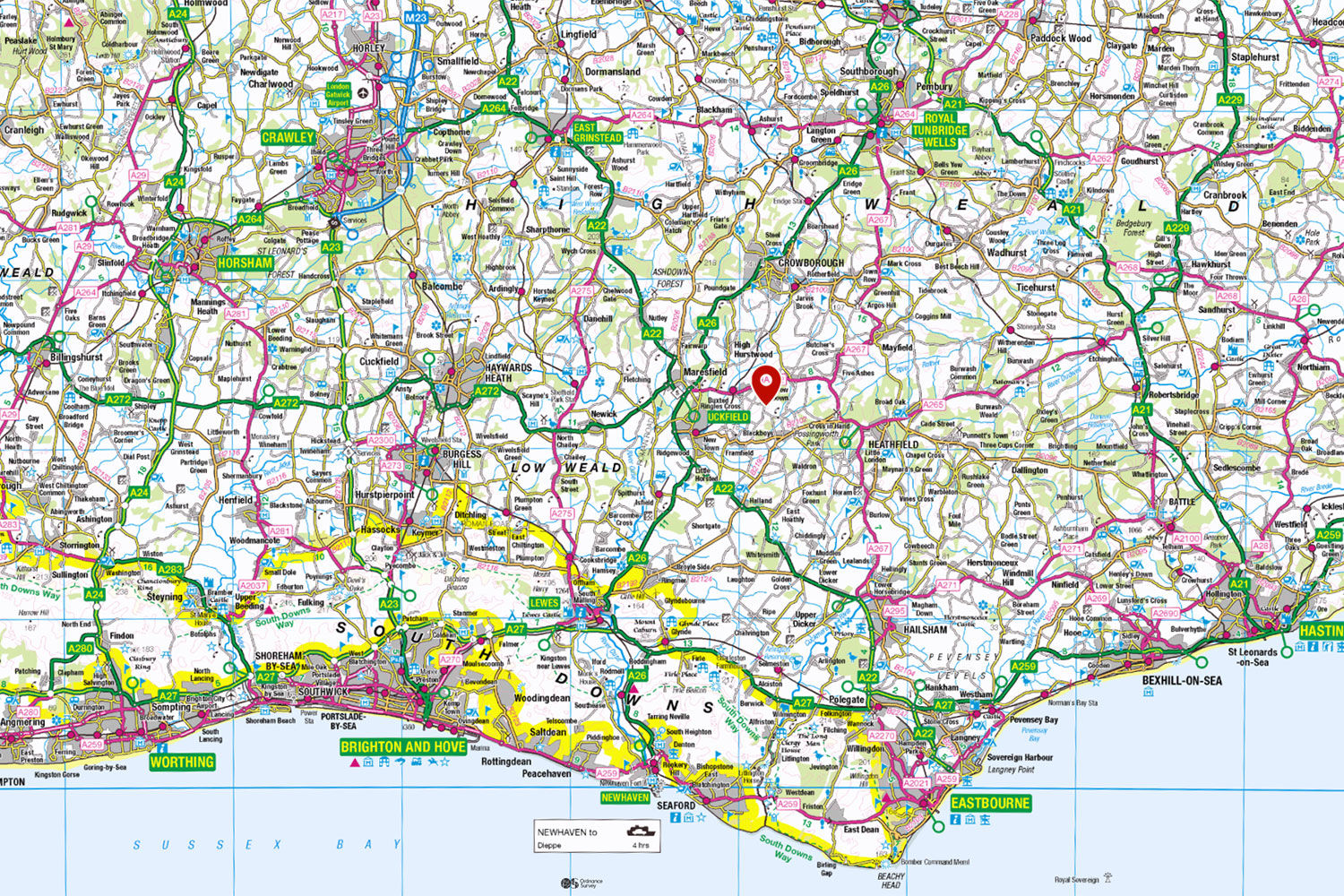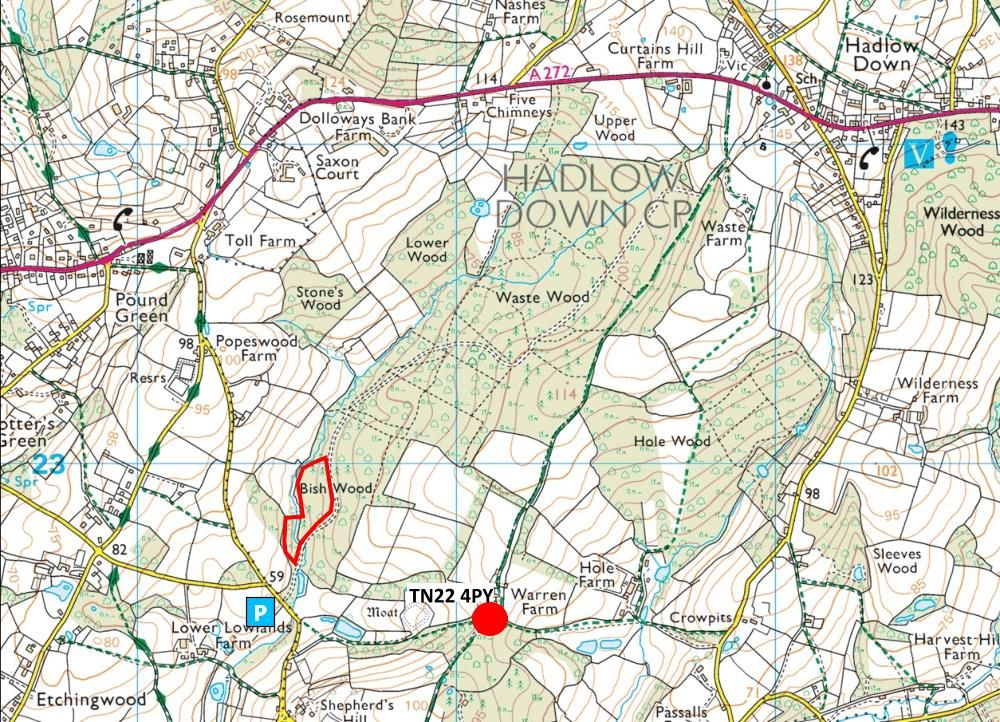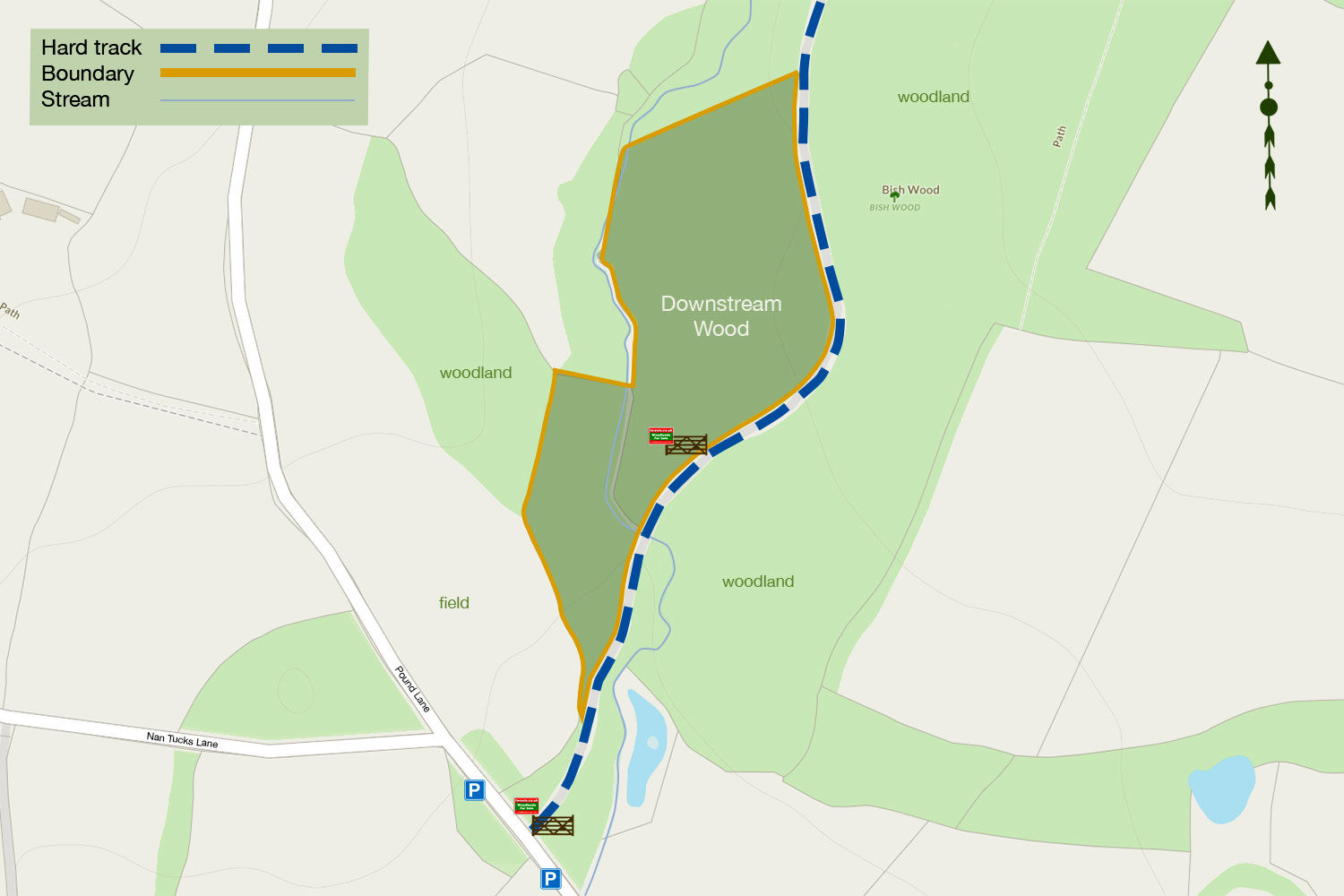 Directions
Downstream Wood, Pound Lane, Buxted, Uckfield, East Sussex
1. Click here for Bing Maps Directions  enter your own postcode, and click on the "Directions" box.
Park near main entrance (large single bar metal gate) on Pound Lane. Please don't block the gate. Pass to one side of the gate and follow the track for approximately 100m. 
Downstream Wood is on your left hand side and has a named sign. 
2. For Satnav: the nearest postcode is TN22 4PY as shown by the marker on the maps. The main entrance coordinates for access and parking are: 50.982626, 0.156317. W3W: ///surnames.bleak.fight