Adeney Wood, near Telford, Shropshire - Sold
Details for this wood
Guide price: £45,000 - Freehold
Size: 4 acres

Location: Lilleshall, Telford, Shropshire
OS Landranger: 127
Grid ref: SJ 698 170
Nearest post code: TF10 9HT
Contact: Sandra Colley
Phone: 07388 057 446
Email: [email protected]
Email to a friend
Description: Adeney Wood is a well established, completely flat, broadleaf wood on a rich peaty soil. Amongst the trees to be found are oak, ash, poplar, sycamore, alder, hazel and horse chestnut. There are a great number of ash coppice stands which if managed and encouraged will provide a good source for coppicing for 'green wood' working, firewood or for further encouraging the wildlife diversity. Some of the plants and flowers seen here include mares tail, wild raspberry, potentilla, bluebells, cow parsley and wood sorrel. Even in winter, the occasional splash of colour can be found.
Adeney Wood has its own gated entrance that leads into the wood where there are some natural clearings that could be used as a base for camping/picnics and family forestry. From these clearings there are natural paths that lead around the wood.
The surrounding area is mainly other mature woodland, so there is an abundance of wildlife, and badger, fox and Roe have been seen and heard here. Many birds visit the wood such as woodcock, buzzard, sparrow hawk, owl, woodpecker, Jay and pheasant.
Access: Adeney Wood is accessed directly off Kynnersley Drive.
Boundaries: The northern and eastern boundaries are formed by drainage ditches, although these are often dry. The southern boundary is the lane that provides access to the wood. The western boundary is marked by a fence line (although much of this is now lying on the ground), and all boundaries are indicated by red paint (although this has largely faded).
Sporting rights: Sporting rights are included in the sale.
Mineral rights: Mineral rights are included in the sale.
Drainage rates: Adeney Wood is liable for a contribution to the local Strine Internal Drainage Board. The amount varies, but has only ever been a few pounds per year.
Covenant: in common with the woodlands to the north and east, there is a covenant designed to ensure that all can have quiet and peaceful enjoyment of their woodland.
Local area: For local amenities the towns of Newport and Telford are nearby.
Viewing: At any time with a copy of these particulars
Maps are : © Crown copyright and database rights 2018 OS Licence no.100057987
Photographs: Winter photographs were taken in December 2018. Summer photographs are from 2012.
Click here for a PDF Brochure or for PDF Maps for printing
Our Maps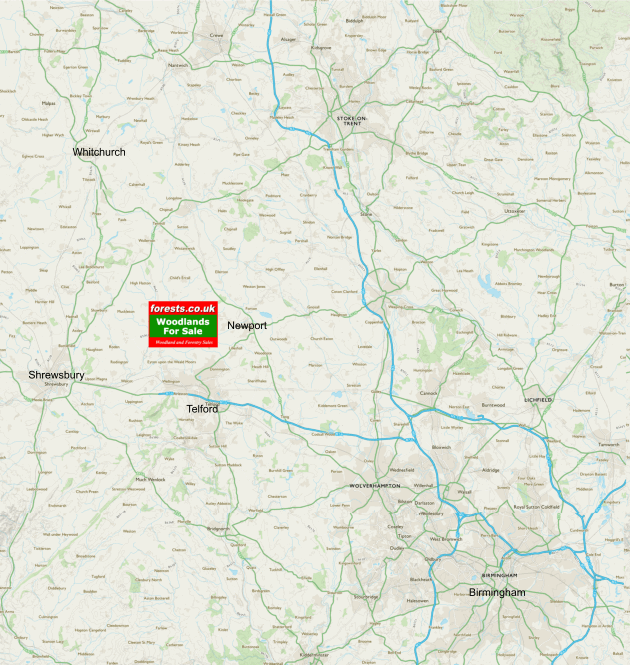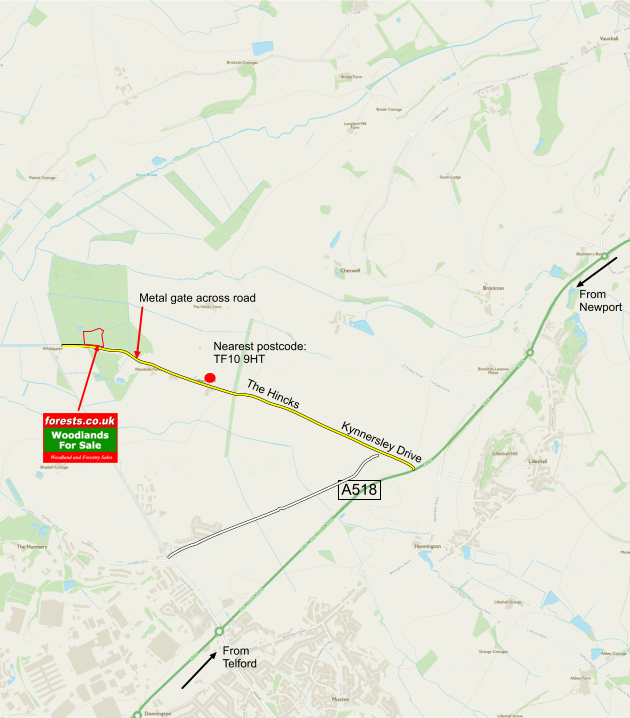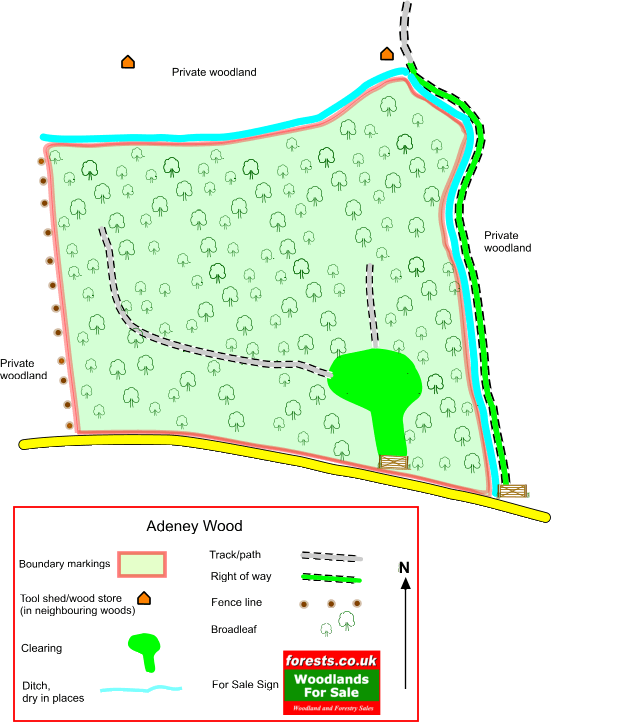 Directions
Take the A518, from Telford towards Newport and Stafford. Not long after leaving Telford, and with the Lilleshall monument visible on the right, turn left signed 'Hincks'. Follow this road, Kynnersley Drive, over a bridge and fork right, signed 'Wychwood Kennels'.
Follow this single track lane for just over a mile. Shortly after the tarmac surface ends, there is a new metal gate across the road. Please park somewhere before the gate taking care not to obstruct the track or access to neighbouring houses, and continue along the track on foot.  You will pass the entrances to Tibberton Wood and Keepers Wood (on your right), and then the main entrance to the Hincks Plantation. The wooden entrance gate to Adeney Wood is then just a few metres further along on your right hand side.