Coed Pandy, Lampeter, Ceredigion
Details for this wood
Guide price: £40,000 - Freehold
Size: 7½ acres

Location: Ffarmers, Lampeter, Ceredigion
OS Landranger: 146
Grid ref: SN 672 488
Nearest post code: SA19 8PX
Contact: Sandra Colley
Phone: 07388 057 446
Email: [email protected]
Email to a friend
Description   Coed Pandy is a flat woodland which is open and sunny with dramatic views of the surrounding countryside. Being a young woodland, with just a few more mature trees, Coed Pandy offers an ideal opportunity for a conservation project to develop the diversity and habitat and watch the woodland grow. Native broadleaves are naturally regenerating (willow, alder, rowan, oak) and there is much wildlife here already: red kites, buzzards, small mammals and amphibians. Red squirrels have also been spotted in the locality. Coed Pandy is in part wetland and there are many springs and potential for ponds and wetland wildlife. Willow should thrive in this environment. Coed Pandy has road frontage (a quiet lane) and is close to the university town of Lampeter.
Covenant:   There is a covenant on the woodland, click here to read,  designed to ensure the quiet and peaceful enjoyment of this and adjoining woodland.
Our Maps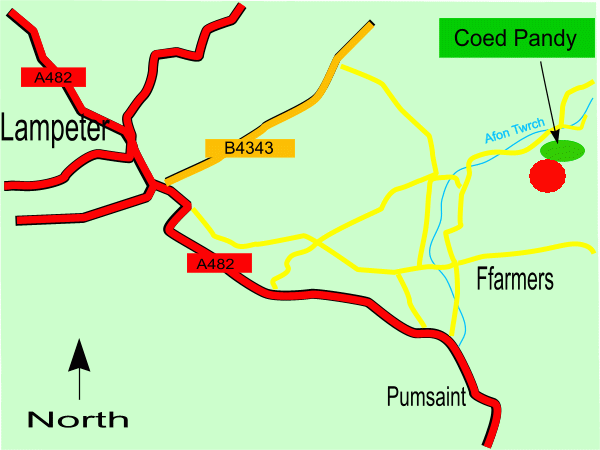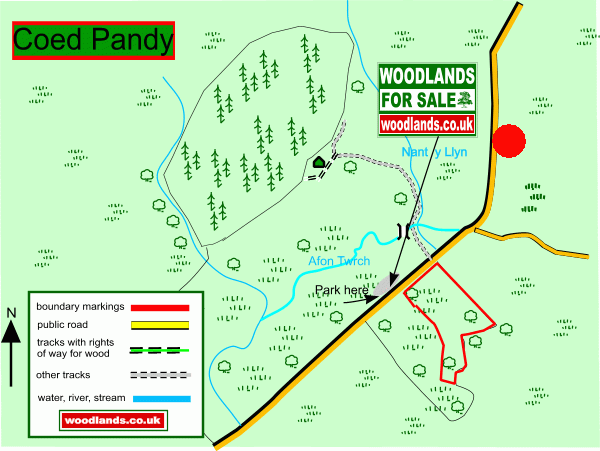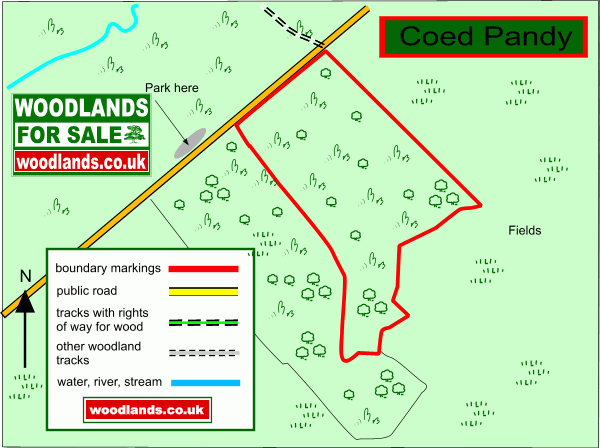 Directions
Coed Pandy is about 20 miles  north of Llandovery and 14 miles east of Lampeter.
Satnav: the postcode SA19 8PX is for the point shown by the red dot on the location maps.
Click here for Directions from Bing maps, Click on "Directions, and enter your own postcode, (Pandy Wood coordinates are already entered) and click on "Go". This will take you to the small layby next to the wood. Pedestrian access is across a small foot bridge.
From Lampeter take A482 towards Llandovery, taking the the left turn signposted `Ffarmers`.
Carry on along this road, pass through Ffarmers, carry straight on and just after Cae-lago stables, where the road forks, follow the road around to the right.
Carry along this road and after a couple of miles there is a small pull in on the right by the Forests.co.uk "For Sale" board. Park here, and enter the woodland over the small rustic footbridge.  Alternatively there are a couple of larger laybys nearby, but please do not block any gateways
Interested in this woodland? Get in touch with us:
Contact Sandra Colley on 07388 057 446 or use the form below