Manor Wood, Debden - Sold
Details for this wood
Guide price: £81,000 - Freehold
Size: About 5 acres

Location: Debden, Essex
OS Landranger: 154
Grid ref: TL 559 343
Nearest post code: CB11 3JY
Contact: Richard Scholfield
Phone: 07811 818 277
Email: [email protected]
Email to a friend
At the heart of Manor Wood is a secluded glade (forest clearing) where a small shed offers shelter and storage, a craft area covered by an awning for bodging,  lots of open space for camping and sitting round campfires. To one side there's a small young orchard planted in 2014 with cox apple, comice pear, stella cherry, victoria plum, asian pear, worchester pearman apple and almond.  All are well-protected against deer browsing.  A small pond located to one side is favoured  by wildlife in dry summers.  With the shed is a 12v solar panel with pump, battery pack and a 1000L water tank. Water can be collected from the shed roof and pumped to where needed.
Some of the wood, to the south, is younger broadleaved plantation with oak, cherry, ash and birch with woody shrubs including hazel, hawthorn, field maple and spindle. Further back there are magnificant mature oaks, between them are a variety of tall younger broadleves, including severel elms.
Access
There is a right of way at all times and for all purposes over the access from the road into the wood where a track winds its way to the central glade.
Boundaries
North is a hedgebank, east at the north end is a shallow ditch - further south the ditch is sharper, south is the road and west a hedgebank.
Maps
CLICK HERE  for better quality maps to print out.
Click HERE to see free OS maps  scroll out for a wider view.
Viewing: You are welcome to visit this wood by yourself, but please ensure that you have a copy of these sales details with you - many of our woodlands do not have mobile phone reception or internet access so we recommend either printing the details or downloading them to your phone/tablet/laptop. Please take care when viewing as the great outdoors can contain unexpected hazards and woodlands are no exception.
Maps are : © Crown copyright and database rights 2020 OS Licence no.100057987
Our Maps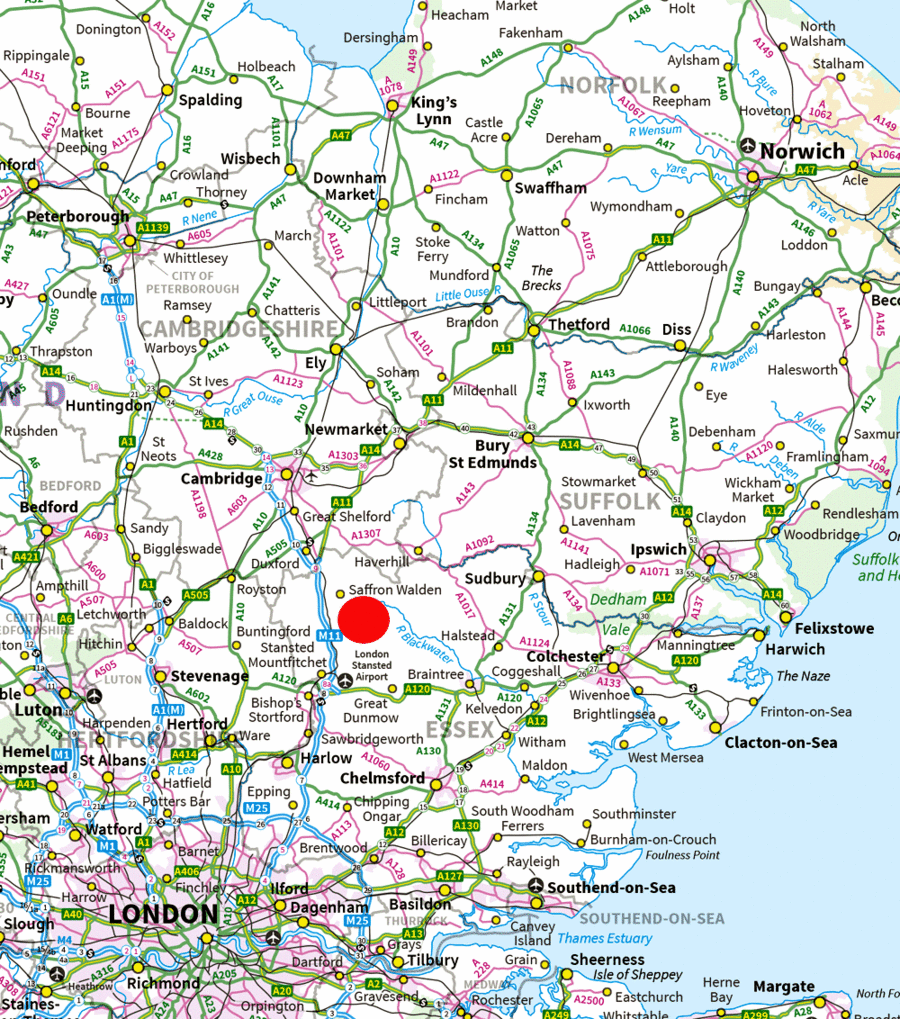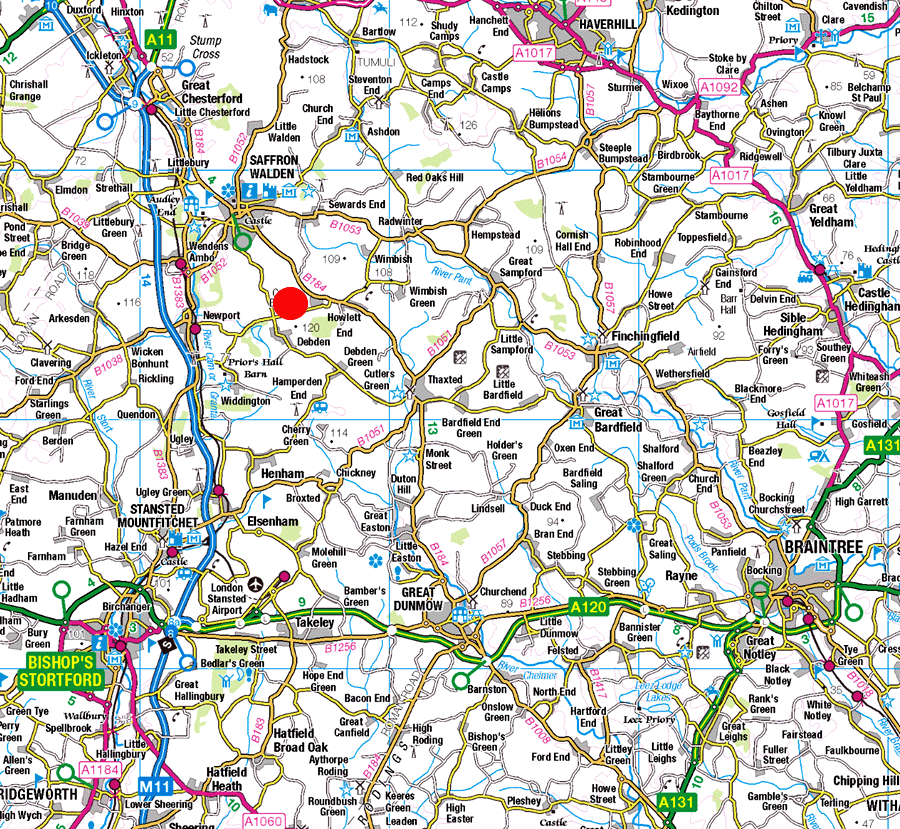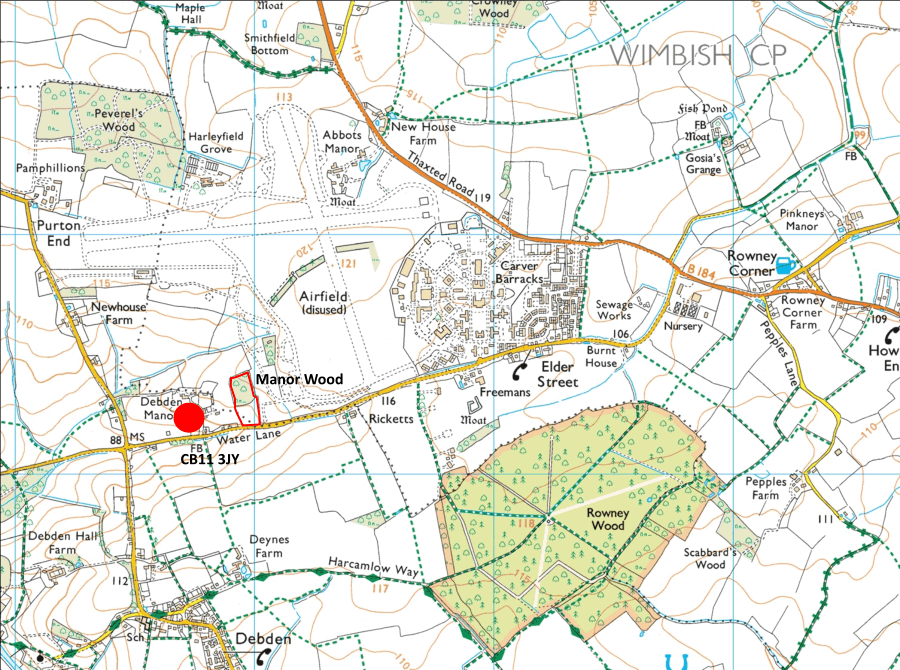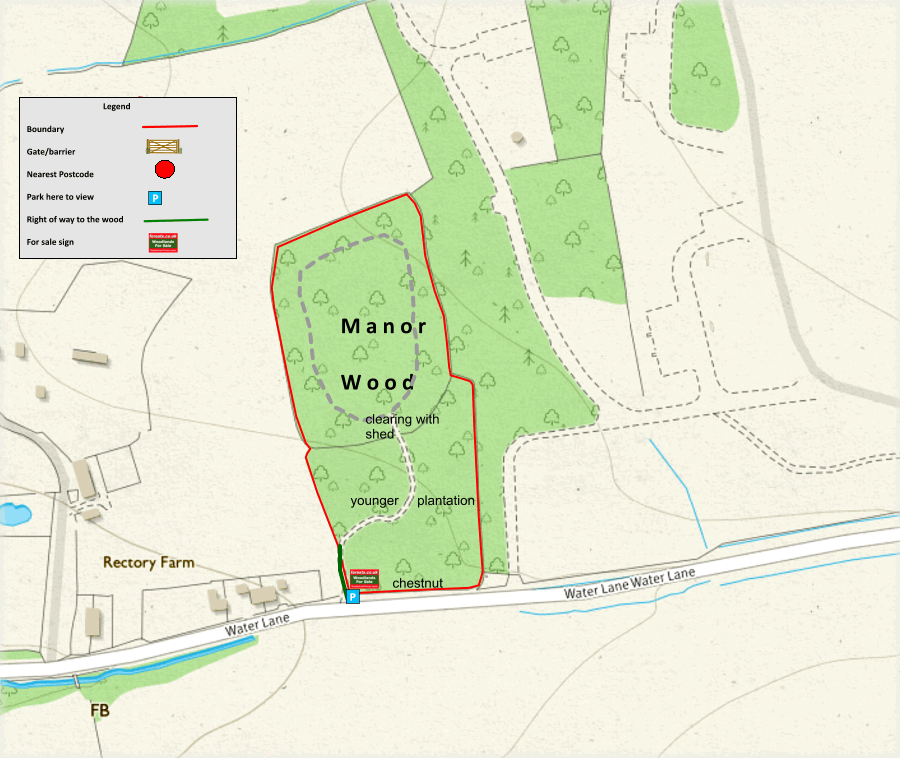 Directions
Manor Wood, near Debden is about 3 miles south of Saffron Walden in Essex.
Click here for Bing Maps Directions enter your own postcode, ( the location coordinates are already entered ), and click on the "Directions" box. This will take you to where you can park to view the wood.
Satnav: the postcode  CB11 3JY is for the point shown by the red dot on the location maps.
Coordinates for satnav are: N51.984382,  E0.269466 entrance off the road.