Barton Wood, near Axminster, Devon
Details for this wood
Guide price: £55,000 - Freehold
Size: 5 acres

Location: Ashes Road, Shute Hill, nr Axminster, Devon
OS Landranger: 192
Grid ref: SY 253 980
Nearest post code: EX13 7ST
Contact: Richard Scholfield
Phone: 07811 818 277
Email: [email protected]
Email to a friend
Please note, none of these woods are suitable for residential development, other uses such as summer camping may well be suitable.
Situated on the eastern side of a gentle Devon hillside with superb views between the trees across small hedge fringed fields to the hills on the other side. Principally larch with Norway spruce over patches of bluebells and other woodland flowers with banks supporting beech, sweet chestnut and oak. Small areas of rhododendron give added shelter. The National Trust's Shute Barton House nestles in the valley bottom below the wood. The quiet visitor will often be rewarded by a sight of the deer wandering through the woodland with tree creepers carefully inspecting the tree bark for insects in a constant search for food. Some time in the future an owner could consider gradually using some of the larch and spruce and allowing natural regeneration of the native woodland trees species to re-establish the original broadleaved woodland, see the Continuous Cover Forestry Group site.
There is a covenant click here to read designed to ensure that all can have quiet and peaceful enjoyment of their woodland.
Viewing: You are welcome to visit this wood by yourself, but please ensure that you have a copy of these sales details with you - many of our woodlands do not have mobile phone reception or internet access so we recommend either printing the details or downloading them to your phone/tablet/laptop. Please take care when viewing as the great outdoors can contain unexpected hazards and woodlands are no exception.
Maps are : © Crown copyright and database rights 2020 OS Licence no.100057987
Our Maps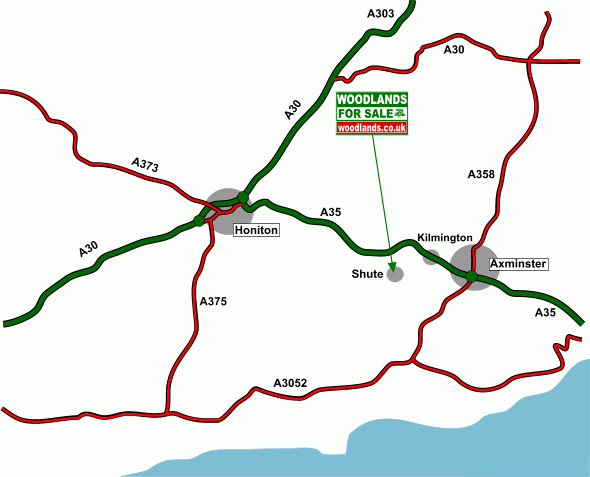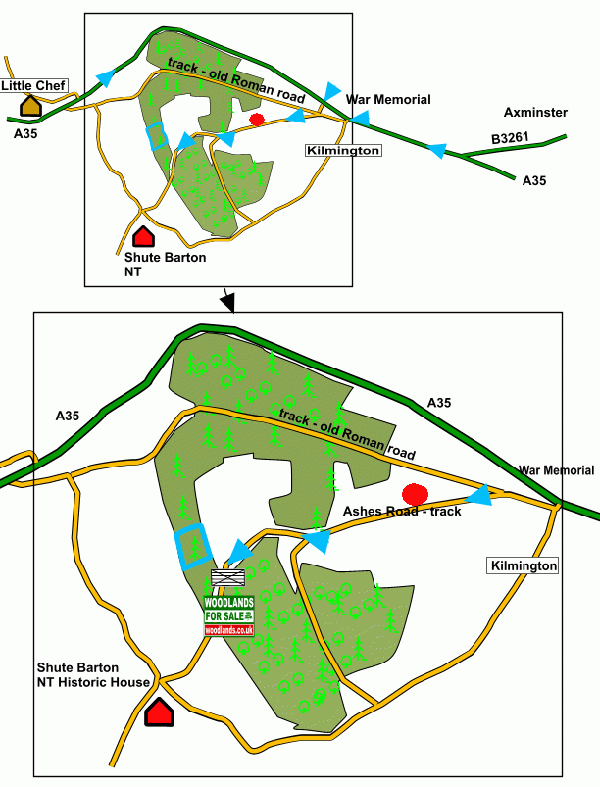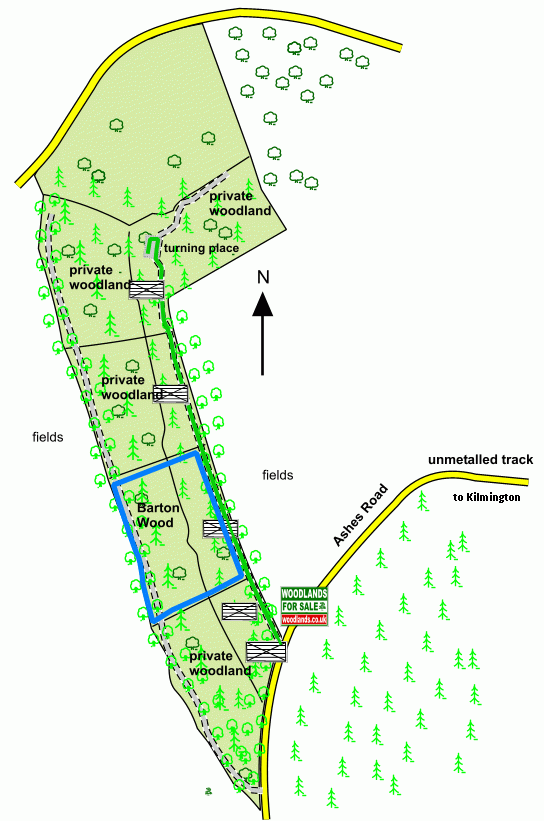 Directions
Barton Wood is about 8 miles east of Honiton and 2 miles west of Axminster off the A35.
Click HERE for Bing Maps click on their 'Directions' link then add your postcode and this will take you to EX13 7ST in Shute Road. Use the directions below to continue to the parking for viewing.
From the A30 towards Honiton, take the turn to Honiton and Axminster (A35).
Follow the A35, past a Little Chef on left hand side, until you see a sign for the village of Kilmington next to a bus shelter on your left. Turn right here,
right again up a hill through Kilmington until you see a track on your right at the top of the hill on a left-hand bend, the old Ashes Road.
Best to park here and then follow the track (which is a bit rough) up to where you see a small 'Woodlands for Sale' sign on your right, at the top of the hill.
The entrance to Barton Wood is through the metal gate and up the woodland track until the second wooden gate on your left.
From Axminster follow the A35 towards Honiton until turning left for Kilmington by the War Memorial. Follow the road up the hill to the track at the top of the hill then follow as above.
Interested in this woodland? Get in touch with us:
Contact Richard Scholfield on 07811 818 277 or use the form below