Dart Wood
Details for this wood
Guide price: £42,500 - Freehold
Size: Nearly 4 acres

Location: Nr Stoodleigh, Tiverton, Devon
OS Landranger: 181
Grid ref: SS 886 200
Nearest post code: EX16 9QQ
Contact: Bob Liles
Phone: 07793 140 010
Email: [email protected]
Email to a friend
Dart Wood is available singly or can be purchased with its neighbour Gloyns Wood. See separate details.
The pleasant valley setting in the heart of rural mid-Devon is hugely enhanced by the large stream hugging the banks of the northern end of the woodland. It would be hard to find a better place to create a camping area, perhaps with a wildlife watching hide and rope swing. This valley stream is a tributary of the River Exe and is spectacularly deep and surrounded by woodland in places. The combination of the valley and thick woodland around create an atmosphere which is quiet, secretive and feels isolated. The name Dart Wood comes from the Saxon meaning of 'oak tree river'.
The woodland has a good hard-standing main parking area and is accessed via a stoned forestry track. There are good internal tracks and level areas for camping and wildlife watching. Dart Wood is bustling with bird life including woodpeckers, buzzards, owls, cole tits and tree creepers. Bats inhabit some of the oak trees, roosting in holes or under any loose bark. Red deer are a spectacular site within the woodland, grazing on the bilberries in the summer months. The ground flora is varied but is dominated in areas by bilberries, also known as whortleberries. They are closely related the blueberry, being slightly smaller in size but equally tasty!
Our Maps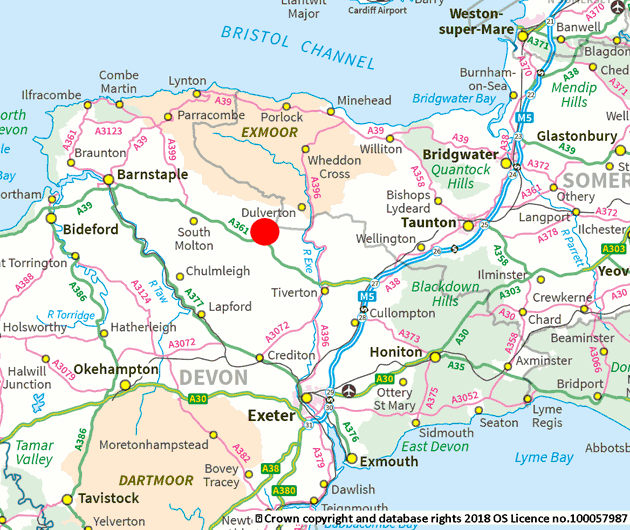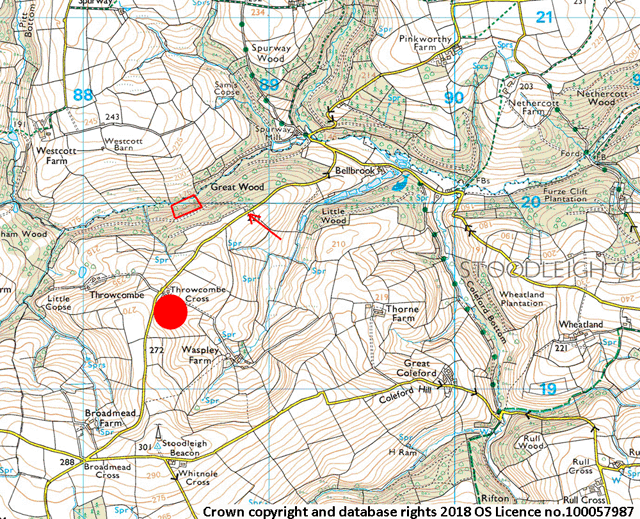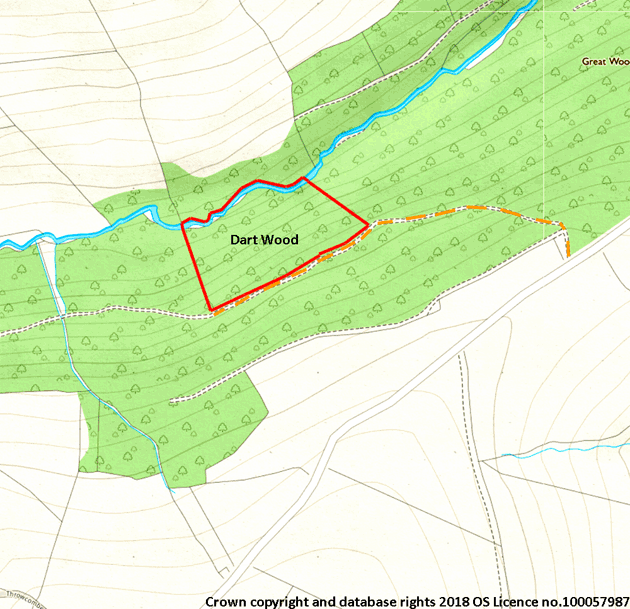 Directions
Dart Wood is about 8 miles north of Tiverton and just over 1 mile from the A361 the North Devon Link Road.
Click here for Bing Maps Directions enter your own postcode, (the coordinates for the entrance gate are already entered). This will take you to the parking area by the access gate.
For Satnav: the nearest postcode is  EX16 9QQ as shown by the red dot on the maps. Coordinates for your satnav are N50.968216,W3.583950
Continue past the first gateway and look out for the second gateway after this on the left. Park carefully outside this gate and with care climb over the gate. A key will be provided for the purchaser for vehicular access.
To access Dart Wood head straight over the car park where you will see a metal gate on your left and a track going downhill straight in front of you. Take this track, heading down the hill.
At the bottom of the hill on the right you will see the entrance to Dart Wood indicated by a ride stop with the 'Dart Wood' name sign on it.
Interested in this woodland? Get in touch with us:
Contact Bob Liles on 07793 140 010 or use the form below