Holt Wood, Rosemoor - Sold
Details for this wood
Guide price: £48,000 - Freehold
Size: About 2½ acres

Location: Rosemoor, Great Torrington, Devon
OS Landranger: 180
Grid ref: SS 510 171
Nearest post code: EX38 7EQ
Contact: Richard Scholfield
Phone: 07811 818 277
Email: [email protected]
Email to a friend
Holt Wood reflects the best of permaculture design and medicinal trees. Since 2004 the Devon site has been transformed from the previous Sitka spruce plantation by replanting to form a flourishing woodland. Offering lots of diversity Holt Wood has been much improved by the owners with the following features:
Deer proof fencing
Access track and gates
Substantial shed and tool store
Water storage and pond
Replanted with mixed broadleaves
Hard standing with caravan
Shade house for propagation
Log store and composting boxes
Compost loo
Medicinal and rare trees
Flower beds
Grassed camping meadow  area
Picnic tables
Family woodland
This woodland presents a fabulous opportunity to obtain a place in nature with potential for all of the family. The site faces southwest and slopes down towards a meadow bordering the River Torridge. Easily accessed by a track from the road between Great Torrington and Exeter but very private as set back from the main road. The main access gate leads directly to a parking area within the fenced woodland area. The track continues down alongside a water gully to a grassed meadow area which is included in the sale and is ideal for camping and recreational use.
Wildlife haven and biodiversity
Within the wood there are plenty of paths and seating points for observing nature, with spaces to encourage wildlife such as bees and butterflies.  The rides and coppiced areas provide ideal conditions for native wildflowers including a stunning display of bluebells in spring. Buckthorn trees are favoured by the sulphur yellow brimstone butterfly.  Fritillaries are readily seen in spring and summer, the caterpillars feeding on dog violet plants along grassy paths. Varied wildlife is seen on a regular basis including bats, lizards, grass snakes, foxes, with buzzard, pheasant, woodpecker and many other birds.
Camping or caravan for holidays
The property is in two adjoining parts, the larger rectangular wooded two-acre space is surrounded by a well-constructed deer fence. A stone laid track leads along the topside of the woodland site for further access and parking. Populated with well-established trees, there is a slope down towards the nearby River Torridge. This provides a safe space for children and pets to exercise, and a number of camping areas. Within the fenced area and near the main gate there is hard standing with established use for a caravan with views across the valley. Included in the sale is a four-berth Bailey Discovery caravan. The caravan is in excellent condition with lights, refrigerator, shower, hot water, calor gas grill and hob. The caravan provides a double bed and two bunk beds and has plenty of storage cupboards. It benefits from a solar panel roof supply keeping the battery charged. In the meadow area an additional rectangular space is bordered by a small stream and is a level grassed area ideal for camping or recreational use.
Permaculture and herbal medicine
This woodland has had a particular specialist focus having been designed as a medicinal forest garden to include supplies for a clinical herbal practitioner, now retired. A range of native and introduced trees planted since 2005 have provided medicinal plant material including willow, ginkgo, elder, lime flower, hawthorn and more. The current owners have run courses and published a book about their experience *The Medicinal Forest Garden Handbook which provides plenty of detail about how to harvest and use the medicinal plants. This range of plants could provide a business opportunity to further develop the educational and commercial potential. List of plants can be seen here
Access and storage
Since purchase in 2004, the owners have made many improvements in addition to deer fencing and access tracks. As a forestry operation the property benefits from a well-built wooden tool store of a good size located by the entrance gate, large enough to accommodate a wheeled vehicle, trailer and tools. Wood built with double doors, and an additional side entrance, the space available is enough to include storage of camping or other equipment as well as tools for wood maintenance. There is a log store and a shade house area which also provides a facility for propagation of trees and other plants. Water storage is enhanced with two 1500-litre recycled containers beside the main gate.
Sustainable forest garden produce
Previously a Sitka Spruce conifer plantation, the site was replanted 2005 with a mixture of native and introduced trees after installation of deer fencing. The upper area is based on oak, ash and hazel trees while the lower area is based on willow and alder. In addition to further planting, many other species of trees and shrubs have naturally regenerated on the site including birch and holly. The site design uses permaculture principles, with many edges and wide rides to allow for multiple layers of planting. The owners report that this site has been very productive. The woodland area provides plenty of wood fuel from logs taken when pruning and thinning trees. A wide ride has also been planted with apples, pears, plums and other soft fruit, and these trees are beginning to bear well. There are numerous hazel trees dotted around, hazelnuts are a real prospect of harvest if you can beat the squirrels!
Outdoor living
The inclusion of picnic tables provides a genuine opportunity for families and groups to get together in a delightful outdoor setting. At night you can sit back with a beer beside the campfire looking over the pond nearby as bats circle around while owls hoot in the darkness. This woodland area is located in a desirable area, part of the North Devon Biosphere Reserve designated by UNESCO around the Taw and Torridge rivers. There are numerous attractions within easy reach including RHS Rosemoor Gardens, north Devon beaches and the historic town of Great Torrington.
*Anne Stobart, The Medicinal Forest Garden Handbook: Growing, Harvesting and Using Healing Trees and Shrubs in a Temperate Climate(Permanent Publications, 2020)
Viewing: You are welcome to view this wood by yourself from the track alongside leading down to the camping meadow area, but please ensure that you have a copy of these sales details with you. Many of our woodlands do not have mobile phone reception or internet access so we recommend either printing the details or downloading them to your phone/tablet/laptop.
Detailed viewing inside the gated area will need to be arranged by appointment.
Maps are : © Crown copyright and database rights 2020 OS Licence no.100057987
Our Maps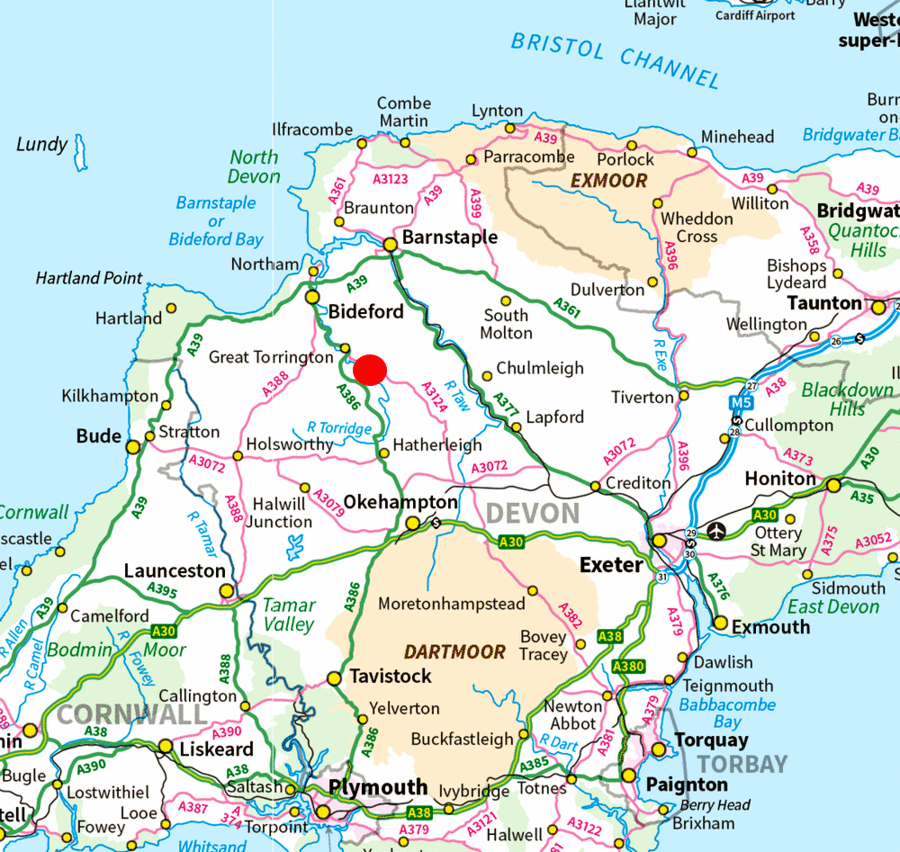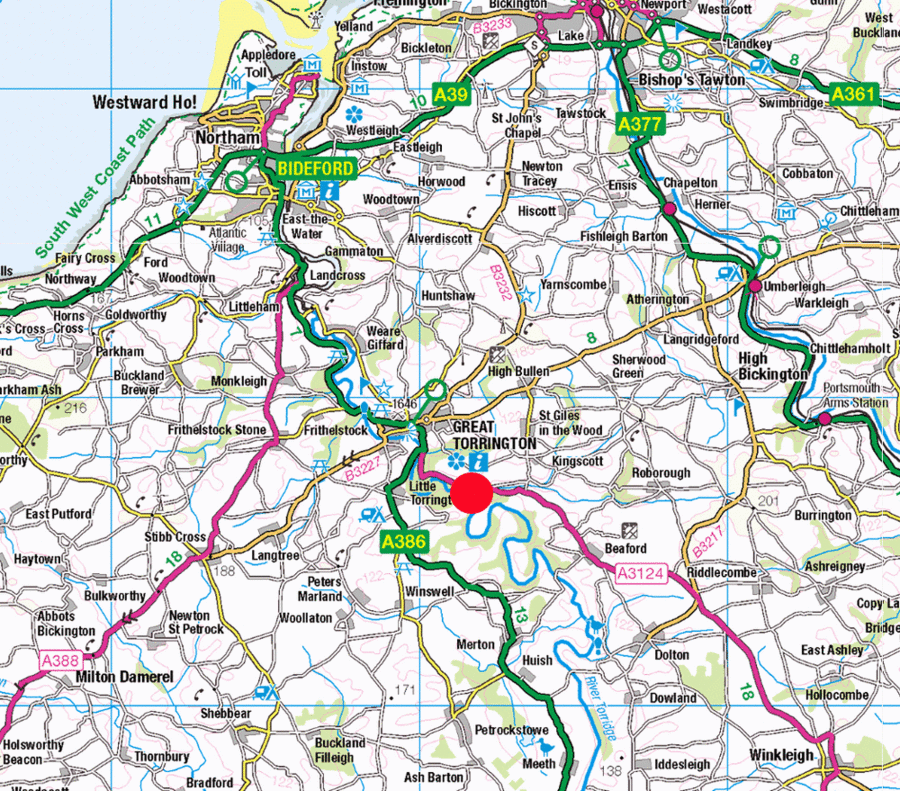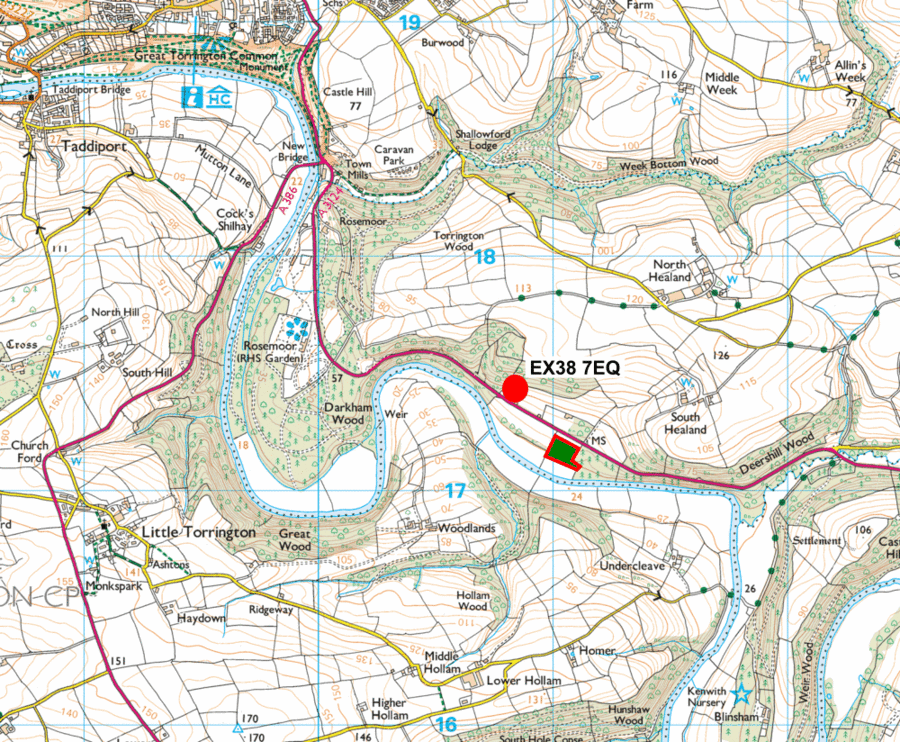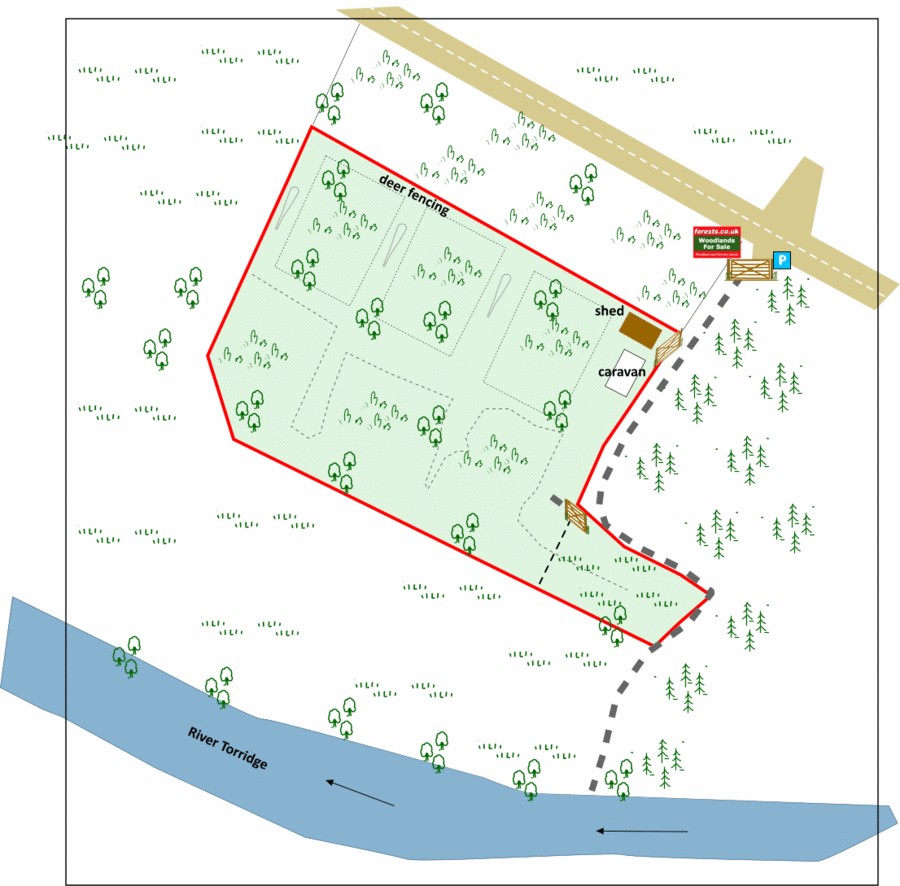 Directions
Holt Wood is about 2 miles south of Great Torrington
For Satnav: the nearest postcode is EX38 7EQ as shown by the red dot on the maps. Coordinates for your satnav are N50.934907, W4.120015
Click here for Bing Maps Directions  enter your own postcode and click on the "Go" box. This will take you to the roadside gate where you can park to one side. Please do not block the gate.This is a shared entrance and track.
Climb the gate and Holt is just a short distance down the track on the right hand side.