Ashley Wood - Sold
Details for this wood
Guide price: £38,000 - Freehold
Size: About 4 acres

Location: West Stow, Bury St Edmunds, Suffolk
OS Landranger: 155
Grid ref: TL 824 698
Nearest post code: IP28 6DY
Contact: Richard Scholfield
Phone: 07811 818 277
Email: [email protected]
Email to a friend
Description  Ashley Wood is an ideal woodland for family forestry, especially for those wanting to inter-plant with oaks or other broadleaves.  Set on  dry level ground and there's good year-round access. You enter Ashley Wood through a ride stop to an open area with a silver stemmed birch presiding at the centre, a perfect location where various woodland activities can be enjoyed. An attractive mix of Scots and Corsican pine are spread throughout the wood with more birch growing between them.
Open grassy areas which are ideal for camping alternate with denser groups of pine, whilst sycamore is widespread and by the roadside oaks have pride of place.
Like many other locations Ashley Wood has a rich history, the present Culford Hall and Park is a remnant of a very large estate, the Hall and grounds have a Historic Park designation as does Ashley Wood, a recognition its quality and history. 
Boundaries   Are shown by mauve markings on trees and posts and are; northwest the line of posts, southwest the roadside, southeast and northeast 3 metres from the track centre.
Mineral Rights   Are retained by a previous owner but these cannot be exercised without the owner of Ashley Wood's agreement.
Sporting Rights  Are in hand and included.
Access   Is off the public highway from the main entrance with the double gates (A) or from the additional entrance (B) along the forest tracks shown green on the plans. A full right of way with the shared maintenance according to the use made.
Covenant   The purchasers of this woodland will be asked to enter into a covenant to ensure the quiet and peaceful enjoyment of this and adjoining woodlands. Click here for details.
Our Maps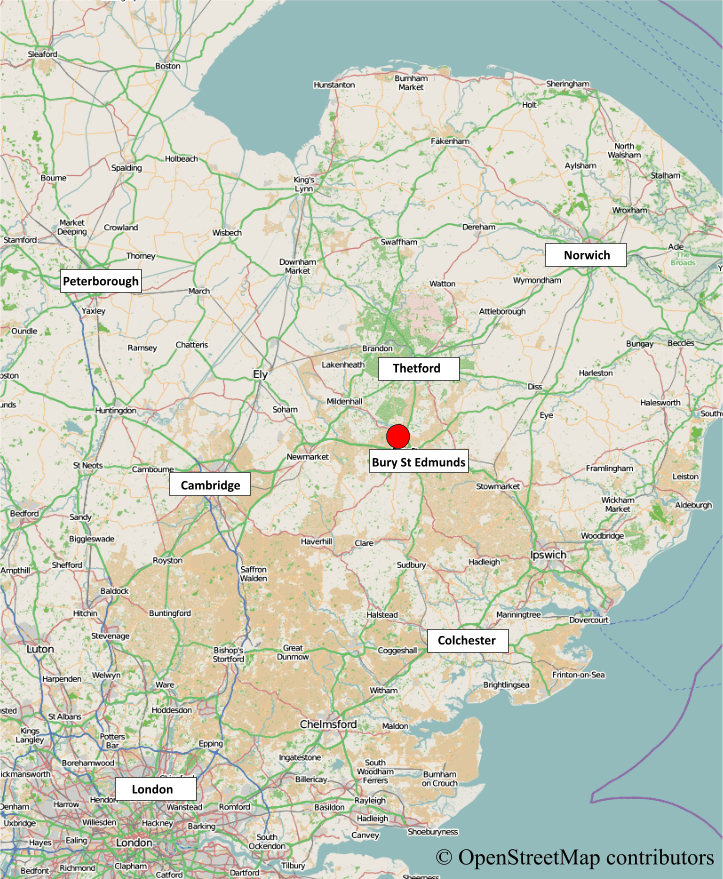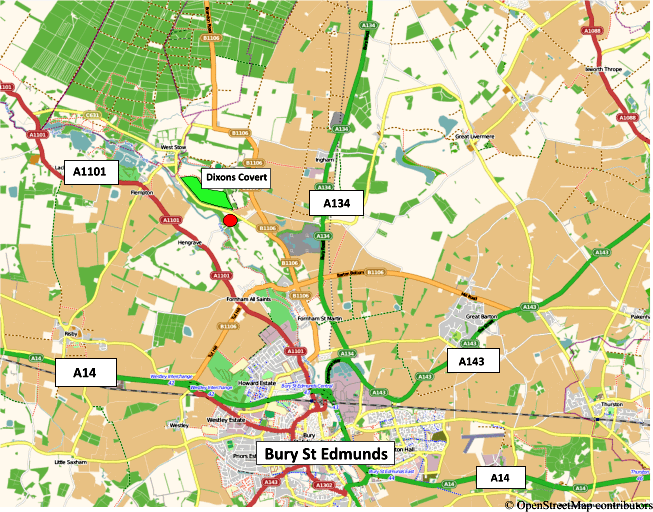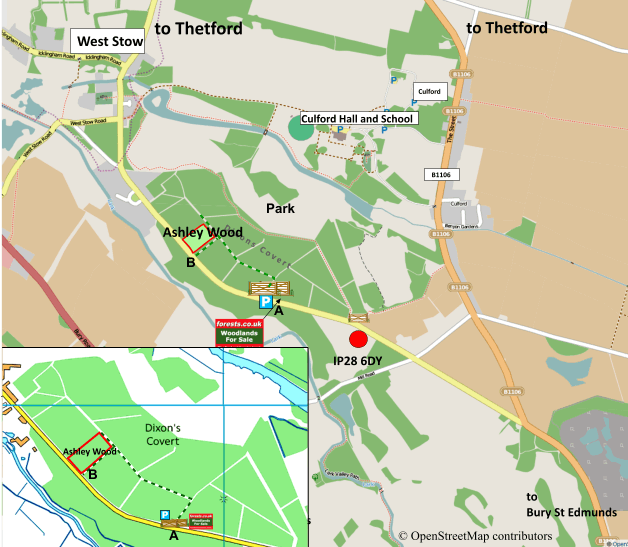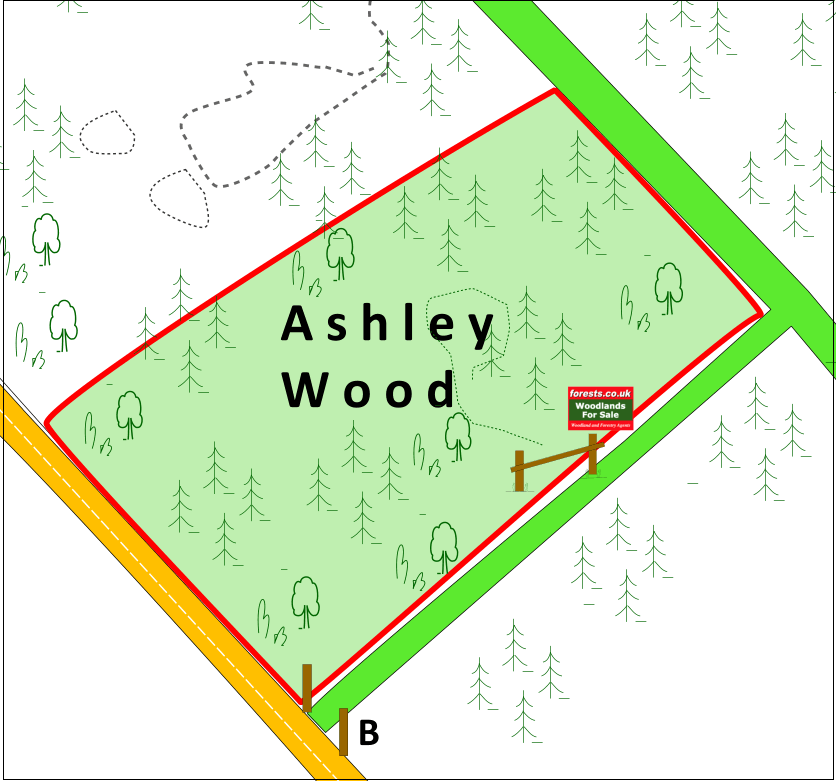 Directions
Ashley Wood lies about 5 miles north of Bury St Edmunds, 12 miles south of Thetford and little over 30 mins from Cambridge within easy reach of the A12, A14 and M11.
For Satnav: the nearest postcode is IP28 6DY as shown by the red dot on the maps. Coordinates are (entrance)  N 52.296154  E 0.674427
Click here for Bing Maps Directions enter your own postcode, (the coordinates for the main entrance gates are already entered) and click on the blue "Go" box. These directions can be printed. These will take you to the parking by the double gates .....
From the A14 at Bury St Edmunds head for the Fornhams
at Fornham St Genevieve take the B1106 towards Culford and Thetford
fork left signed West Stow, the wood entrance is about ½ mile on the right through the double wooden gates
park to one side
.... Walk round the double gates follow the track, then take the left track - walk down this until seeing the mauve markings, walk down to the left the the entrance is on the right.
There is an alternative entrance at point B by the corner of Ashley Wood.