Hollow Wood - Sold
Details for this wood
Guide price: £29,000 - Freehold
Size: About 2½ acres

Location: Wickham Bishops, near Witham, Essex
OS Landranger: 168
Grid ref: TL 843 130
Nearest post code: CM8 3NQ
Contact: Ben Williamson
Phone: 07958 213 914
Email: [email protected]
Email to a friend
Hollow Wood nestles comfortably between two main rides and holds many welcome surprises. It is made up of two areas of woodland, dissected by its own private track which facilitates excellent access to all areas of the wood. It has an attractive kidney-shaped pond, located near to the entrance.  A second rather overgrown seasonal pond, which from a nature point of view could be dug out and fully re-established.  There is a variety of trees, mature oaks, birch and beech trees as well as some large hornbeam and sweet chestnut coppice.
Hollow Wood is surrounded by other areas of private woodland which this creates a much larger and diverse habitat for the local wildlife. Muntjac deer, hares and squirrels can be found along with over 30 species of bird.
Because the woodland is so special it has a tree preservation order on it and is protected by the local authority. This simply protects the woodland and does not prevent woodland management - free guidance is available from the Forestry Commission and other organisations.
Maps are : © Crown copyright and database rights 2018 OS Licence no.100057987
Our Maps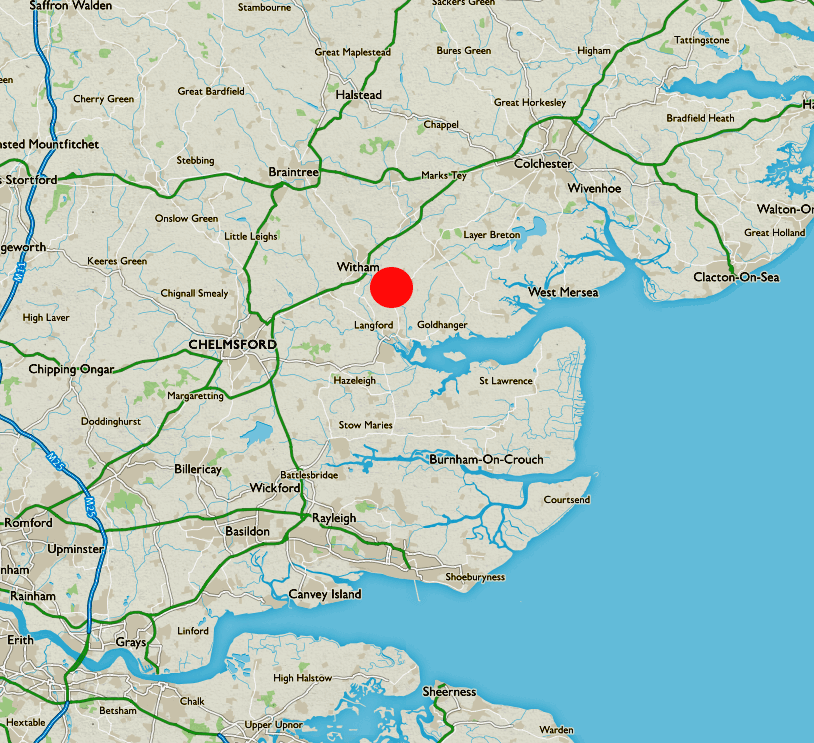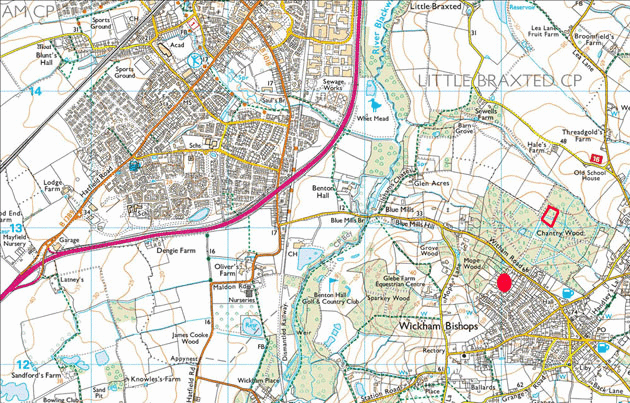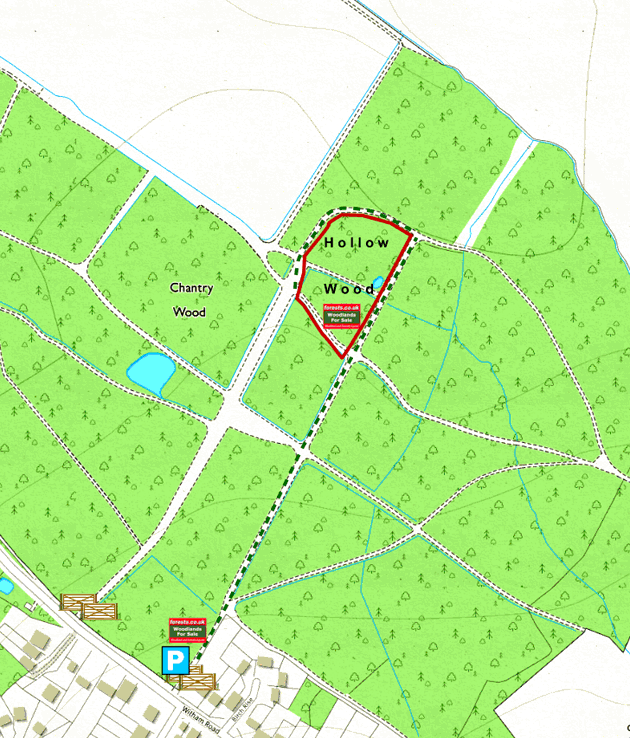 Directions
Hollow Wood is about 2 miles from Witham between Chelmsford and Colchester.
Click here for Bing Maps Directions  enter your own postcode, (the coordinates for the entrance are already entered) and click on the Directions box. This will take you to the 2 sets of double gates, then see below. 
Satnav: the postcode CM8 3NQ is for the point shown with a red dot on the location map.  Coordinates are N51.782236, E 0.668936
Please park to one side of the gates so as not to block the access and safety off the road. 
Climb over this wooden gate (hinge side please) and walk up the track almost to the end
Hollow Wood is on the left, there is a For Sale sign here with the wood name - Hollow Wood