Melanistic Meadow
Details for this wood
Guide price: £68,000 - Freehold
Size: About 3½ acres

Location: Sandy Lane, Barham, near Ipswich, Suffolk
OS Landranger: 156
Grid ref: TM 138 526
Nearest post code: IP6 9QE
Contact: Richard Scholfield
Phone: 07811 818 277
Email: [email protected]
Contact: Ben Williamson
Phone: 07958 213 914
Email: [email protected]
Email to a friend
Melanistic Meadow is situated at the northern end of Barham Wood, this being a larger area of privately owned meadows and woodland of which this meadow is part. The meadow is accessed via an excellent stoned track which is suitable for vehicular access all year.
Fallow deer as are often seen especially in the northern corner as well as a variety of birds including barn owls, buzzards and red kite. The north western corner has a large pit surrounded by trees . The boundary runs through the centre of this area which is a haven of wildlife and adds variety to the meadow.
There are plenty of mature seed bearing trees on the boundaries to popuate the meadow with trees. Any seedlings found and considered suitable to retain should be protected with a stake and tree shelter and ideally a spat. Or transplanted to a better location within the meadow. Spring is a perfect time for this when the seedlings come into leaf before the grass grows.
At the centre the present owners have cultivated a circle, there are low pegs on the circumference. This is to encourage wildflowers to germinate. A thick hedge on the western boundary forms an excellent barrier which provides shelter to a variety of birds and other wildlife. To the east is a private woodland known as Dickens Wood. Both of these features provide good wind barriers and make the meadow feel enclosed and private.  It would be a perfect spot to keep bees with the nearby woodlands or could be transformed into a spectacular wildflower meadow. Alternativley anyone wishing to offset their carbon footprint could plant trees creating your very own woodland.
Parishes are Hemminstone and Barham, district is Mid Suffolk DC and county is Suffolk.
Access  is off Sandy Lane and then along a private all-weather track where there is a full right of way to the meadow.
Boundaries are indicated by faded blue markings on boundary stakes. The western boundary is a hedge. The northern boundary is a ditch and large pit. The eastern boundary is the ditch bank and the southern is the stone track.
Coventant  There is a covenant on the wood designed to ensure the quiet and peaceful enjoyment of this and adjoining woodlands, click HERE to read and download.
Full-scale  Click here   to download and print a map showing the location of the woodland.
Click HERE   to see free OS maps and scroll out for a wider view.
Viewing:  You are welcome to visit this wood by yourself, but please ensure that you have a copy of these sales details with you - many of our woodlands do not have mobile phone reception or internet access so we recommend either printing the details or downloading them to your phone or tablet. Please take care when viewing as the great outdoors can contain unexpected hazards and woodlands are no exception.
Maps are : © Crown copyright and database rights 2022 OS Licence no.100057987
Our Maps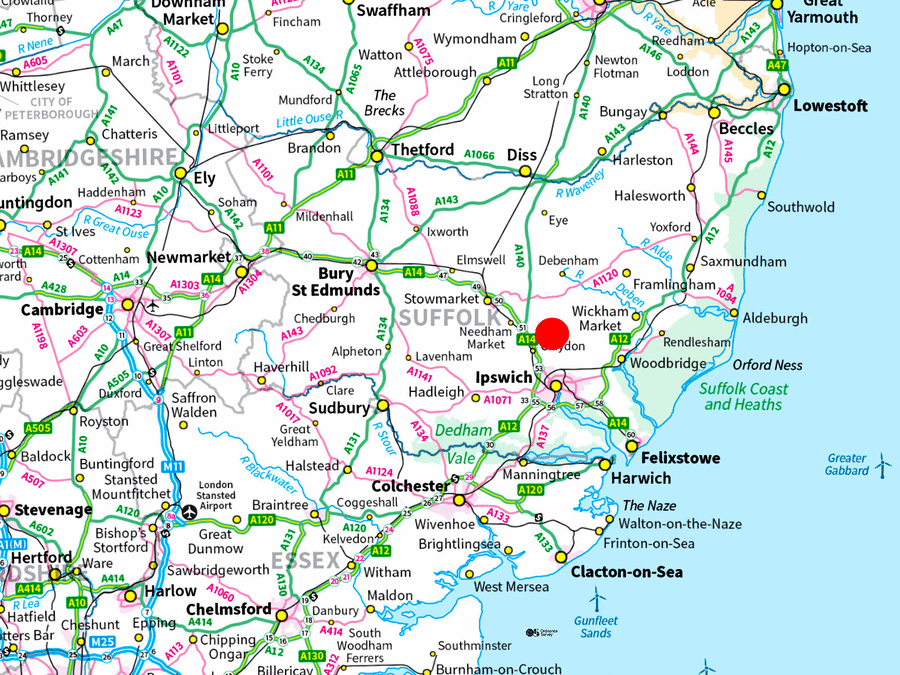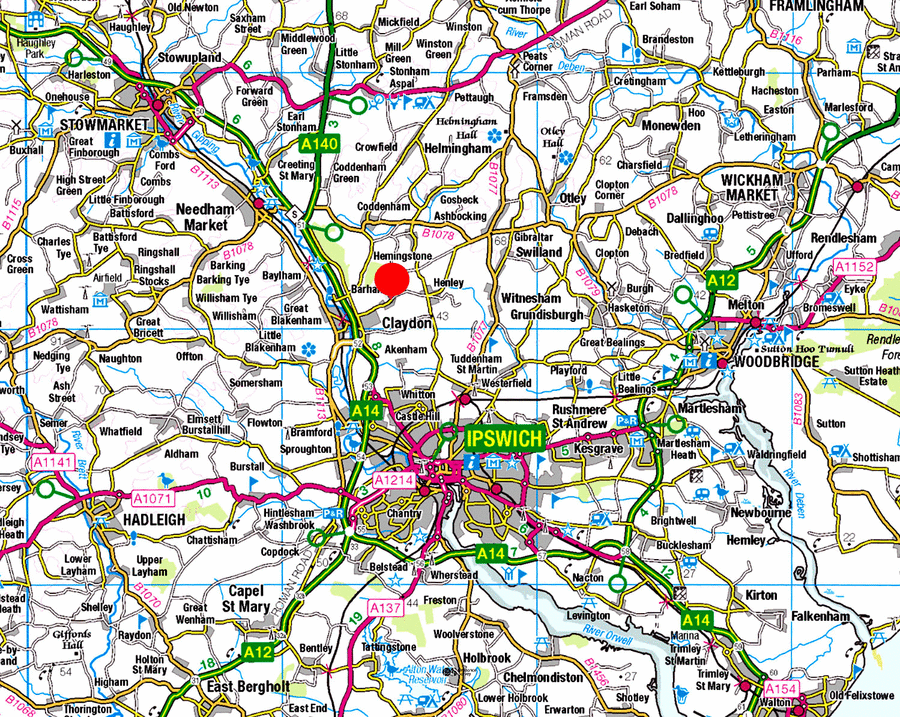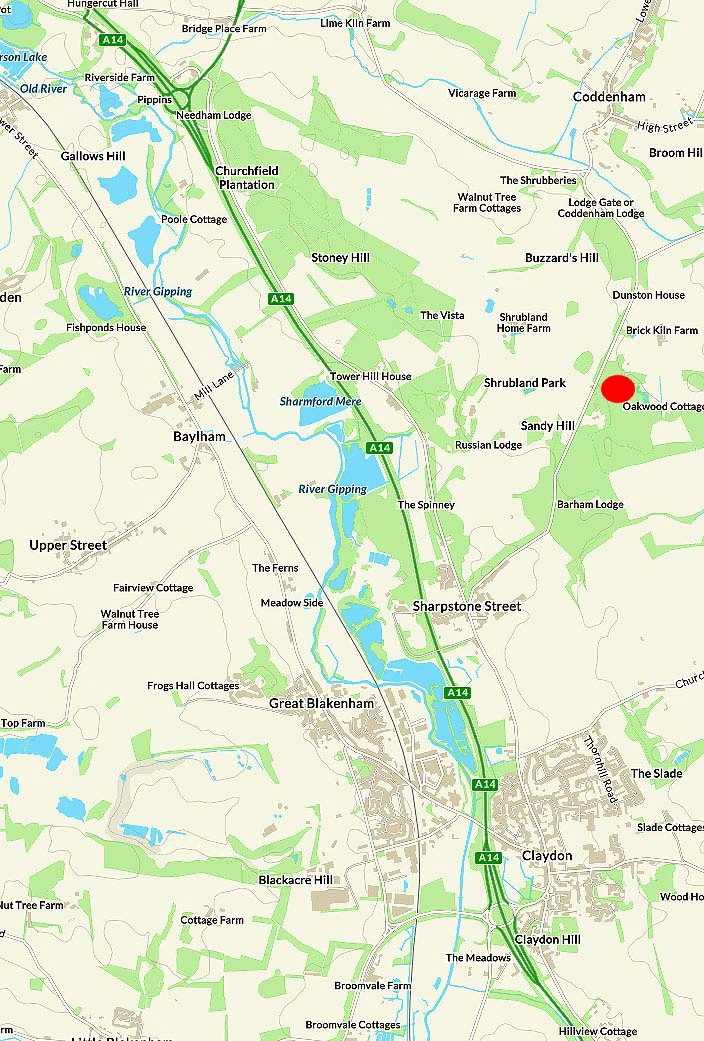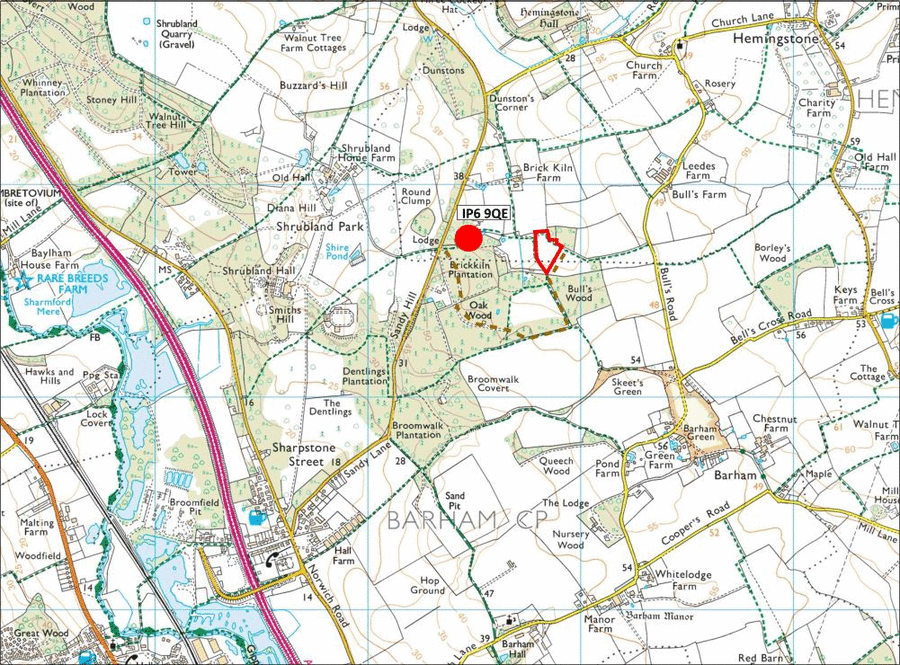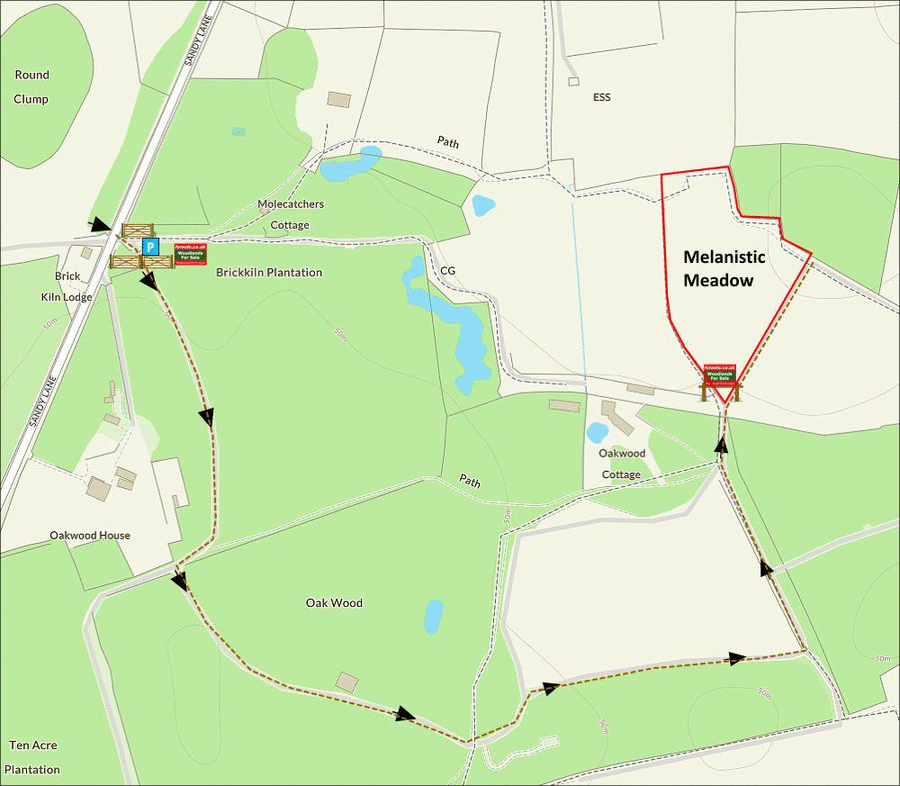 Directions
Melanistic Meadow at Barham is about 6 miles north of Ipswich.
1.  Click here for Bing Maps Directions enter your own postcode, (the coordinates for parking are already entered) and click on the "Go" box.
2.  For Satnav: the nearest postcode is IP6 9QE  as shown by the red dot on the maps. Coordinates for the access and parking are: N 52.131427, E 1.115658
At the double wooden gates, off Sandy Lane, pull in to the right and park to one side of the double metal gates. Please don't block these.
Walk to one side of the gates and follow the track in using the plans here until reaching the meadow.
Interested in this woodland? Get in touch with us:
Contact Richard Scholfield on 07811 818 277 or email us at [email protected] with your details.