Saxonbury Wood - Sold
Details for this wood
Guide price: £50,000 - Freehold
Size: About 4 acres

Location: By Wickham Bishops, near Witham, Essex
OS Landranger: 168
Grid ref: TL 838 131
Nearest post code: CM8 3NQ
Contact: Richard Scholfield
Phone: 07811 818 277
Email: [email protected]
Email to a friend
Saxonbury Wood is made up of a gently sloping gully flanked on the sides by mature trees and lined with a vast array of grasses, sedges, rushes and ferns. A wonderful mix of poplar, oak, hornbeam, silver birch, willow and ash with the occasional conifer tree providing diversity. The slopes give plenty of vantage points to enjoy this woodland vista. Saxonbury Wood is an excellent example of varied deciduous woodland with lots of native flora.
A haven for wildlife - badgers, muntjac deer and foxes are often seen. A recent survey counted over thirty different birds that inhabit this area including green woodpeckers, wrens and coal tits.
The access track passes alongside the eastern boundary of the wood. Saxonbury Wood is surrounded by other areas of private woodland.
Because the woodland is so special it has a TPO (tree preservation order) with the article 4 on it. This simply protects the woodland and does not prevent woodland management - guidance is available from the Forestry Commission and other woodland organisations.
Click Here to download a full scale location plan.
There is a covenant, click here to read, on the woodland designed to ensure the quiet and peaceful enjoyment of this and adjoining woodland.
© Crown copyright and database rights 2017 OS Licence no.100057987
Our Maps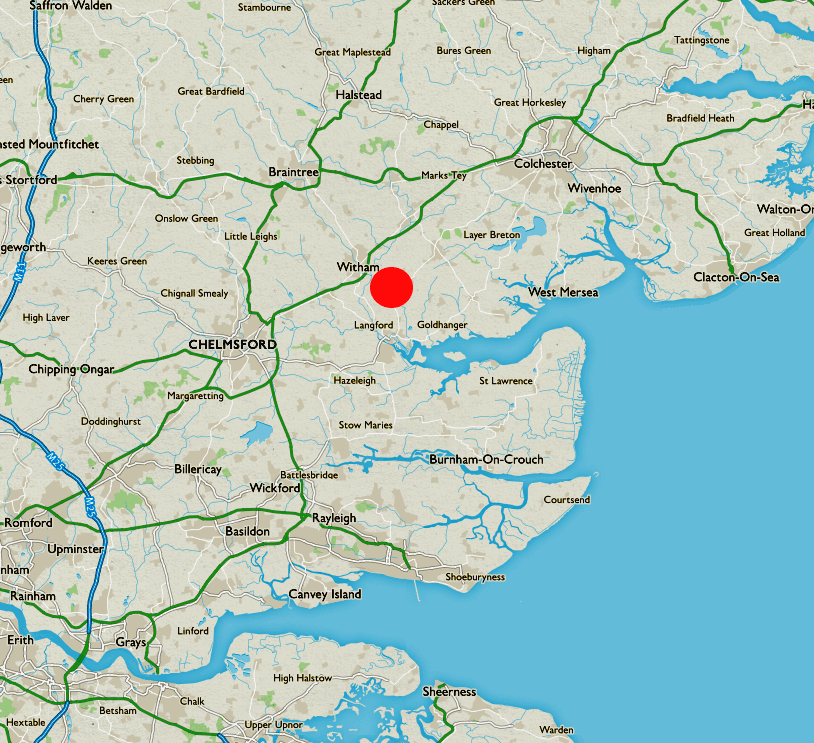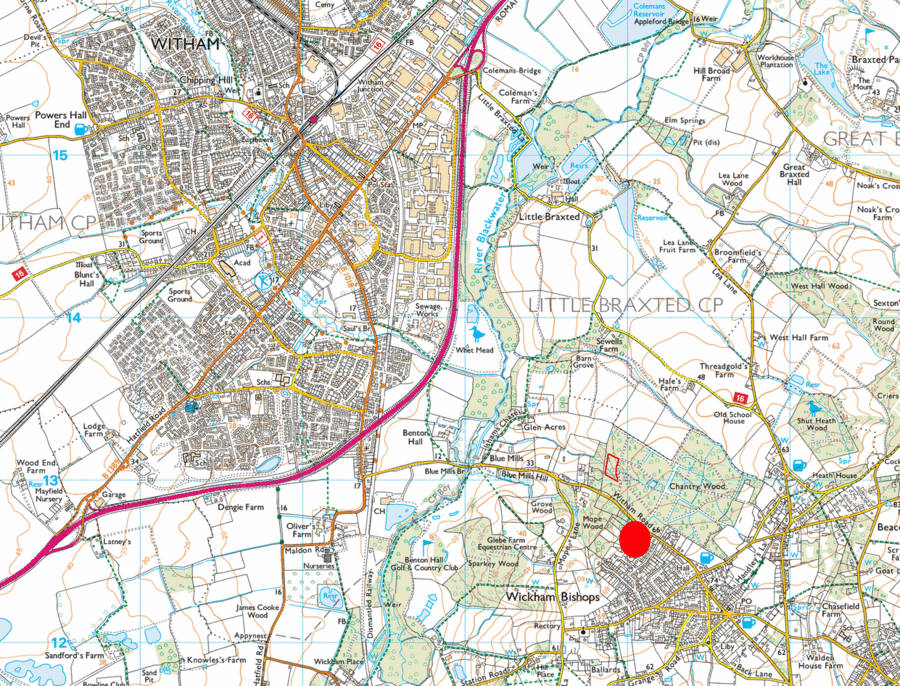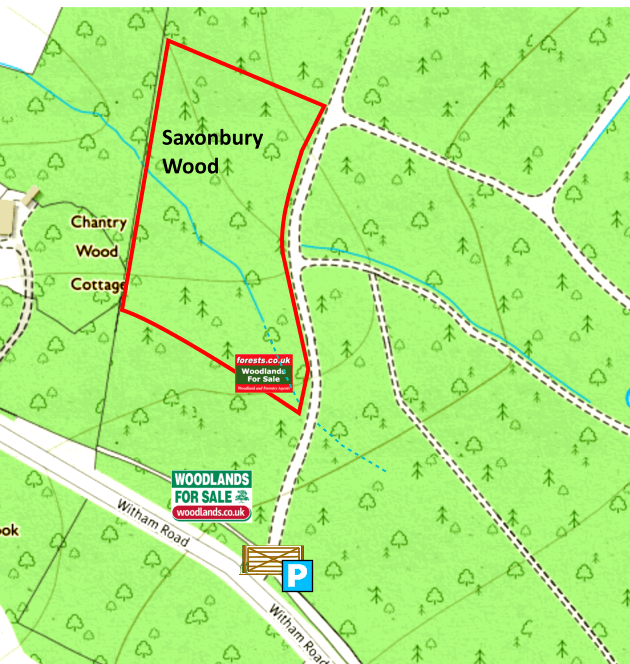 Directions
Saxonbury Wood is just next to Wickham Bishops and about 1 mile southeast of Witham.
Click here for Bing Maps Directions enter your own postcode, (the coordinates the entrance gate are already entered).
For Satnav: the nearest postcode is CM8 3NQ as shown by the red dot on the maps. Coordinates for your satnav are N 54.884733, E 0.665127
Travelling northbound on the A12 take the exit sign posted Witham go past the petrol station then straight over the round-about onto Hatfield Road and then after about ¼ mile turn right into Maltings Lane, continue straight over the round-about until you stop at the 'T' junction of Spring Lane.
Turn right and continue under the bridge until you come to some part time traffic lights, turn left into Blue Mills Hill, sign posted Wickham Bishops / Golf Club.
Carry on over the narrow river bridge and up the hill with woodland on your left before the "no overtaking" sign there is a 'for sale' sign just before the wooden five bar gate on the left.
Please park to one side of the gate so as not to block the access and safely off the road. Climb over the gate (hinge side please) with care and continue along the access track until you reach the wood on your left. There a bright orange tape markings on the four corners of the wood to aid identification.