Snape Road Wood - Sold
Details for this wood
Guide price: £32,000 - Freehold
Size: About 2⅔ acres

Location: Sudbourne, Suffolk
OS Landranger: 156
Grid ref: TM 414 518
Nearest post code: IP12 2AS
Contact: Richard Scholfield
Phone: 07811 818 277
Email: [email protected]
Email to a friend
Description   The Suffolk Coast and Heaths has some of Suffolk's finest scenery and this woodland is located between between Orford and Aldeburgh. The soils are sandy and free draining making year round use of the woodland possible. A perfect location for a multi-use woodland, supplying firewood, wildlife observation and private camping.  A guide to the area can be seen by clicking here - Suffolk Coast and Heaths AONB
The old maps, eg 1927 OS map, show the area as open ground but judging by the number of bluebells, a fine display in spring, and the ancient trees this area has been wooded for some time. The land may have gone through a brief heathland phase before the present trees were planted.
There are about 7 ancient trees, mostly old oaks in a band by the roadside. With these are maturing sycamore and beech with silver birch. Much of the woodland to the rear is Corsican and Scots pine, a fine plantation of conifers.
The neighbouring Sudbourne Hall is undergoing development at present, although not affecting the woodland, a brief history of the Hall and village can be seen HERE.   A guide to the geology of the area can be seen HERE.
Boundaries    they are the road frontage with post and wire fences on the other three sides. The western boundary is rather obscured by bracken. The southern boundary does not include the gate of the track and is the fence to the north of these.
Sporting Rights   these are in hand and go with the wood.   
Access    is off a public highway, the Snape Road, with a pull-in off the road on the verge. At present there is no vehicle access to the wood.
Our Maps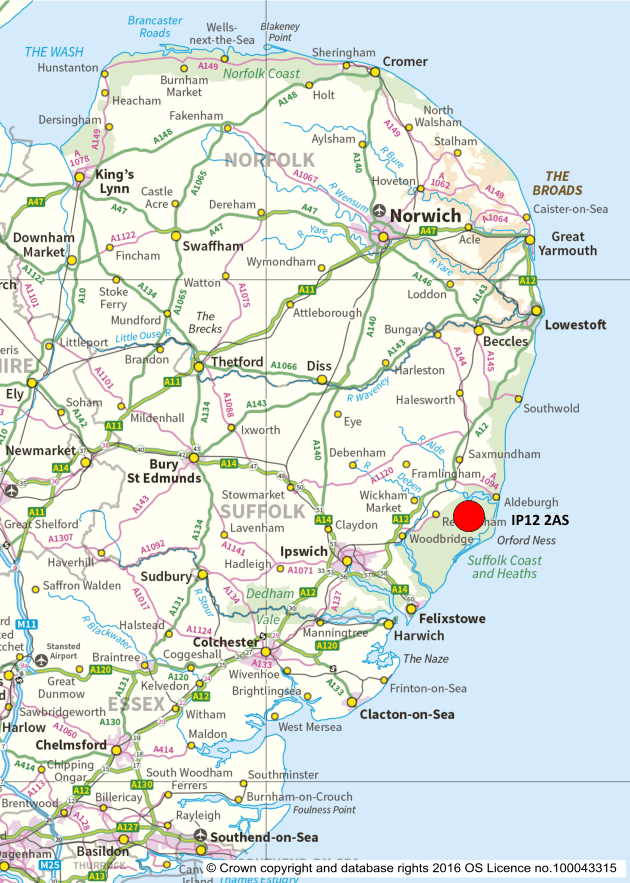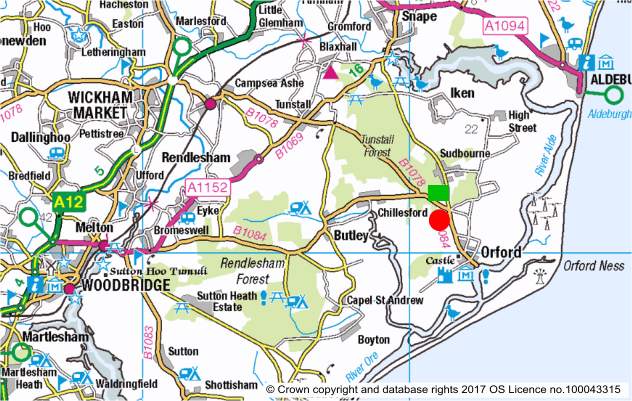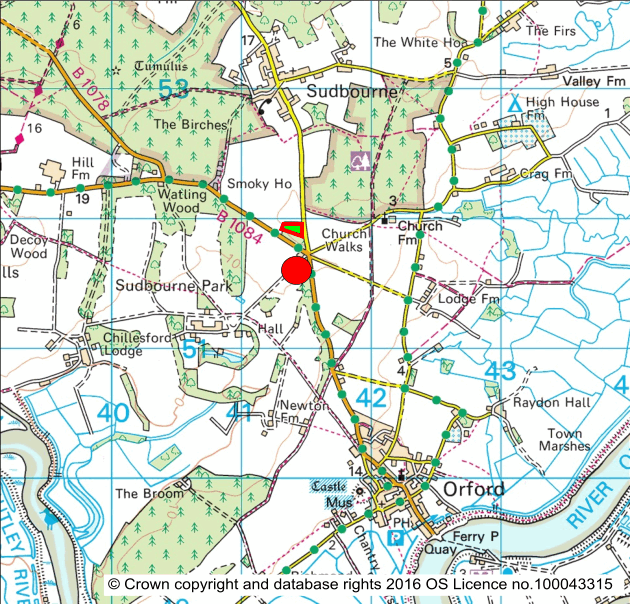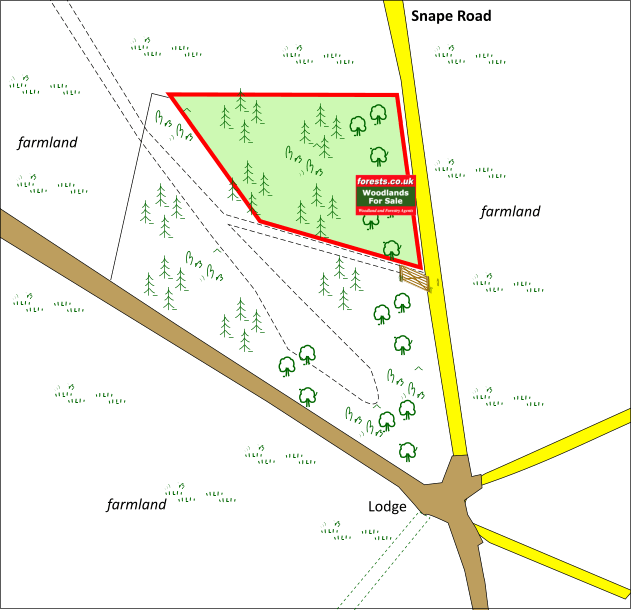 Directions
Snape Road Wood is about 10 miles east of Woodbridge and the A12,  just inland from the Suffolk coast and north of Orford.
Click here for Bing Maps Directions enter your own postcode, (the wood entrance location is already entered) and click on the "Directions" box. This will take you to the parking point, on the roadside. Please do not block the wooden gate.
Satnav: the postcode IP12 2ASis shown by the red dot on the location plan. These coordinates in your satnav will take you to the wood -  N52.113037 and 1.525904