Warley Wood - Sold
Details for this wood
Guide price: £59,000 - Freehold
Size: Almost 4¼ acres

Location: Warley near Brentwood in Essex
OS Landranger: 167
Grid ref: TQ 597 918
Nearest post code: CM13 3BL
Contact: Richard Scholfield
Phone: 07811 818 277
Email: [email protected]
Email to a friend
Warley Wood has a nice mix of trees. Just behind the entrance a swathe of pines grow, these give way to chestnut coppice, oaks and silver birch. Some patches of blubells are found in this area. Bluebells are one of the most attractive woodland flowers and are an indicator that this is an ancient woodland.
As you venture further into the wood some large hemlock trees are found, and beyond these you come to a bank on which a magnificent Scots pine stretches upwards. Adding yet further variety a scattering of holly trees create evergeen cover.
The woodland is flat and has plenty of small glades in which to set up camp or make a base for exploring the woodland. Warley Wood forms part of a much larger area known as Barrack Wood. Being part of a larger wooded area has many benefits especially for the wildlife. We have seen muntjac deer, foxes and squirrels. The dawn chorus is well worth an early morning visit.
Under 3 miles from Junction 28 of the M25, 2 miles from Brentwood and just over 20 miles from central London this woodland is a perfect retreat from the hustle and bustle of everyday life.
Warley Wood and the surrounding woodland known as Barrack Wood was used as a military camp in 1742, with thousands of troops camped there during the summer months. It was an ideal base, as it was less than a day's march to Tilbury where troops would leave for foreign service. Warley Barracks was made permanent in 1804, with space for 2,000 cavalry.
Because the woodland is so special it has a tree preservation order on it and is protected by the local authority. This simply protects the woodland and does not prevent woodland management - free guidance is available from the Forestry Commission and other organisations.
There is a covenant click here to read designed to ensure that all can have quiet and peaceful enjoyment of their woodland.
Ordnance survey have really useful maps, see their free mapping here.
Maps are : © Crown copyright and database rights 2018 OS Licence no.100057987
Our Maps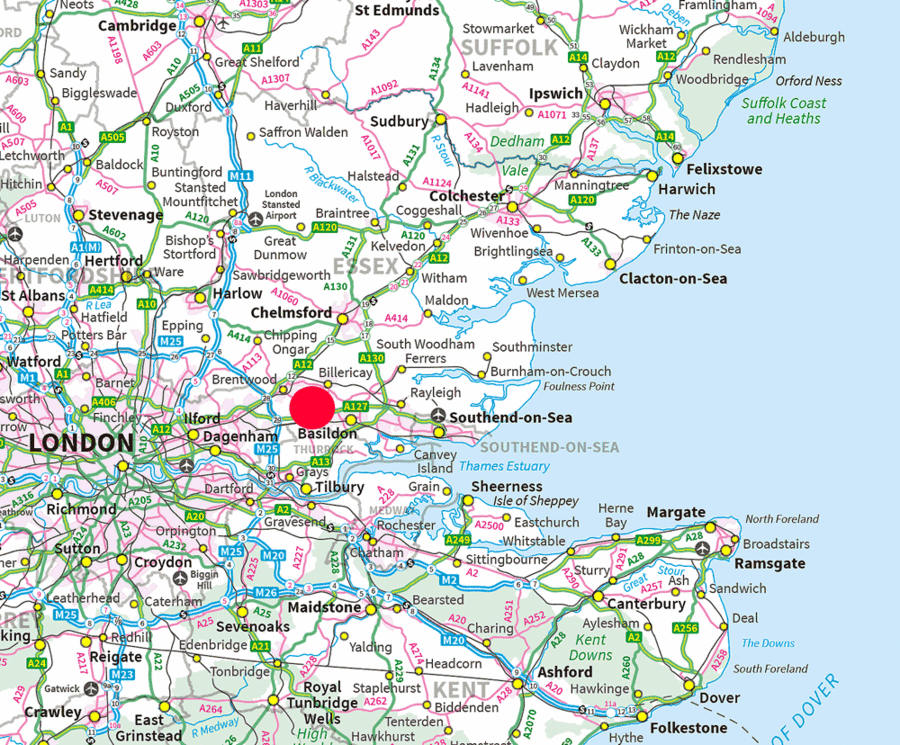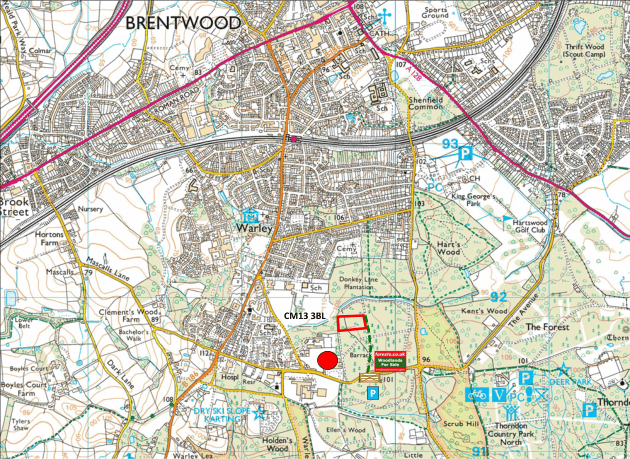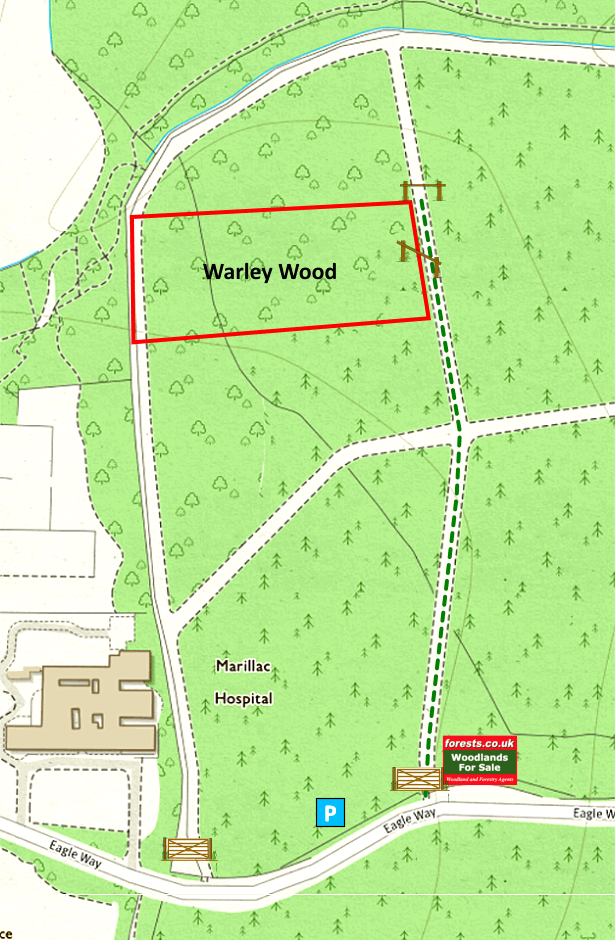 Directions
Warley Wood is just a few 100 yards east of Warley and Brentwood in Essex.
Click here for Bing Maps Directions enter your own postcode and click on the "Directions" box. This will take you to the entrance off the road.
Satnav: the postcode CM13 3BLis shown by the red dot on the location plan. These coordinates N51.599945, E0.306219 in your satnav will take you to the entrance gate to the track leading to the wood.
The locked gate is set back and it is possible to park in here, but to one side. Should this be occupied then part on the verge by the gate nearer to Warley direction.