Watsons Wood - Sold
Details for this wood
Guide price: £29,000 - Freehold
Size: About 2⅓ acres for sale

Location: Sawtry, Huntingdon, Cambridgeshire
OS Landranger: No 142
Grid ref: TL 184 380
Nearest post code: PE28 5XP
Contact: Richard Scholfield
Phone: 07811 818 277
Email: [email protected]
Email to a friend
Description  Watsons Wood lies centrally inside a much larger wood known as Odd Quarter Wood which is an Ancient Semi Natural Woodland this means this wood has been continuous woodland since at least 1600AD. Easily accessible and set on level ground it is an ideal place for family forestry. The entrance is flanked by some amazing Scots pines. Young coppice and a variety of mature native broadleaf trees make up the majority of the wood. These include some excellent oak trees, whilst small glades make an enjoyable place to rest and enjoy this wood.
As Watsons Wood is part of a much larger woodland habitat it enjoys a far greater selection of flora and fauna. The woodlands resident muntjac and roe deer feed on the surrounding fields at dawn and dusk and can be spotted moving through the woodland during the day. Many deer couches (deer bedding spots) can be found besides the young coppice stands. Both red and Chinese water deer have also been seen on the surrounding fields. The woodland is also home to a healthy population of hares who lope away slowly if disturbed.
Watsons Wood originally formed part of the well-known Monks Wood which lies to the south. Monks Wood is now a wildlife reserve and over 1,000 species of beetle and butterfly have been recorded in this area.
Conveniently located under 5 minutes from the A1, just south of Sawtry. There are excellent local services close by including a restaurant and motel within minutes.
As this is a special woodland and is protected as a SSSI (Site of Special Scientific Interest). A new owner will have the pleasure of knowing that they are the custodians of a nationally recognised woodland. This wood should be viewed to appreciate its true beauty, being level with good access and easy to walk through. 
Covenant  There is a covenant, click here to read, on the woodland designed to ensure the quiet and peaceful enjoyment of this and adjoining woodland.
Our Maps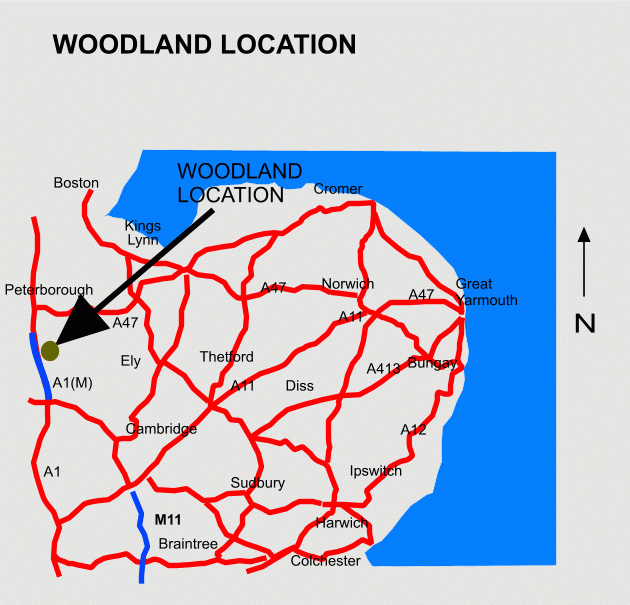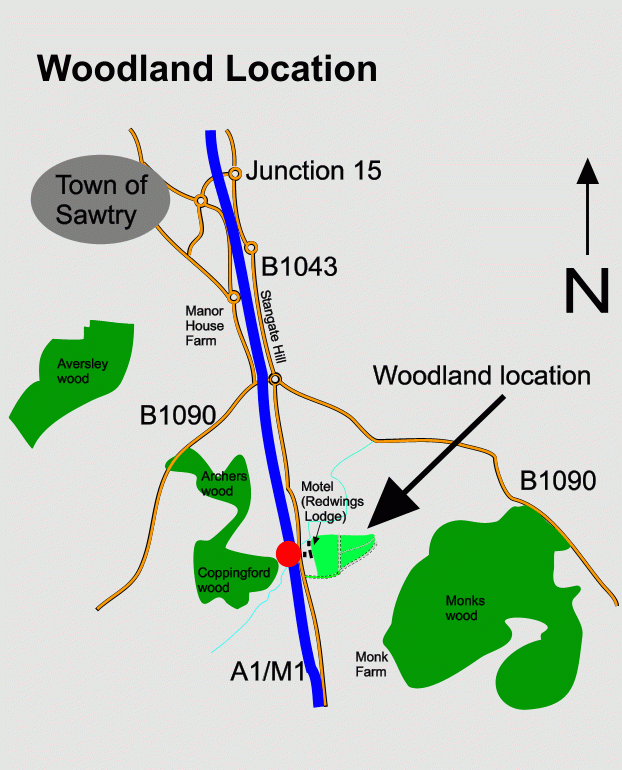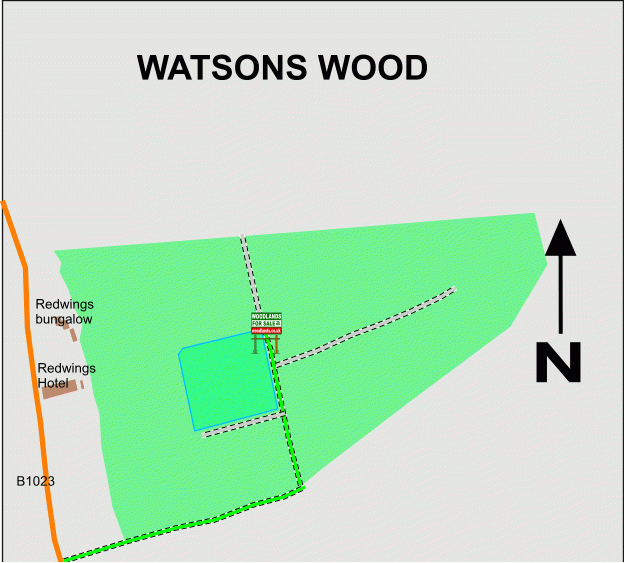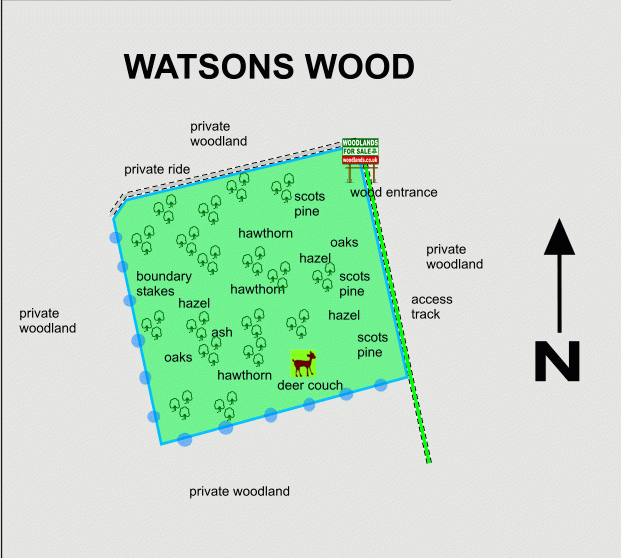 Directions
Watsons Wood is located to the east of the old Great North Rd B1043 between Alconbury and Sawtry.
Click here for Bing Maps Directions enter your own postcode, (the coordinates for entrance are already entered) and click on the blue "Go" box.
For Satnav: the nearest postcode is PE28 5XP as shown by the red dot on the maps.  53.765271, -0.564337
If you are travelling along the A1 southbound, exit at junction 15 (Sawtry) and stay on the B1043 following signs to Alconbury and Monks Wood. Go straight over 3 roundabouts (staying on the B1043). Go past the Redwings Lodge and Spice Land on your left, and 100 metres past the PACE filling station turn into the first gate way. ( A telegraph line crosses the road at this gate way.)
A large metal bar is used as a gate and you will see the wood 200 metres in front of you. Park to one side making sure you do not block the gate.
Carefully climb under the bar and walk down to the wood. The wood entrance is 250 metres down the side of the wood.
The wood entrance is marked by a Woodlands.co.uk five bar gate. Climb carefully over the gate and walk along the main ride. After approximately 150 metres Watsons wood entrance is on your left.
Travelling along the A1 northbound, exit at Junction 14 and follow signs for Alconbury main gate. Then turn left and follow the B1043 northbound for nearly 2 miles. You will come down a hill and be able to see a PACE filling station and Redwings Lodge motel on your right. The turning for the wood is 100 metres before them. A telegraph line crosses the road at the gateway (if you go past turn around at the petrol station.)
A large metal bar is used as a gate and you will see the wood 200 metres in front of you. Park to one side making sure you do not block the gate.
Please then follow directions as above to the wood from this gate.