Aldercombe Wood - Sold
Details for this wood
Guide price: £45,000 - Freehold
Size: About 7 acres

Location: Kilkhampton, Cornwall
OS Landranger: 190
Grid ref: SS 263 112
Nearest post code: EX23 9RP
Contact: Richard Scholfield
Phone: 07811 818 277
Email: [email protected]
Email to a friend
Description    Bordered on all sides by mature hedge-banks, Aldercombe Wood is mostly growing spruce trees, offering the possibility of a timber harvest in the future. From its private access gate near the south-west corner, the land slopes gently down towards the northern boundary which has a small stream running along it. A narrow track runs down inside the eastern boundary. About 80% of the wood is planted with spruce. The remainder is rough grassland and it is here in this very enclosed and private area that the varied birdlife can best be enjoyed. Roe deer are regularly seen here too. The grassland area is sparsely populated with spruce and other species such as willow and hazel, whilst the hedges contain a wide variety of species. The wood is set among further areas of woodland and farmland. Despite being only a mile or so from the village of Kilkhampton, from where much of what North Cornwall has to offer is easily accessible, the wood has a very peaceful and secluded feel to it.
Boundaries   The boundaries are formed by mature hedge-banks. There is also a small stream running along the northern boundary.
Some of the photos are from 2006 and show the wood at an early stage of its development.
Covenant   There is a covenant, click here to read, on the woodland designed to ensure the quiet and peaceful enjoyment of this and adjoining woodland.
Our Maps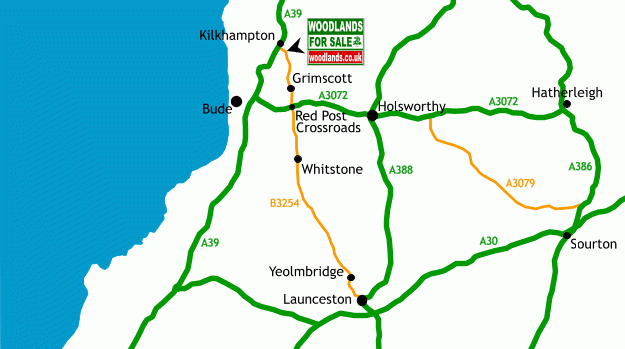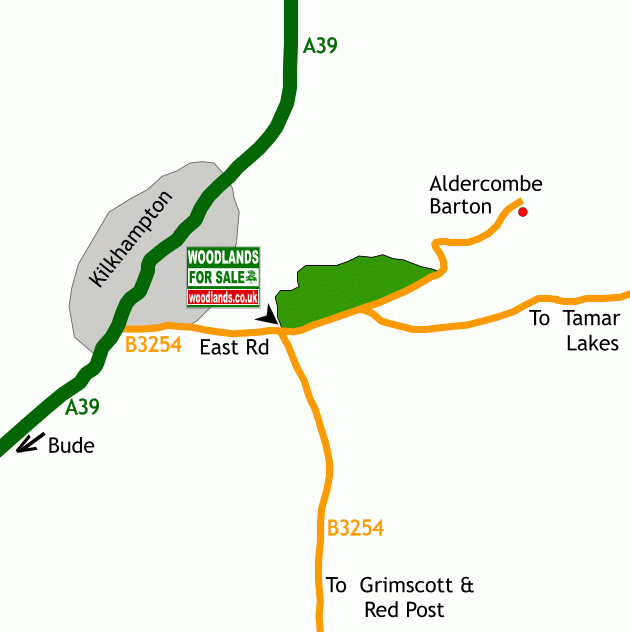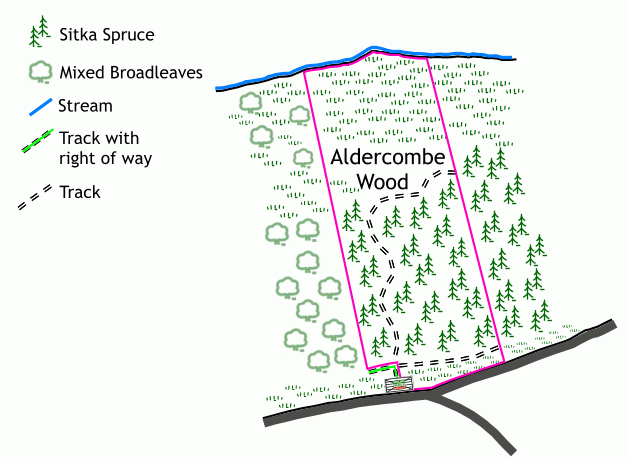 Directions
Aldercombe Wood is less than ½  mile due east of the A39 at Kilkhampton.
For Satnav: the nearest postcode is EX23 9RP as shown by the red dot on the maps. Coordinates are (entrance)  N50.875020  W4.469578
Click here for Bing Maps Directions enter your own postcode, (the coordinates for the entrance gate is already entered) and click on the blue "Go" box. These directions can be printed out.
From Launceston : take the B3254 road to Bude, passing through the villages of Yeolmbridge and Whitstone to the Red Post crossroads
go straight across at the crossroads (signed to Kilkhampton) and on through the village of Grimscott
about 3 miles further on the road bends sharply to the left and there is a turning to the right, signposted to Tamar Lakes.
take the turning to Tamar Lakes. After about ¼  mile there is a turning to the left - signed Aldercombe Barton
park by the gate on the left, just before this turning. Go over this gate and you are in Aldercombe Wood.
From Holsworthy : take the A3072 Holsworthy – Bude road to Red Post crossroads.
Turn right for Kilkhampton and proceed as above.
From the A39 : at Kilkhampton take the B3254 (East Road). After about half a mile the road bends sharply to the right and there is a turning signposted to Tamar Lakes to your left. The woods are at this junction, as described above.