Blackbury Wood - Devon
Details for this wood
Guide price: £45,000 - Freehold
Size: About 2¾ acres

Location: Harcombe, Sidmouth, Devon
OS Landranger: OS No 192
Grid ref: SY 16175 91872
Nearest post code: EX10 0PR
Contact: Ben Williamson
Phone: 07958 213 914
Email: [email protected]
Email to a friend
Blackbury Wood is a set in a wonderfully peaceful location next to the picturesque village of Harcombe. The woodland forms part of Harcombe Hill surrounded by rolling hills that make up part of the East Devon Area of Outstanding Natural Beauty. The popular coastal towns of Sidmouth, Branscombe and Beer are just a short drive away.  
The woodland itself is a very manageable size and young beech, birch and holly make up much of the top section that slopes down to a central woodland track. Beyond this point, footpaths lead towards a pretty stream that runs along the edge of the field to the west.
The woodland opens up with lots of light along the stream and mature beech and oak border the field along with hazel, birch and ash. Bracken and grasses cover much of the floor. There are some lovely clearings that could be used for camping and other activities. 
The ward is Sidmouth Rural and the County Council is East Devon
Boundaries are marked in blue on all sides. The main track follows the eastern boundary and the top of the wood and to the west runs a stream and open fields. 
Access There is excellent vehicle access and parking is possible at the top of the wood on the track. The owner would have right of way on the hard tracks marked in green on the map.
Covenant  There is a covenant on the wood designed to ensure the quiet and peaceful enjoyment of this and adjoining woodlands, click HERE to read and download.
Click HERE  to see free OS maps and scroll out for a wider view.
Viewing:  You are welcome to visit this wood by yourself, but please Click here to download and print a map showing the location of the woodland and ensure that you have a copy of these sales details with you. Many of our woodlands do not have mobile phone reception or internet access so we recommend either printing the details or downloading them to your phone or tablet. Please take care when viewing as the great outdoors can contain unexpected hazards and woodlands are no exception.
Maps are : © Crown copyright and database rights 2023 OS Licence no.100057987
Our Maps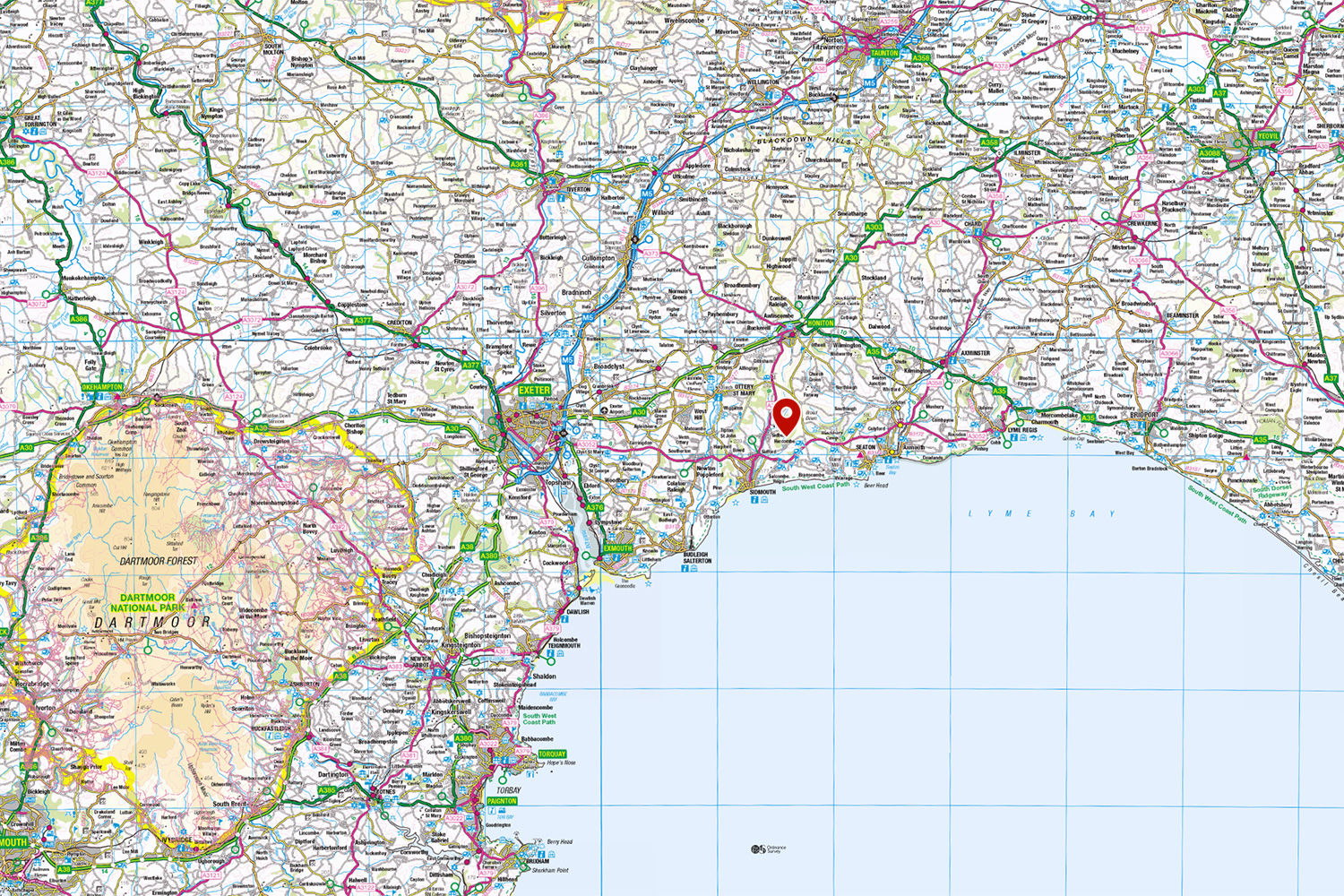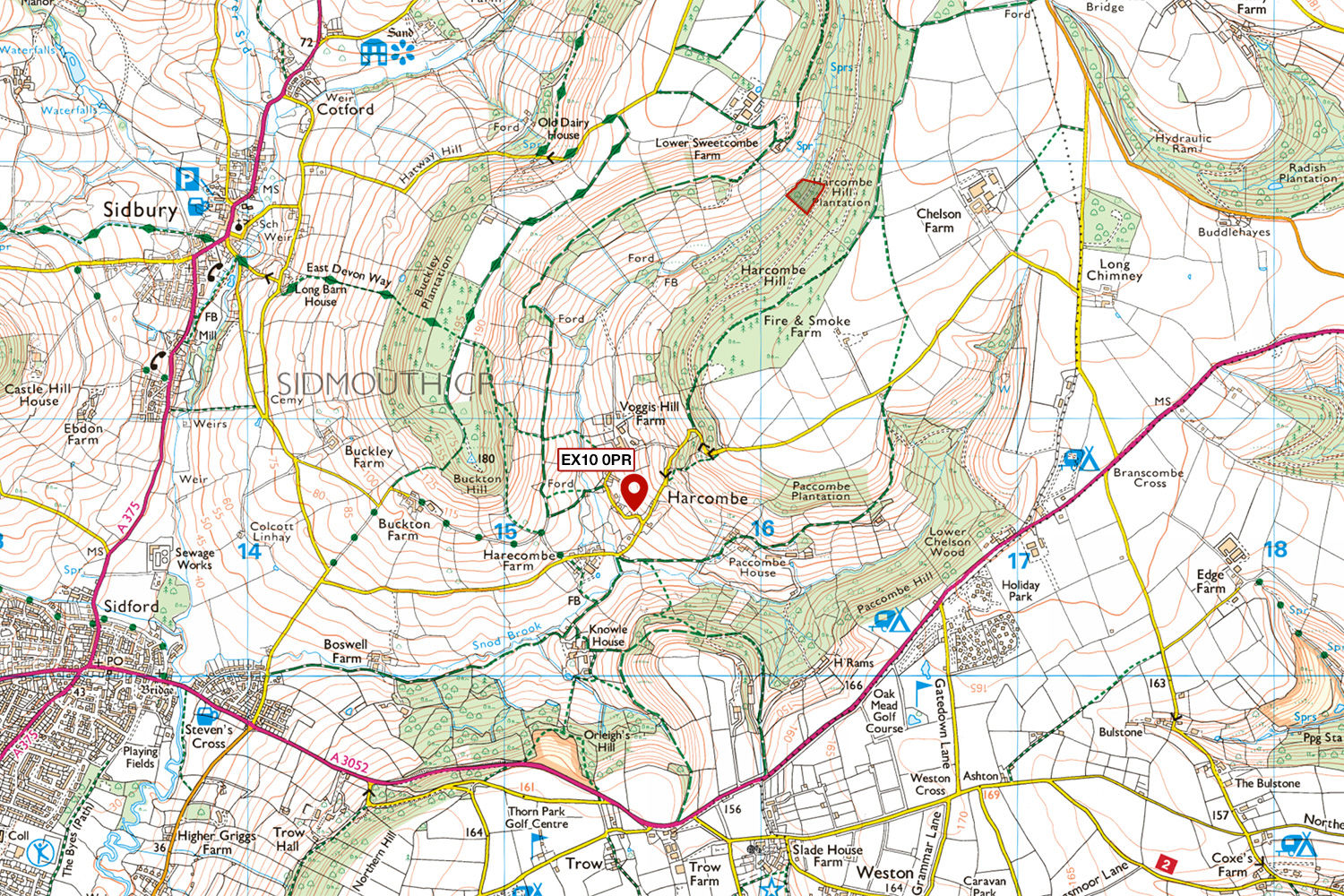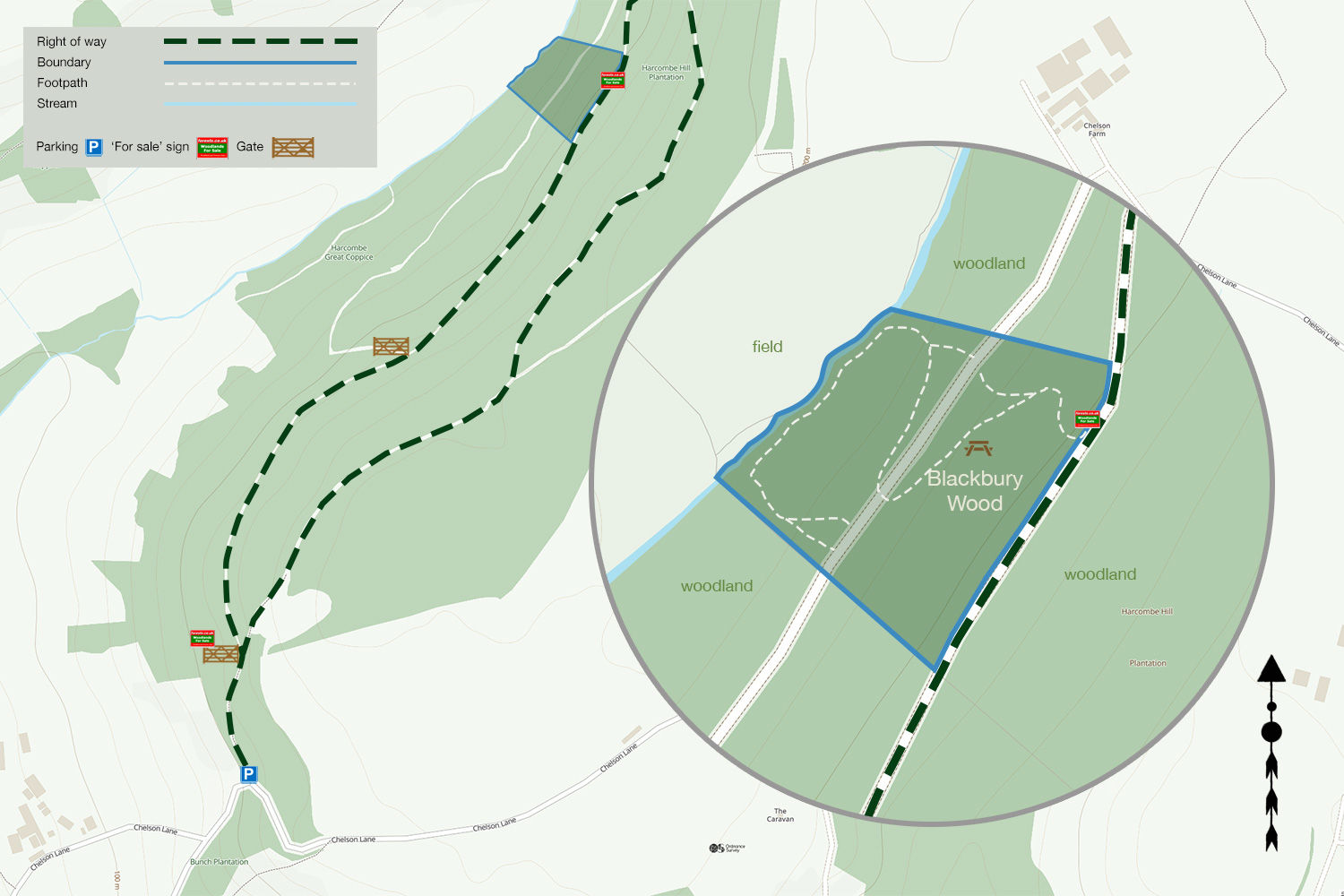 Directions
Blackbury Wood, Harcombe, Sidmouth, Devon
1. Click here for Bing Maps Directions  enter your own postcode, and click on the "Directions" box.
For viewing purposes, park at the main entrance on Chelson Lane. Please don't block the access. 
Follow the track uphill until you reach the gate and bear left. 
After approx 1000m (5 mins walk), Blackbury Wood will be on your left. 
2. For Satnav: the nearest postcode is EX10 0PR​ as shown by the marker on the maps. The main coordinates for access and parking are: 50.712152, -3.194667. W3W: ///reserving.plankton.snooze
Interested in this woodland? Get in touch with us:
Contact Ben Williamson on 07958 213 914 or email us at [email protected] with your details.