Chittle Wood - Sold
Details for this wood
Guide price: £35,000 - Freehold
Size: About 3¾ acres

Location: Chittlehamholt, near Barnstaple, Devon
OS Landranger: 191
Grid ref: SS 651 209
Nearest post code: EX37 9NS
Contact: Richard Scholfield
Phone: 07811 818 277
Email: [email protected]
Email to a friend
Chittle Wood is a charming woodland set near the quaint village of Chittlehamholt on the edge of the Mole valley. Its elevated position allows good exposure to sunlight ensuring good growing conditions for the mixed native broadleaved trees such as oak and hazel. The light benefits the abundant ground flora hence the swathe of bluebells and wood anemone.
The site is a long established wooded area and hence the woodland contains gloriously tall and twisted oak trees and established ground flora. Flowers like bluebells and wood anemones are notoriously slow at spreading along the ground in a woodland environment and therefore are an indicator that a woodland has existed for many years. The wood anemone spreads slowly as most of its seeds are infertile and it relies on a creeping root system.
There is an internal stream that runs from south to north, part of the northern boundary is a stream.
Chittle Wood is a home to many species of animal. Red and roe deer browse through the wood on occasion and are always a magnificent treat to see. Resident badgers emerge from their setts in wood banks to play in the spring and summer growth; bluebell bulbs being one of their favourite snacks. The gentle slope of the woodland is ideal for badger watching as you can look down over the woodland to observe their behaviour. Make sure the wind is blowing towards you as they regularly sniff the air and you don't want to be discovered as they will return to the safety of their home!
Local facilities include The Exeter Inn, the local village pub; a perfect place to visit and restore your energy levels after a day spent enjoying your woodland! There is a parking area near to the entrance of Chittle Wood and a forestry track that gives access along the southern end of the woodland. This track gives good access for timber extraction and to a plateau and camping area along the southern boundary. If you fancy a treat when visiting your woodland, perhaps as an alternative to camping, the beautiful Mole Cottage B&B is just a 10 minute walk away.
There is a covenant click here to read designed to ensure that all can have quiet and peaceful enjoyment of their woodland.
Access   is off the public highway along a woodland track which is also a footpath.
Full-scale   Click here  to download and print a map showing the location of Chittle Wood.
Click HERE to see free OS maps  scroll out for a wider view.
Viewing: You are welcome to visit this wood by yourself, but please ensure that you have a copy of these sales details with you - many of our woodlands do not have mobile phone reception or internet access so we recommend either printing the details or downloading them to your phone/tablet/laptop. Please take care when viewing as the great outdoors can contain unexpected hazards and woodlands are no exception.
Maps are : © Crown copyright and database rights 2020 OS Licence no.100057987
Our Maps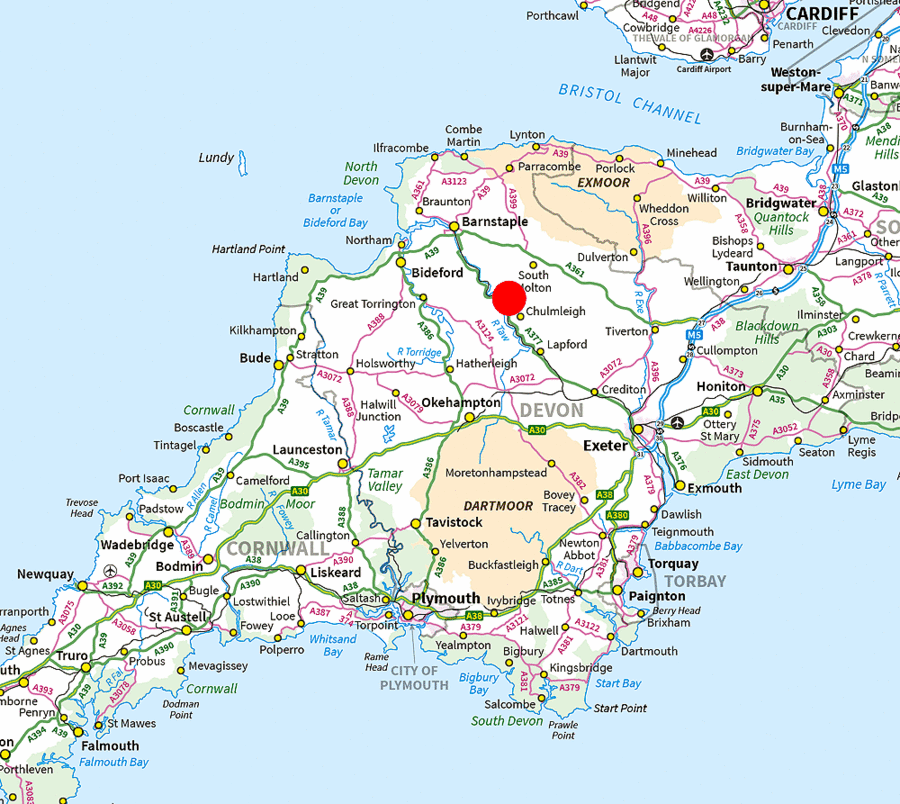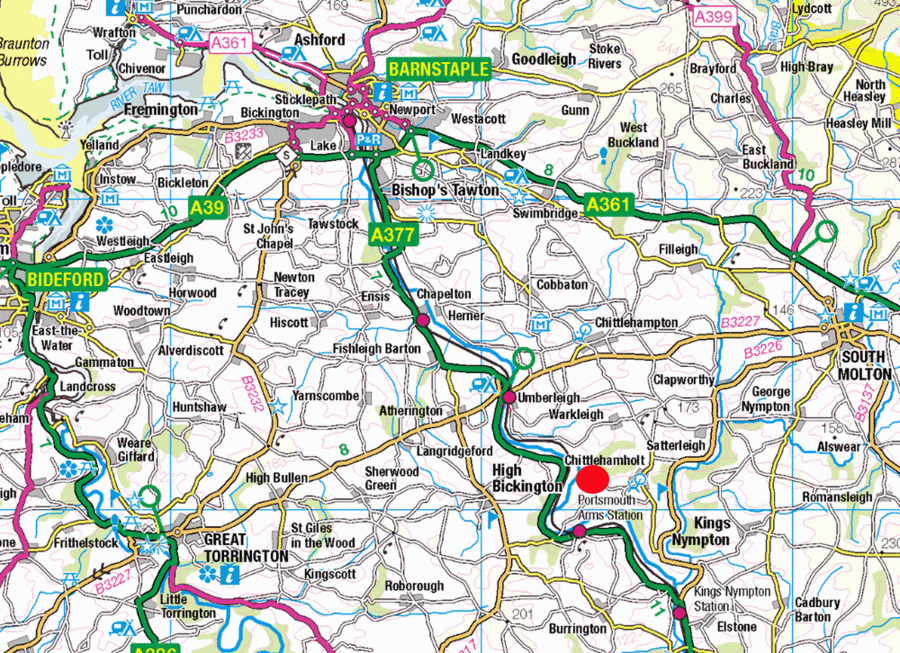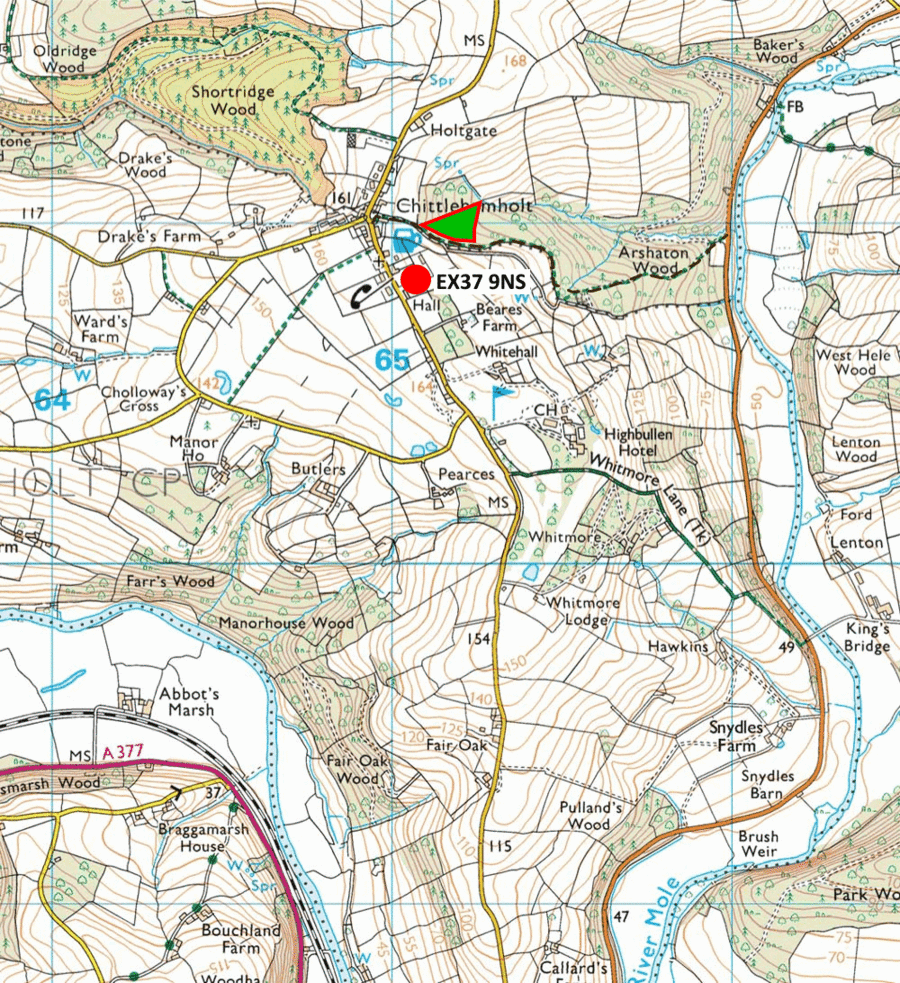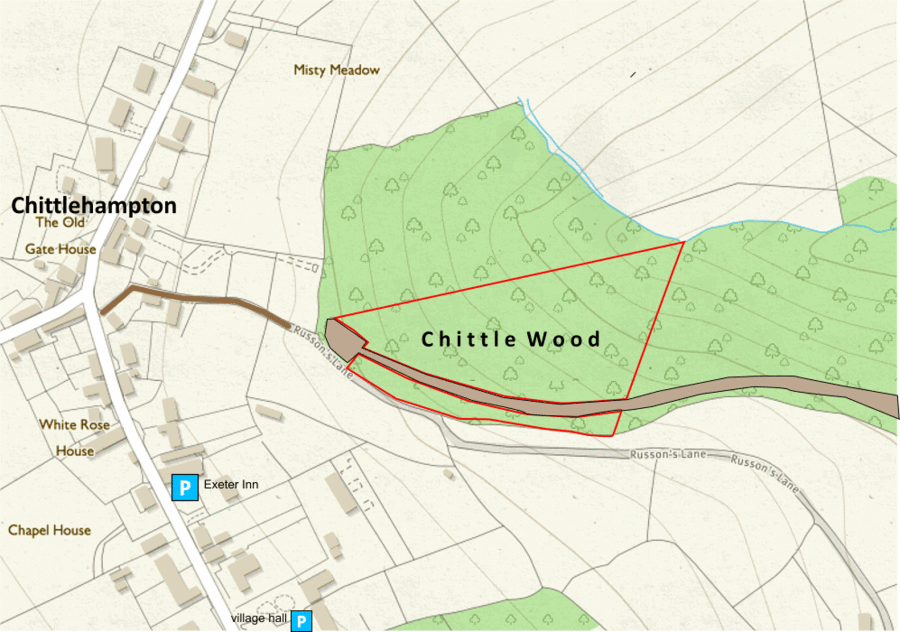 Directions
Chittle Wood at Chittlehampton is about ½ hr south of Barnstaple.
Click here for Bing Maps Directions  enter your own postcode and click on the "Go" box. This will take you to the Exeter Inn where you may park. There is also parking at the village hall, just short distance from the Exeter Inn.  From here walk up the road and just before the junction there is a track on the right by Woodside Cottage, signed "footpath". (see photo).  Walk along this lane (Russons Lane), and the wood is ahead and on the left.
For Satnav: the nearest postcode is EX37 9NS as shown by the red dot on the maps. Coordinates for your satnav are N50.971598, W3.924403