Maids Wood - Sold
Details for this wood
Guide price: £32,000 - Freehold
Size: About 3¼ acres

Location: Woolfardisworthy, Near Hartland, Devon
OS Landranger: 191
Grid ref: SS 309 183
Nearest post code: EX39 5QZ
Contact: Richard Scholfield
Phone: 07811 818 277
Email: [email protected]
Email to a friend
Maids Wood is an attractive young mixed woodland located near the village of Woolsary in north Devon. Set within the unspoilt north Devon countryside and near to the coast. Maids Wood is ideally situated for camping with friends and family.
Nestled away at the end of the old entrance track to the Marshall Farm Estate, the wood is accessed from a metalled road via a good forestry track. At the end of this forestry track there is a convenient parking area making it easy to bring camping equipment or forestry tools to the site.
Maids Wood is easy to walk through due to the well-spaced trees, these are almost 20 years old and species found include oak, ash, hazel alongside pine and spruce. There is an abundance of blackthorn in the Devon hedgerows that border the eastern and southern boundaries, and they bring a beautiful burst of white flowers in the spring and you should find a good number of sloes in the autumn. The hedgerows are an excellent habitat for invertebrates providing a source of food for bird species that nest within.
This part of Devon is one of the best for seeing the amazing flocks of starlings. Both red and roe deer can often be seen in the glades within this woodland making this a truly great place to observe wildlife.
The local area has a heritage going back to the Doomsday book and beyond. The heart of the nearby Woolsery village was built around the Norman Church. The land in the area has a rich history of farming similar to that photographed in north Devon over a 17 year period by James Ravilious.
Our Maps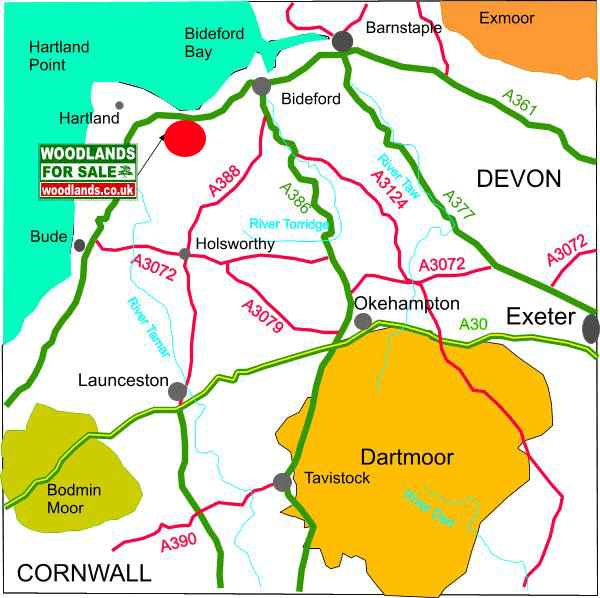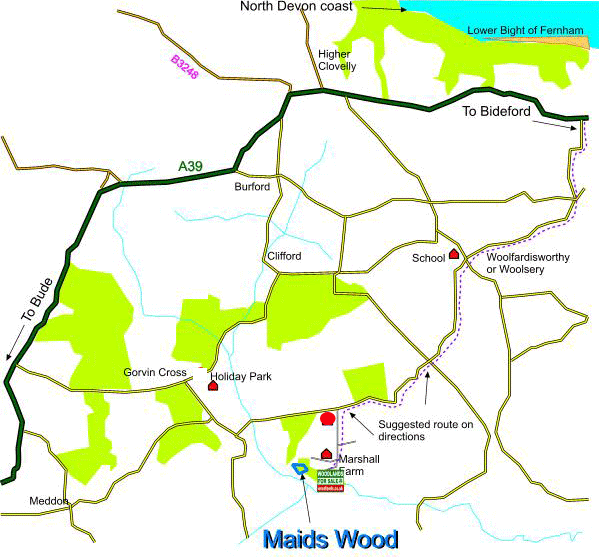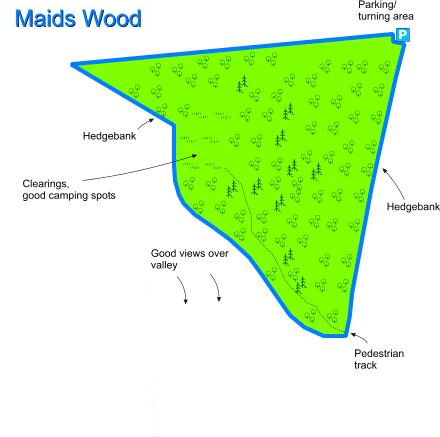 Directions
Maids Wood is about 7 miles inland from Hartland and about 15 miles west of Bideford in north Devon.
For Satnav: the nearest postcode is  EX39 5QZ as shown by the red dot on the maps. Satnav coordinates are   N 50.941948, W 4.401566
Click here for Bing Maps Directions enter your own postcode, (the coordinates for the parking point is already entered) and click on the blue "Go" box. These directions can be printed out.
Postcode will take you to a stonewall with a 'Marshall Farm Estate' sign on it, drive into this entrance.
Drive down this track until you come to a fork in the road, where a side road goes off to the left. (location of coordinates)
Park here on the corner ensuring that both roads are clear for road users.
Continue downhill on foot past the private road sign until you reach a second fork in the road by a house.
Follow the left hand fork down the hill and onto the right hand fork where you will see the entrance gate with the 'woodlands for sale' sign on it.
Carefully climb over the gate and follow the track along for about 300 metres until you come to and entrance in the hedge where you will see the 'Maids Wood' name sign on the left.