Riverside Wood - Sold
Details for this wood
Guide price: £49,000 - Freehold
Size: About 4⅓ acres

Location: Rosemoor near Great Torrington, Devon
OS Landranger: 180
Grid ref: SS 518 169
Nearest post code: EX38 7EQ
Contact: Richard Scholfield
Phone: 07811 818 277
Email: [email protected]
Email to a friend
Riverside Wood is a special woodland with one of the most beautiful views along the river Torridge. When visiting please ensure you explore all of the area by the river; a more wonderful setting would be hard to find. It has a mixed variety of trees with oak and ash planted about 1900. Numerous self-seeded younger trees of good quality are now becoming established as well. Looking at the make up of the wood there are a number of over-grown hazel coppice stools giving an opportunity to re-establish a coppice rotation system.
There are many other tree species to be found in Riverside Wood including alder trees which provide leaves and catkins as food for numerous butterflies and moths. Alders are mainly wind-pollinated, but also visited by bees, and these are also good for the diverse ground flora found here. Alders have also been used for making the bodies of electric guitars since the 1950s, including the Fender Stratocaster and Telecaster - alder is apparently appreciated for its bright tone.
There is river frontage to the the Wooleigh Brook which has considerable potential for fishing - the sporting and fishing rights (single bank) to Wooleigh Brook are included with this woodland. Both salmon and sea-trout have been caught in the brook which is a direct tributary of the River Torridge nearby which is well-known for its fishing. There is plenty of wildlife, including otter, red and roe deer, kingfisher, dipper, blackcap, wrens, woodpeckers and various birds of prey circling overhead. Evidence of the dormouse have been seen in the past in this ideal dormouse habitat.
A hide has been constructed to view the secretive otters, kingfishers and deer. Recent planting in open areas includes alder, hornbeam, silver birch and small leaved lime.
A very useful small 2 berth caravan and the sheds are included in the sale.
The boundary next to the river Torridge is set back 10 feet where the fishing rights are under separate ownership (a local fishing syndicate), their presence is very infrequent. You can still enjoy fabulous views of this attractive river without any reponsibility for the riverbank!
Access is taken directly off the A3124, a track then runs down into the wood but only suitable for 4x4 vehicles which can access most parts.
Our Maps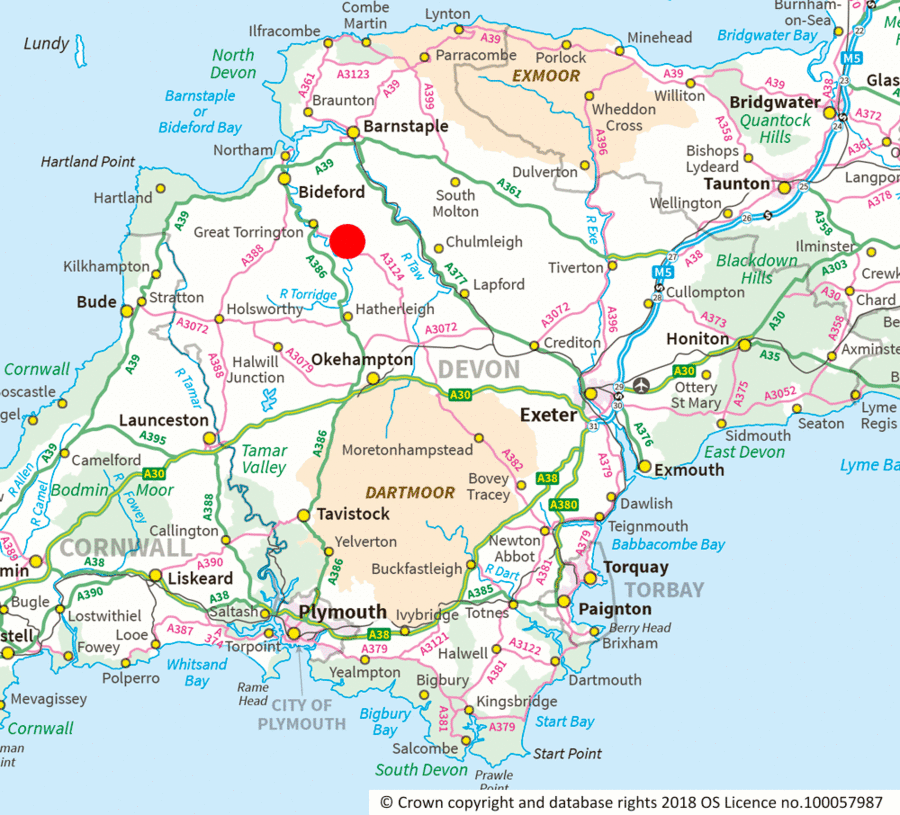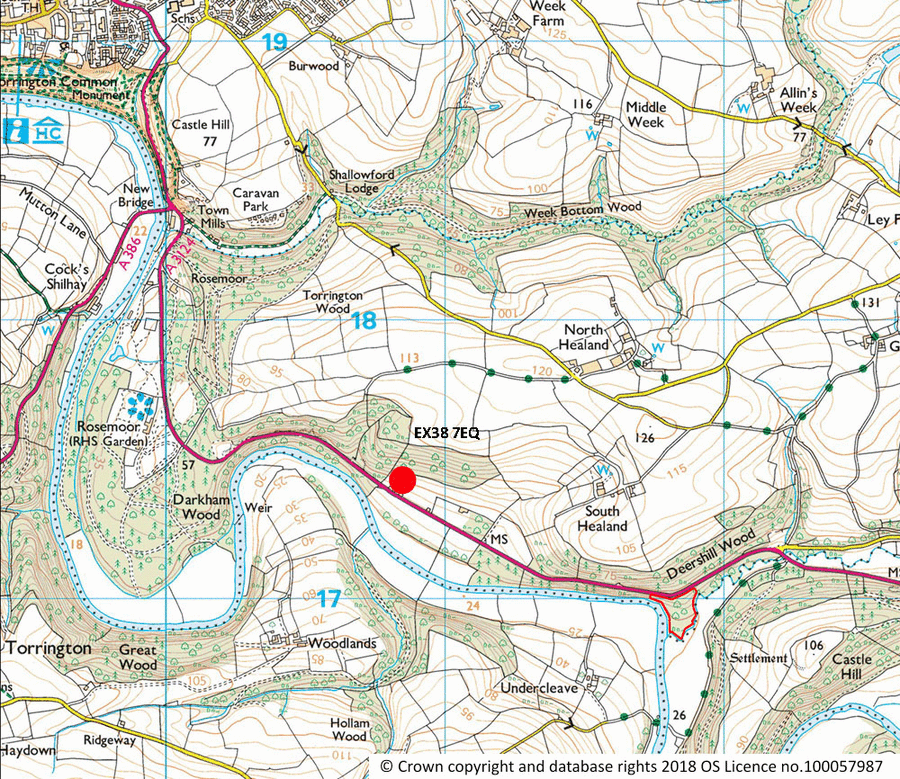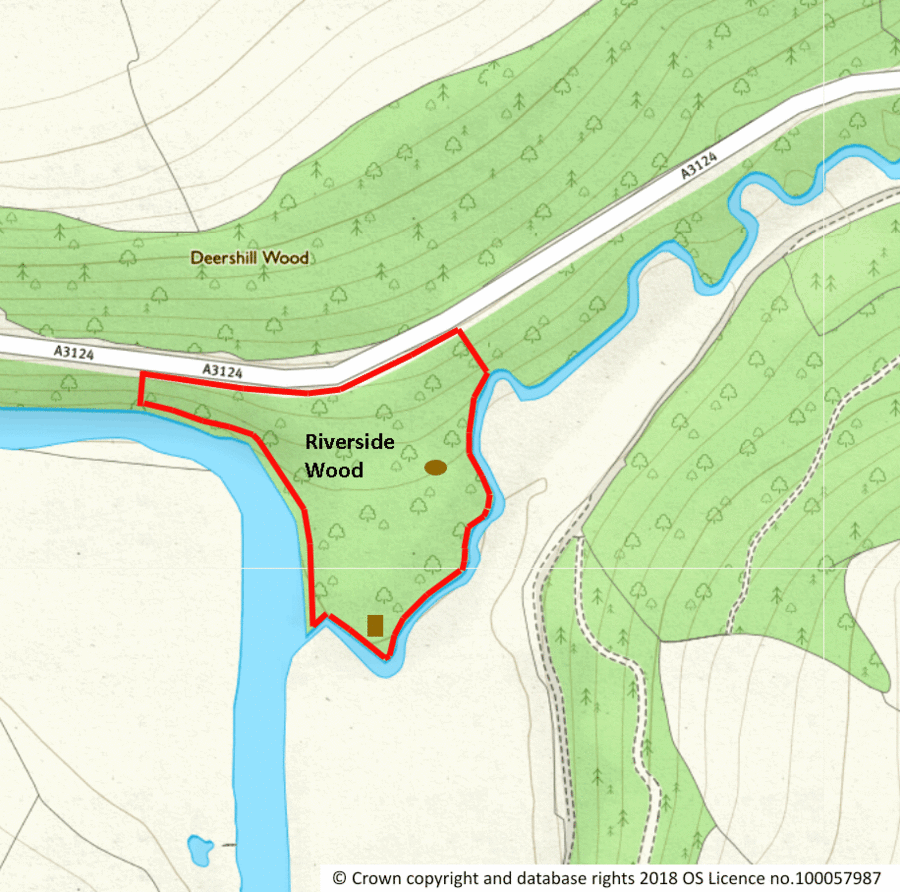 Directions
Riverside Wood is about 2 miles south of Torrington and about 30 miles north west of Exeter.
Click here for Bing Maps Directions enter your own postcode, (the entrance gate coordinates are already entered) and click on the "Directions" box.
Satnav: the postcode EX38 7EQ  is shown by the red dot on the location plan. These coordinates in your satnav will take you more or less to the entrance, an open access of the roadside  -  N50.933406, W4.110163
Coming from the east you should be able to pull into the open entranceway on the left. Coming from the west we suggest you continue to the road junction then double back and approach as above. See photo 2. Please take care as this a tight spot.