Roseawen - Sold
Details for this wood
Guide price: £31,000 - Freehold
Size: About 2½ acres

Location: Sithney Green, Helston, Cornwall
OS Landranger: 203
Grid ref: SW 646 293
Nearest post code: TR13 0RT
Contact: Richard Scholfield
Phone: 07811 818 277
Email: [email protected]
Email to a friend
Although of  modest size Roseawen Wood has all the features you might expect to find in a larger woodland, including open ground, glades and running water.
The wood is in two halves separated by an old boundary bank which runs in a north - south direction. Entrance into the wood is via a gateway at the point where this boundary bank meets the main, hard-surfaced, access track.
The western half of Roseawen Wood is mainly oaks and includes a little glade which in springtime is studded with bluebells and primroses. This wooded area is gently sloping although the glade is on level ground. A stream runs along the northern and western boundaries.
Continue through the entrance way and to the right of the boundary bank and you enter an area of meadow which first slopes down towards the stream along its northern boundary but then levels out as you go east. In combination with the wooded area, this area of grassland could provide opportunities for those wishing to explore small-scale agro-forestry or permaculture.
For print out of the details click "Print these details" above, for location maps click the "View and print this wood's location in Bing maps"
Our Maps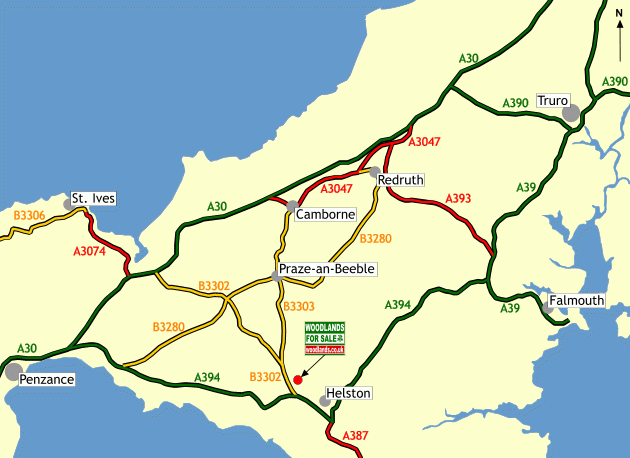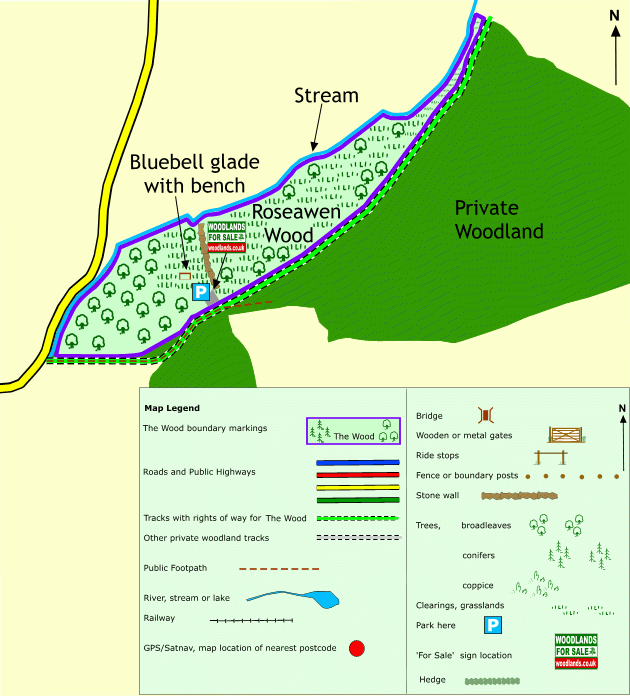 Directions
Roseawen Wood is about 1 mile NW of Helston.
Click here for Bing Maps Directions enter your own postcode, (the wood coordinates are already entered) and click on the blue "Go" box. This will take you to a suitable parking space at the top of the hill. Walk down the hill until reaching the metal gate.
Satnav: the postcode TR13 0RT is for a location on the B3137 about ½ mile north of the wood
Coordinates N50:07:04 and W5:17:38
From Helston leave on the Penzance road
Turn right approx 1½ miles out of Helston at the sign posted B3302 (immediately before a car dealership and brown sign)
Continue on this road for approx 1½ miles coming to a forked junction
Take the right hand fork on the B3303 signed Camborne
Just after the Crown Inn on the left turn right (signed Trevarno).
Alternatively:
From A30 Pool (Camborne) junction, turn right coming down through Tuckingmill and back of Camborne
Pick up the Helston/Camborne road which will come through Praze-an-Beeble and Nancegollan
Coming out of Nancegollan go past the brown sign for a further 300 yards. Turn left (signed Trevarno)
In either case:
After ¼ mile turn right, again signed Trevarno
Continue down this road for 1 mile
Turn left into a 'No through road' by two cottages, one of which is called Riverside Cottage then over the small bridge and take the track on the right just by a sign for Higher Roseawen
Follow this track for around 120 yards, to a gateway on your left.
Park off the main track, in front of this gateway
This is the entrance to Roseawen Wood.