Truffle Wood
Details for this wood
Guide price: £92,000 - Freehold
Size: About 5 acres

Location: Heale near Parracombe, N.Devon
OS Landranger: 180
Grid ref: SS 642 466
Nearest post code: EX31 4QE
Contact: Ben Williamson
Phone: 07958 213 914
Email: [email protected]
Email to a friend
A superb young woodland populated by truffle trees set in a National Park and within walking distance of the North Devon Coast.
The gently sloping woodland extends to about 3½ acres, plus a small meadow of about 1½  acres, making 5 acres in total. At planting in 2008 80% of the 2000 trees were inoculated with truffle spores. The trees are growing well and regular annual inspections suggest that, though the trees are yet to produce truffles, they have a good chance of doing so in the future.
Set in the most beautiful part of the Exmoor National Park, this woodland is also in the North Devon Bioshpere Reserve the two designations say much about the quality and beauty of the region. It is also just a couple of miles from the North Devon Coast, with notable places including Combe Martin, Lynton, Ilfracombe and Woolacombe.
Establishment was aided by an EWGS Woodland Creation Grant. Though in some areas the trees are still fledglings, in others they are up to 3 metres tall, providing a variety of environments. 
The trees are protected by professionally erected deer fencing, entry is through a deer gate, there is a water trough in the field with mains supply.
Access   Is off Heale Down Lane along a hard track and into the meadow which leads to Truffle Wood.
Boundaries   Are fully hedged and a stream runs down one side. The woodland adjoins a large area of common land, providing further areas to explore.
Full-scale   Click here  to download and print a map showing the location of Truffle Wood, (OS have not yet updated their maps to show the area as woodland). Click HERE to see free OS maps  scroll in or out to change zoom view.
Location is Parracombe Parish, in North Devon Council area, in the County of Devon.
Viewing: You are welcome to visit this wood by yourself, please ensure that you have a copy of these sales details with you - many of our woodlands do not have mobile phone reception or internet access so we recommend either printing the details or downloading them to your phone or tablet. Please take care when viewing as the great outdoors can contain unexpected hazards and woodlands are no exception.
Feel free to phone first though.
Maps are : © Crown copyright and database rights 2021 OS Licence no.100057987
Our Maps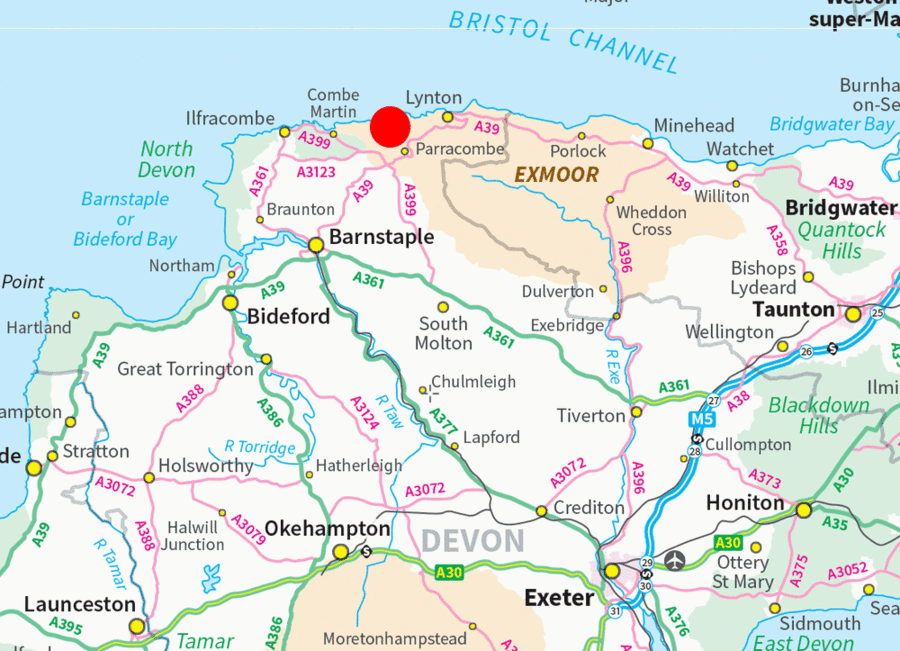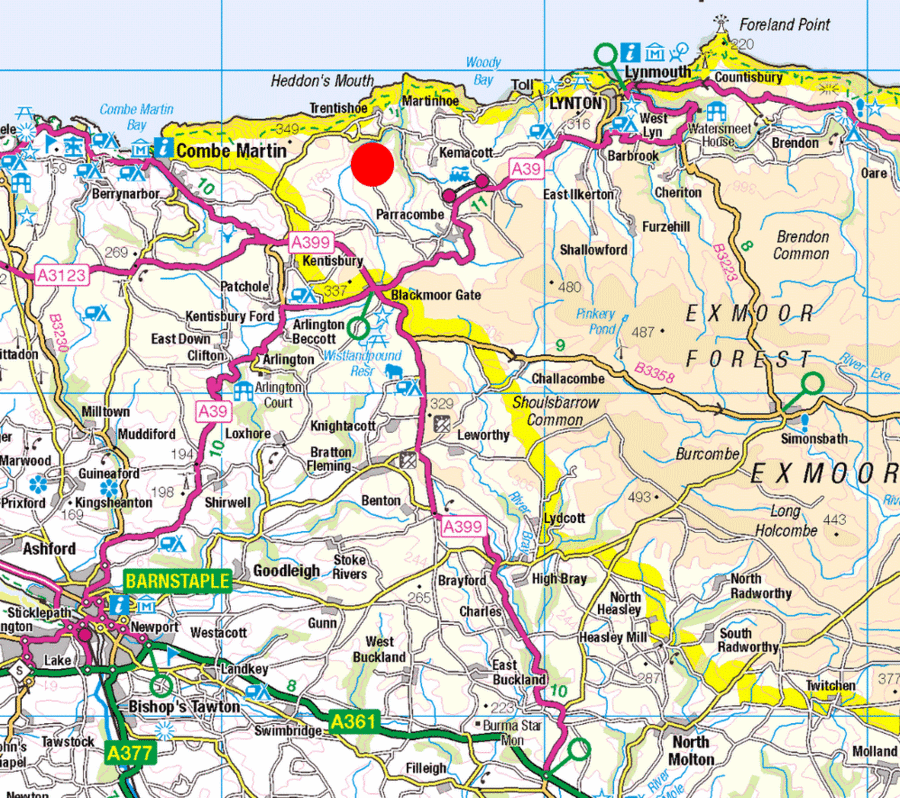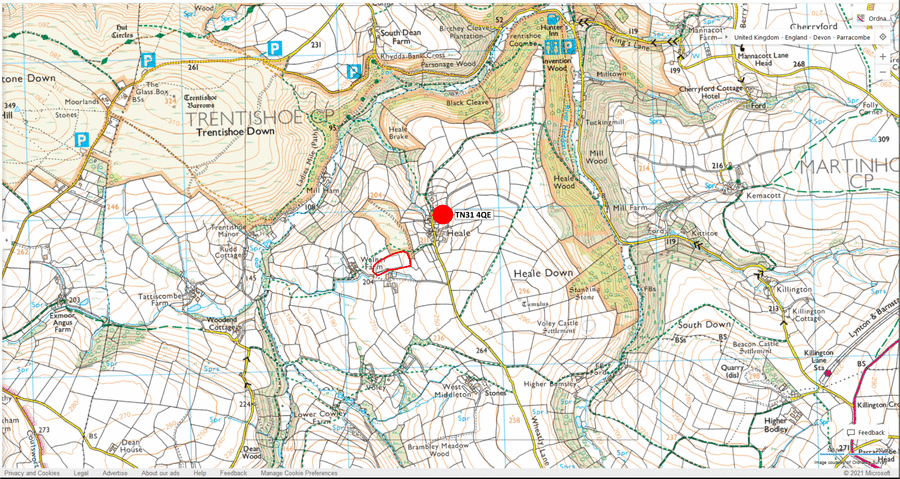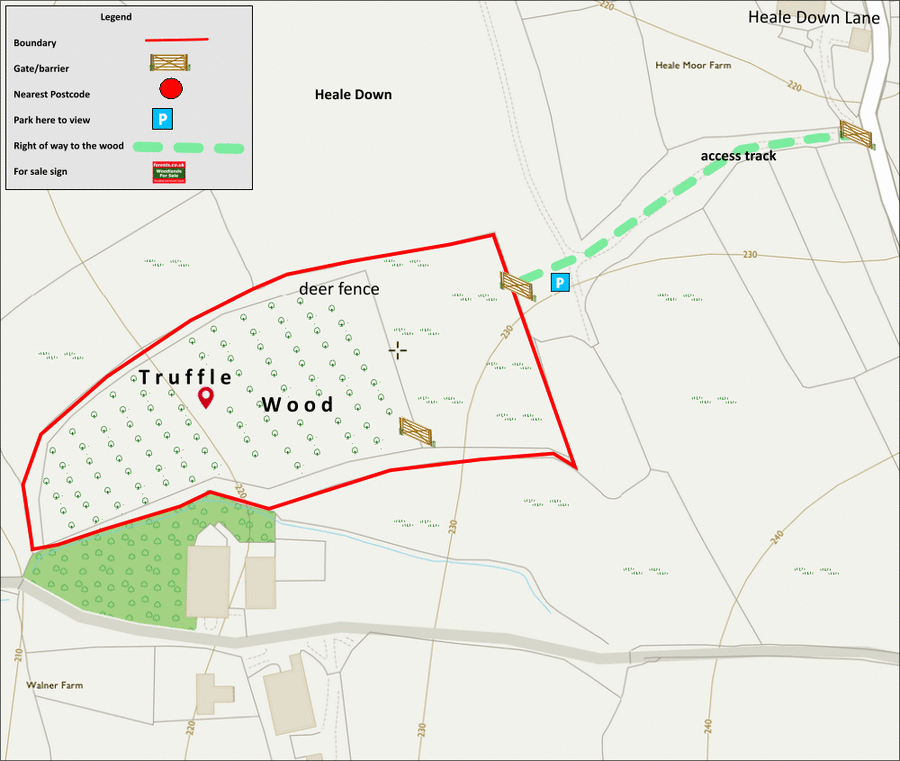 Directions
Truffle Wood at Heale, by Parracombe, is about 30 mins drive east of Ilfracombe, with Barnstaple about 30 mins to the south. Tiverton and the M5 is about an hour.
Click here for Bing Maps Directions  click on the Directions box, enter your own postcode (the wood coordinates are already entered) click Go. The route will take youthe track entrance on Heale Down Lane.  Open the gate, drive in and close, then drive up the track going striaght until gewtting to a second gate. Park here. The land is through this gate.
Enter the field first then the deer gate is on the leftahead.
Satnav: the postcode EX31 4QE  is for the point shown by the red dot on the location maps. Coordinates for satnav are:   N51.20409,W3.939825
Interested in this woodland? Get in touch with us:
Contact Ben Williamson on 07958 213 914 or email us at [email protected] with your details.