Far Wrighte Wood - Sold
Details for this wood
Guide price: £45,000 - Freehold
Size: About 3½ acres

Location: Gayhurst, Newport Pagnell, Bucks
OS Landranger: 152
Grid ref: SP 833 467
Nearest post code: MK16 8LQ
Contact: Richard Scholfield
Phone: 07811 818 277
Email: [email protected]
Email to a friend
Tucked away in the centre of a mixed woodland, Far Wrighte Wood offers seclusion and privacy. Conifers, including Corsican and Scots pine nurse the oak, bringing them up straight to produce good timber trees. The conifers can gradually be thinned to allow the oak to expand. A woodland to thoroughly enjoy as it develops and to influence its final structure. 
Gayhurst Hall, just along the road was occupied by George Wrighte, a beautiful Elizabethan stone mansion, a noble pile now converted to apartments.  The house was at the centre of a large estate, Gayhurst Wood, of which Far Wrighte Wood is part, was an integral part of that estate and is visible on the aerial photos link just to the south. 
Access:  A right of way along a forest track from the gated entrance off the lane, another track leads off the main route at a right angle down past Wrighte Wood.  
Boundaries: To the south there are two posts at either side of the wood marking a line with Wrighte Wood. At the north there is a high fence. To the east and west the track edge forms the boundary.
Our Maps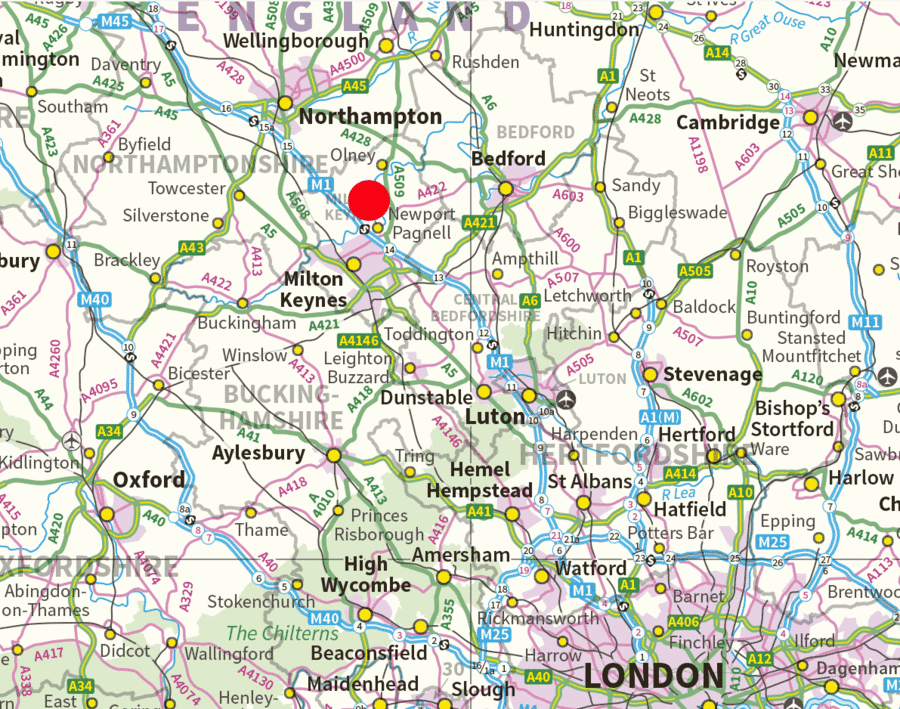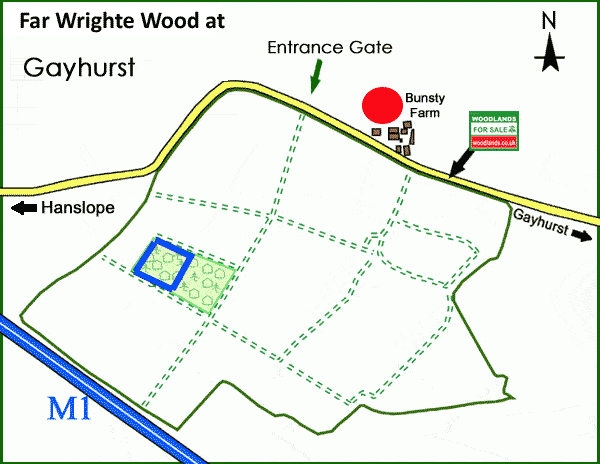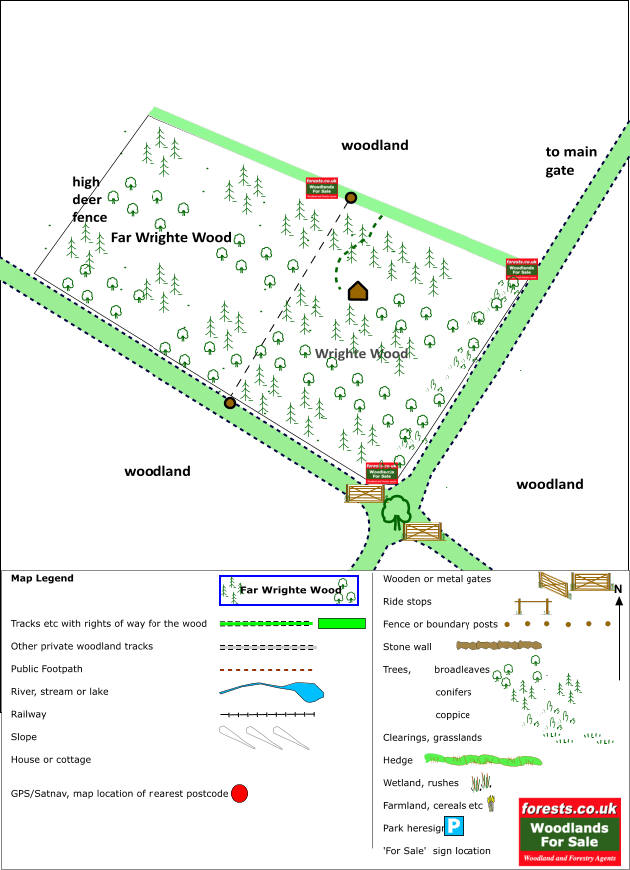 Directions
Far Wrighte Wood at Gayhurst lies just 4 mile north east of Newport Pagnell.
For Satnav: the nearest postcode is MK16 8LQ as shown by the red dot on the maps. Coordinates are for entrance & parking)  N52.116342  W0.779347
Click here for Bing Maps Directions enter your own postcode, (the coordinates for the main entrance gate is already entered) and click on the blue "Go" box. These directions can be printed out. These will take you to the parking inside the first gate.  
 From the M1, exit at junction 14 and head north towards Newport Pagnell on the A509.
Where this road meets the west-east running A422, continue straight over to pick up the B526
this will take you through Newport Pagnell and on past Tyringham into Gayhurst.
North of Gayhurst is a turning towards Tathall End & Hanslope. After a short distance you will pass Buntsy Farm on the right and soon after this on the left is the entrance gate to the woodland.
There is a combination lock on the first gate, please phone before viewing for the number. 
Go inside the first gate and park on the left. Please do not go through the second gate as this will either be locked closed or it may get closed and locked if you are inside!