Pennerley Wood - Sold
Details for this wood
Guide price: £45,000 - Freehold
Size: About 5 acres

Location: Stiperstones near Bishops Castle, Shrewsbury, Shropshire
OS Landranger: OS No 137
Grid ref: SO 353 973
Nearest post code: SY5 0NJ
Contact: Richard Scholfield
Phone: 07811 818 277
Email: [email protected]
Email to a friend
Description
Pennerley Wood is a mixed woodland with two very different areas.
One area is of mature Corsican pine, which is well spaced, providing easy access between the trees. Due to the thick coniferous canopy the woodland floor is sheltered from direct sunlight which prevents the growth of a lot of ground cover. This area would be useful as a base for woodland activities.
Raven, woodpecker, red kite and tawny owl are commonly found in this area.
The other area of Pennerley Wood is a thick, thriving, area of young broadleaf trees such as oak, silver birch, rowan, sycamore, holly and downy birch, which is all natural regeneration.
There are some natural openings in this area, which are carpeted with ground cover such as heather and bilberry. These could be used for camping, or as an area to monitor and observe the wildlife that can be found in this varied habitat, such as curlew, red grouse, skylark, meadow pipit, stone-chat, buzzard, pied flycatcher and wood warbler, many of which need this habitat to thrive.
Access to Pennerley Wood is along a good hard track.
A walk up Nipstone Rock will be well-rewarded with a view over Pennerley Wood and an appreciation of how beautiful this area is.
The woodland is situated within easy reach of Shrewsbury and the West Midlands, and is very close to the Stiperstones National Nature Reserve. Don't miss the The Stiperstones Inn,  just down the road, rightly famous for their whinberry (local name for bilberry)crumble!
A covenant, click here to download details, protects this and the neighbouring woodland.
Our Maps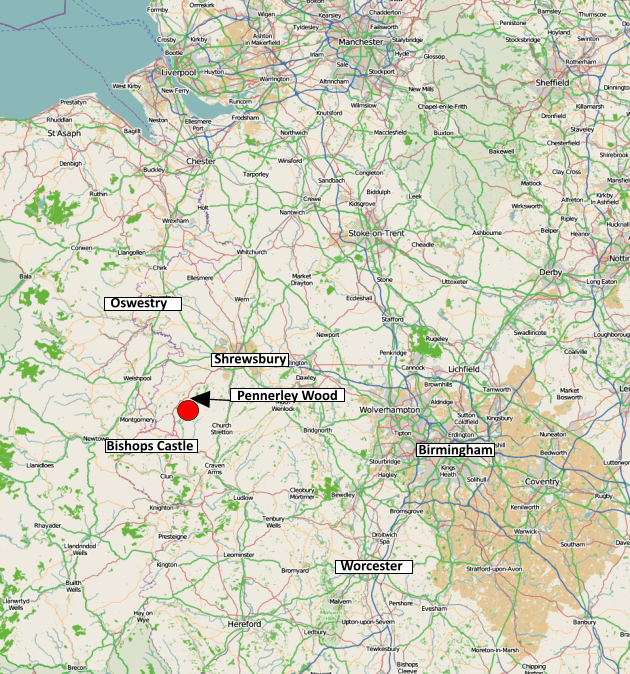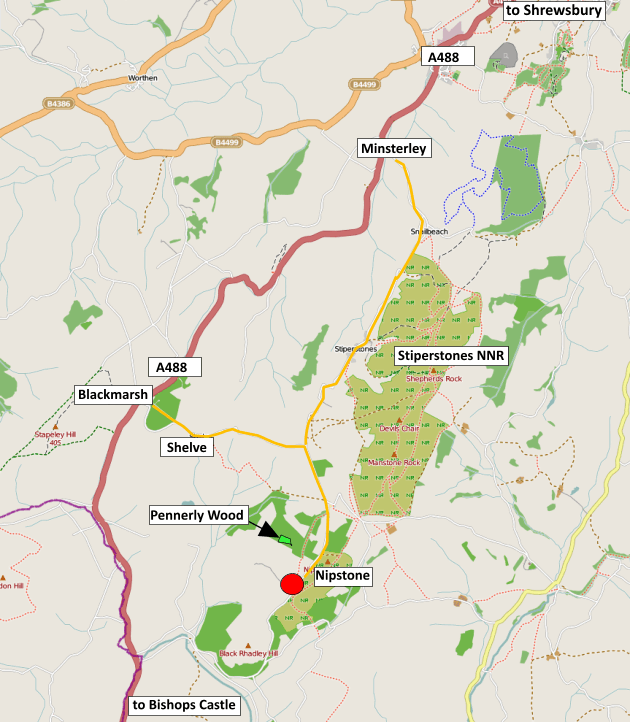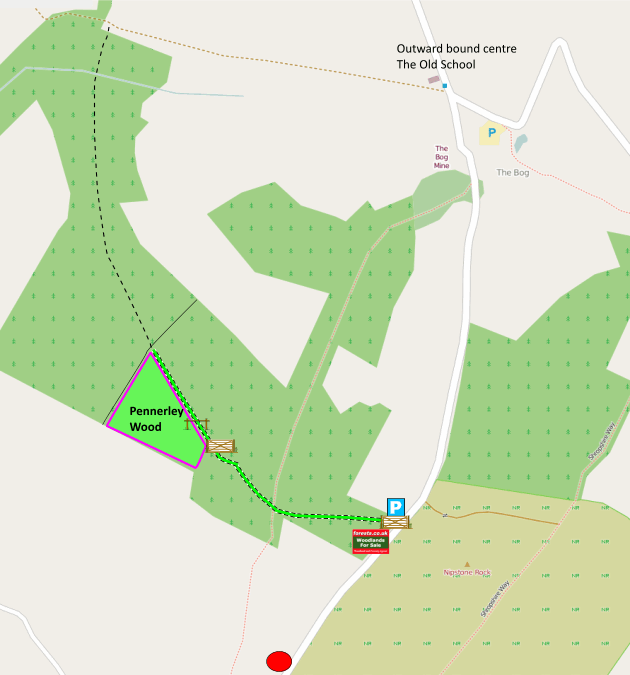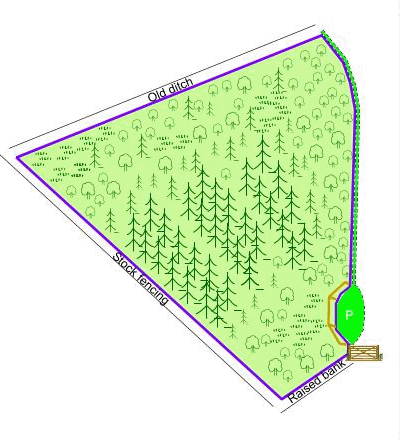 Directions
Pennerley Wood is about 20 miles south west of Shrewsbury off the A488 and about 8 miles north east of Bishops Castle.
Click here for Bing Maps Directions enter your own postcode, (the coordinates for the main entrance gates are already entered) and click on the blue "Go" box. T
For Satnav: the nearest postcode is SY5 0NJ as shown by the red dot on the maps.   These coordinates will get up to the gate. 52.567549, -2.952529
Travelling on the A488 from Bishop's Castle to Shrewsbury, turn right at Black Marsh, sign-posted "Shelve".
Follow this road until you reach a 'T' junction and turn right. After a further short drive you will see the outdoor pursuits centre (the old school, on the right).
Carry straight on until you see a 'For Sale' board on your right hand side.
Just before the sign there is a metal gate. Please park here (but don't block the gate) and walk along the woodland track. Follow the woodland track until you reach another metal gate. Just past the gate on your left hand side you will see the entrance to Pennerley Wood.