Windangel Wood, Warleigh
Details for this wood
Guide price: £60,000 - Freehold
Size: Over 4 acres

Location: Warleigh, Bath
OS Landranger: 172
Grid ref: ST 79218 649
Nearest post code: BA1 8EE
Contact: Richard Scholfield
Phone: 07811 818 277
Email: [email protected]
Email to a friend
Previously Silver Rock Wood.
Apart from the veteran trees, ash and sycamore regeneration of about thirty years of age makes up much of the woodland together with beech, cherry, horse chestnut, field maple, hazel, holly, hawthorn and yew.
The terrain is uneven but has a good flattish area beside an imposing rock formation of Bath stone (Jurassic Oolitic limestone) which makes for a very interesting landscape and provides an ideal camping area. This variable terrain is likely to have led to the diverse ground flora (at least 102 species have been recorded) which includes the luxuriant hart's tongue fern, dog's mercury, stinking iris, bluebells and ransoms. Even the elusive Bath asparagus has been spotted. Roe deer have been seen and the dormouse is believed to inhabit the area along with many species of bat including the rare Bechsteins bat. Seventeen different species of bird have been recorded including buzzard, chiffchaff, treecreeper and goldcrest. If you want your own area of woodland to study nature close up then this is the place for you. There are access points directly off the quiet Warleigh Lane including a padlocked gated entrance which will allow for off road parking . There are no public rights of way across the wood. Sporting rights are included.
To see a wildlife survey carried out in 2002 click here.
This entire area of woodland was originally owned and managed by Warleigh Manor the seat of the Skrine family from before 1400 until 1956 when Anne Dorothea Skrine died a spinster, aged 81. The present Warleigh Manor, which can be seen at certain times of year, was built to the design of the Staffordshire architect Neale Webb and completed in 1851. In 1986 the house was sold and converted for use as a residential school known as Warleigh School.
Covenants  There is a covenant on the wood designed to ensure the quiet and peaceful enjoyment of this and adjoining woodlands, click HERE to read and download.  And the land is covered by a development clause put in place by a previous owner. This means that if the new owner gets planning permission for a change of use before 2026 then half of the increase in value of the land that results is payable to that previous owner. Woodland management and enjoyment is not affected by this clause.
Full-scale   Click here  to download and print maps showing the location of Windangel Wood.
Click HERE to see free OS maps  scroll out for a wider view.
Viewing: You are welcome to visit this wood by yourself, but please ensure that you have a copy of these sales details with you - many of our woodlands do not have mobile phone reception or internet access so we recommend either printing the details or downloading them to your phone or tablet. Please take care when viewing as the great outdoors can contain unexpected hazards and woodlands are no exception.
If unsure about viewing the wood during lockdown please ask for our viewer's guide.
Maps are : © Crown copyright and database rights 2021 OS Licence no.100057987
Our Maps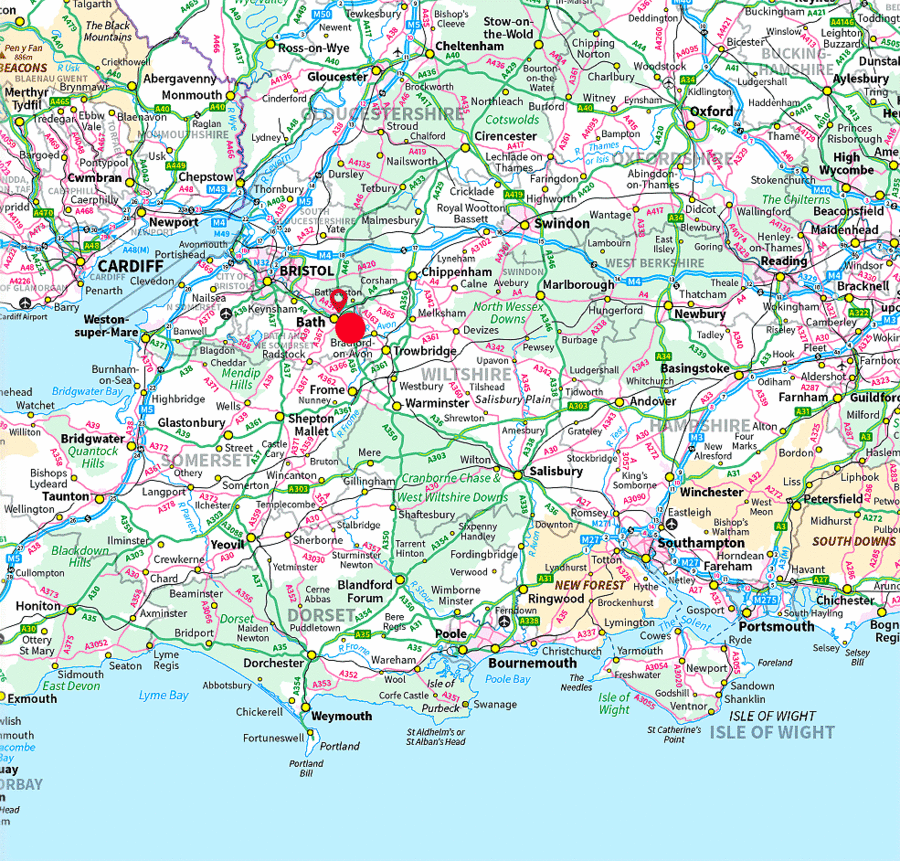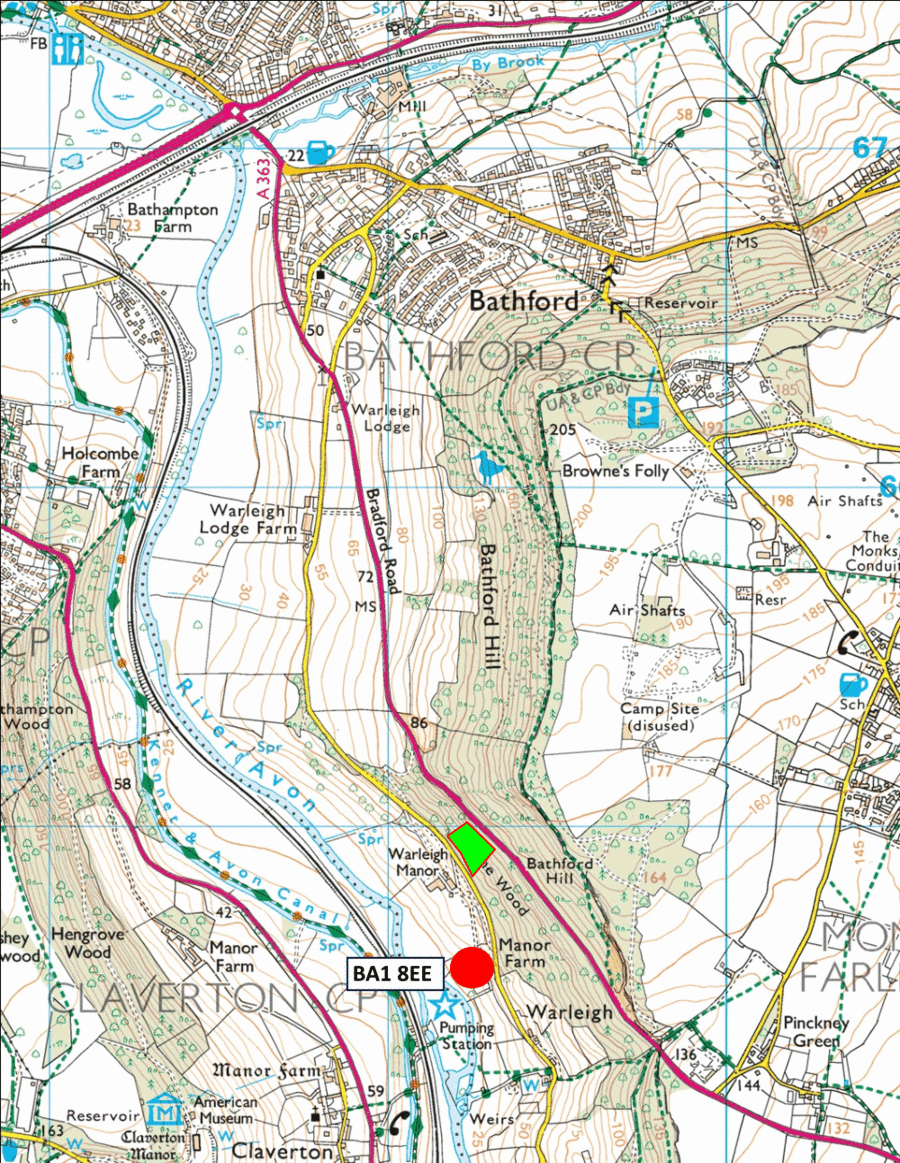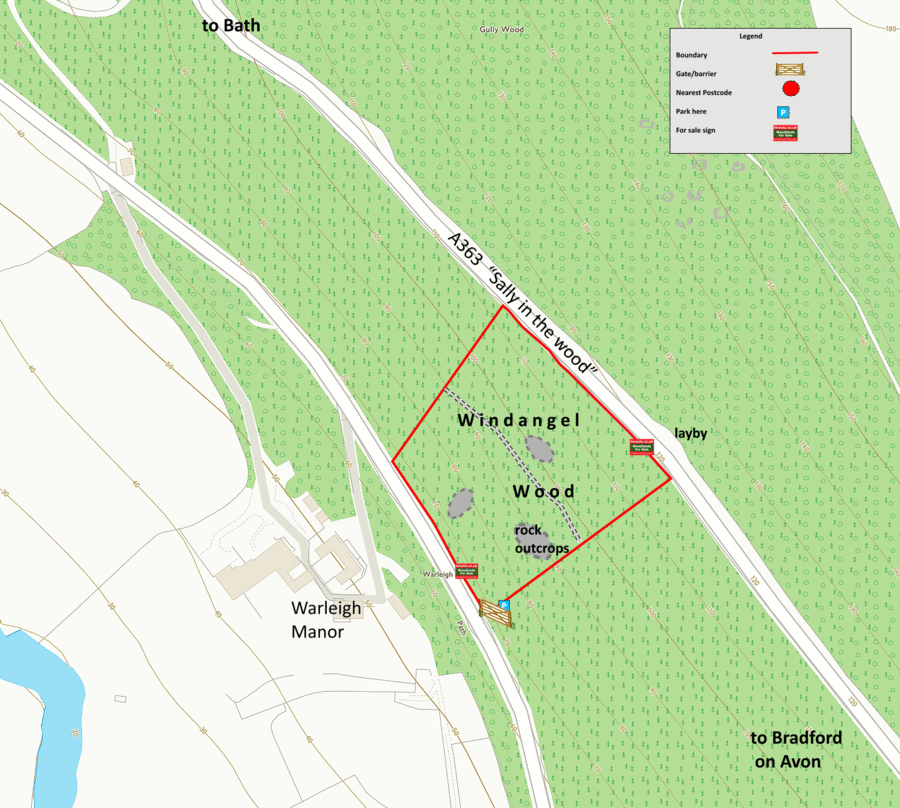 Directions
Windangel Wood is just east of Bath on the other side of the river Avon. By road about 20 mins, it is possible to walk from bath crossing the railway, canal and river.
Click here for Bing Maps Directions enter your own postcode, (the coordinates for the wood are already entered).  Park nearby and walk into the wood from the roadside.
For Satnav: the nearest postcode is BA1 8EE as shown by the red dot on the maps. 
Coordinates for your satnav are   51.38165,-2.29936
Interested in this woodland? Get in touch with us:
Contact Richard Scholfield on 07811 818 277 or email us at [email protected] with your details.