Boniface, Anselm, North and South Cranmer Woods
Details for this wood
Guide price: £80,000 - Freehold
Size: Four lots, between 8½ and 13 acres, in total about 42 acres

Location: Dunkirk, near Canterbury, Kent
OS Landranger: 179
Grid ref: TR 086 582
Nearest post code: ME13 9LN
Contact: Bob Liles
Phone: 07793 140 010
Email: [email protected]
Email to a friend
Four adjacent woods available as a whole or as separate lots from £80,000.  In total about 42 acres - as a whole £400,000    North Cranmer Wood, about 8½  acres - £80,000  /   South Cranmer Wood, about 10 acres - £100,000  /  Anselm Wood, about 10½  acres - £100,000   /   Boniface Wood, over 13 acres - £130,000  
Hidden away and yet it is easily accessible, there is access onto a quiet private woodland track leading directly to the A2. These are very diverse woodland with lots of character due to its situation and the varied range of tree species. There are many oak standards. The woods are packed with fauna and flora. Many bird and animal species including tawny owls have been found in the woods and buzzards have also been spotted circling overhead. Deer, fox, woodland mice and evidence of hedgehogs have been seen. Designated as ancient semi-natural ancient woodland (ASNW) these woods are part of eleven square miles of ancient woodland called "The Blean".
The forest canopy is oak, ash, sweet chestnut, hornbeam, willow, beech and birch. The understorey of hazel, hawthorn, holly and rowan helps provide a feeling of great privacy, for the campsites that have been created.
The ground slopes gently down to the south with a seasonal stream running through parts of the woods. There is a large amount of fallen and standing dead wood, enough for firewood and habitat piles, and good coppice possibilities.
Each season brings a new feel and something new to discover and in spring the abundance of spring flowers like bluebells, wood anemone, ferns, honeysuckle and primrose.
A  review of these woods  has been written by a qualified and experienced forestry professional. A tree preservation order (TPO) protects these woodlands but it does not limit normal woodland management where a Forestry Commission approved management plan is in place.
Access   From the main entrance gate there is a hard track with a full right of way for vehicles and people.
An archaeological survey highlights some interesting features of the area and is very near to one of Kent's finest Nature Reserves.
There is a covenant, click here to read, designed to ensure that all can have quiet and peaceful enjoyment of their woodlands.
Please note, none of these woods are suitable for residential development, other uses such as summer camping may well be suitable.
Viewing: You are welcome to visit this wood by yourself, but please ensure that you have a copy of these sales details with you - many of our woodlands do not have mobile phone reception or internet access so we recommend either printing the details or downloading them to your phone/tablet/laptop. Please take care when viewing as the great outdoors can contain unexpected hazards and woodlands are no exception.
Maps are : © Crown copyright and database rights 2020 OS Licence no.100057987
Our Maps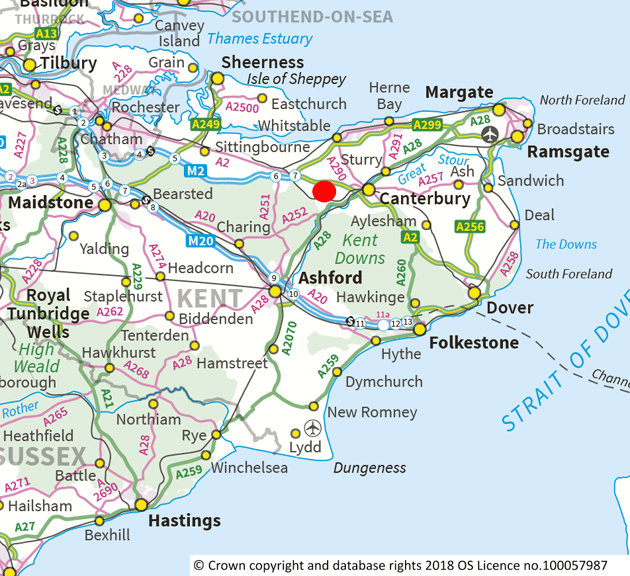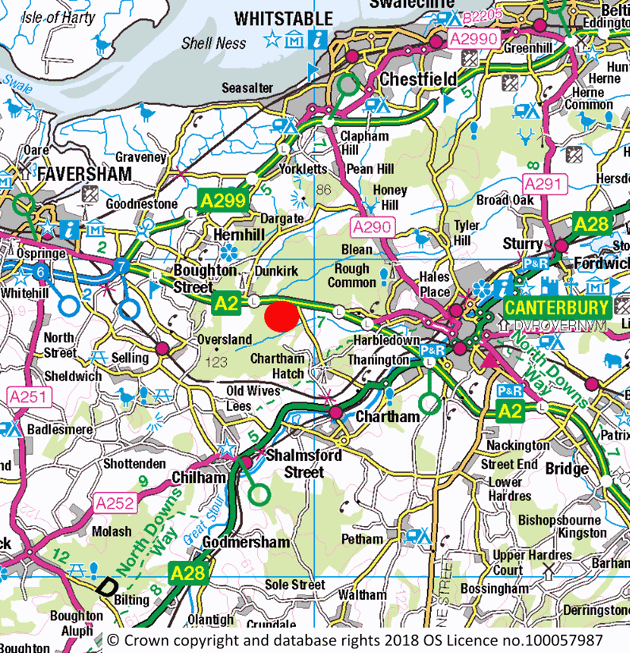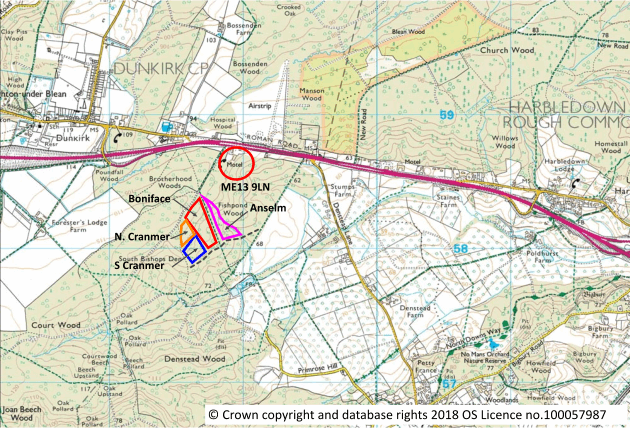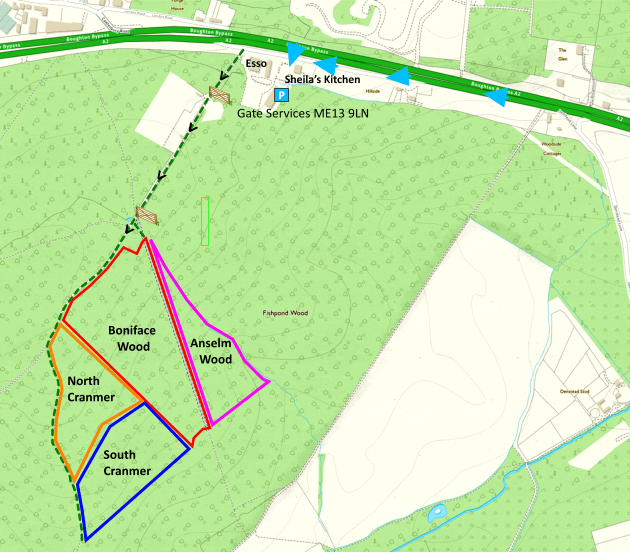 Directions
These woodlands are just 10 mins west of Canterbury, convenient for the A2 but far enough off the A2 to be quiet and secluded.
Click here for Bing Maps Directions enter your own postcode, parking location coordinates are already entered, and click on the "Directions" box. This will take you to Gate Services and Sheila's Kitchen where you can park.
Satnav: the postcode ME13 9LN is for the point shown by the red dot on the location maps, just south of London Lane. Coordinates for satnav are:  N51.289143, E0.994906
There is access directly off the A2 at 'Gate Services', which is only accessible to westbound traffic.
If approaching from the west, exit the A2 just after the services, at the Upper Harbledown/Chartham turning, and turn right over the A2, rejoining it westbound. Exit into Gate Services as coming from the east.
Then
there is parking at Sheila's Kitchen. Please park your vehicle here as you can only view the woodland on foot
walk just past the ESSO garage and turn left up the tarmac track which is a public footpath
after about 120 metres go past the metal field gate keeping to the left hand track (with caravan park on the right) that goes through to the woods
after a further 250 metres you will reach another metal gate and a 'woodlands for sale' sign
go around the gate
Anselm Wood is on the left, go further and Boniface Wood is next left. Continue ahead until reaching a track on the left, this is the far corner of N. Cranmer Wood.
walk down this track and S Cranmer Wood is on the left after the orange marker tape.
Interested in this woodland? Get in touch with us:
Contact Bob Liles on 07793 140 010 or use the form below