Boxers Wood at Netherne Hill
Details for this wood
Guide price: £120,000 - Freehold
Size: About 12 acres

Location: Netherne on the Hill near Coulsdon, Surrey
OS Landranger: 187
Grid ref: TQ 298 567
Nearest post code: CR5 1PT
Contact: Bob Liles
Phone: 07793 140 010
Email: [email protected]
Email to a friend
Boxers Wood sits on the of top and to the side of the Netherne plateau, part of the North Downs chalklands. Lime has been taken from the woods in the distance past the workings now forming an interesting hollow at the northern tip. The site is well-wooded with sycamore, birch, oak, ash, Scots pine and a few yew trees. Other areas are coppice and a wildlife haven. To the east the wood slopes down to meet the open fields where there are views across neighbouring farmland.
It's rare to find such a woodland inside the M25 and by open farmland. The village of Netherne-on-the-Hill is based on the old hospital buildings and grounds and is a much sort-after location; the village is surrounded by open countryside.
Bluebells abound here and are such a delight in spring and they do suggest it has been woodland for many generations. Most of the wood is designated as semi-natural ancient woodland. The open area to the west, the site of the old water treatment works and now removed, is perfect for woodland activities, camping, woodworking, siting a forest store (subject to relevant permissions), or even, for example, archery.
Access is directly off the public highway through the white painted field gate through which is the hard track suitable for vehicles. There is a public footpath pf by the eastern boundary and along the southside.
Full-scale maps  Click HERE to download and print a map showing the location of Boxers Wood.
Click HERE to see free OS maps  scroll in for closer view.
Maps are : © Crown copyright and database rights 2019 OS Licence no.100057987
Our Maps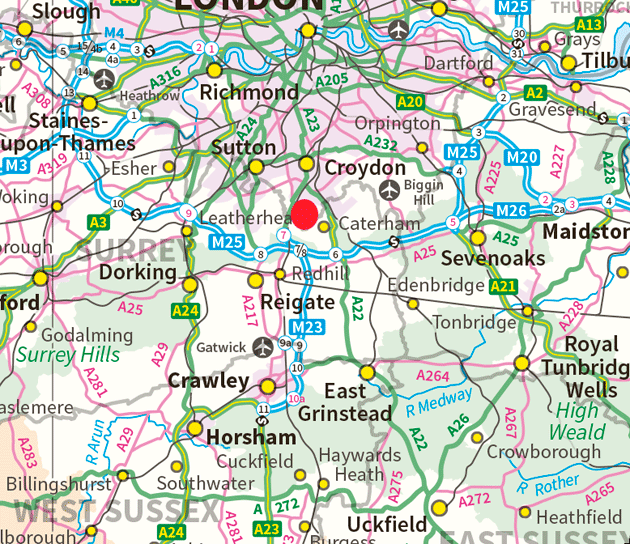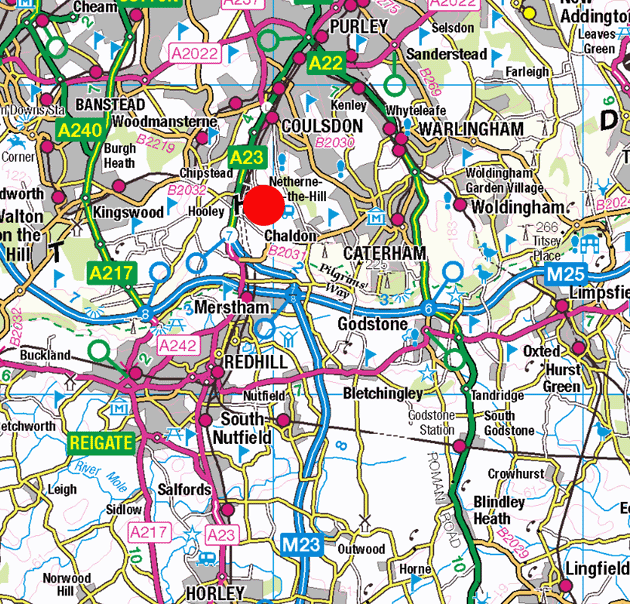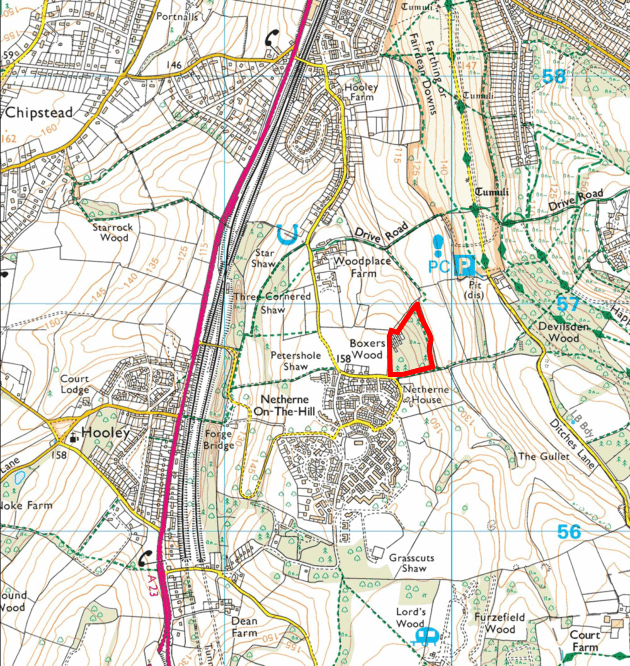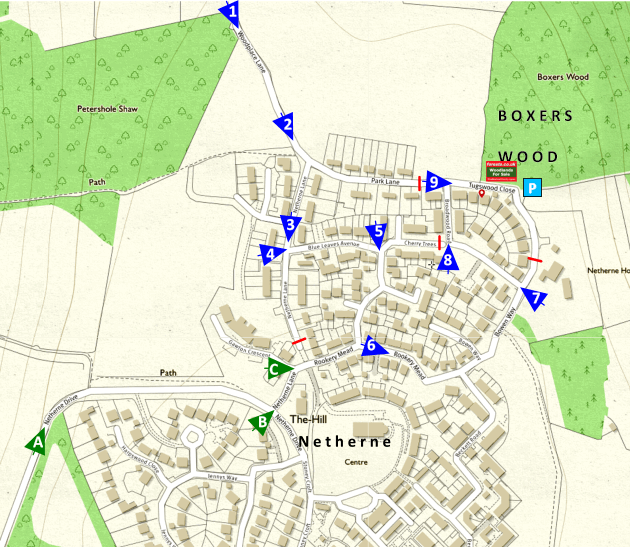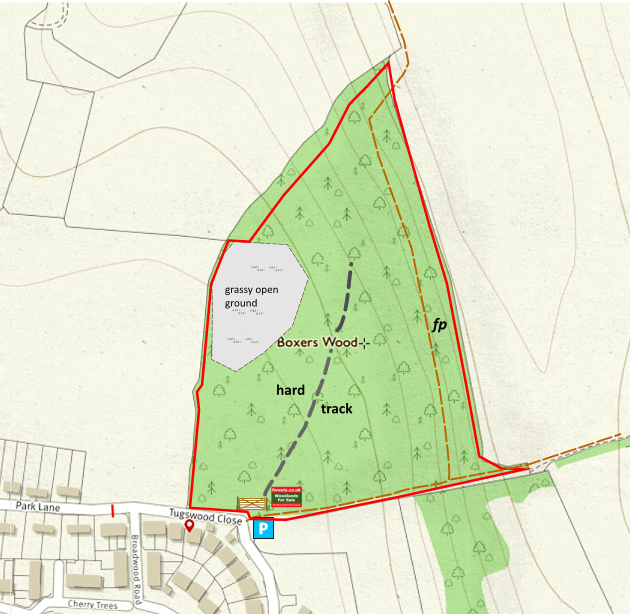 Directions
Boxers Wood is about a mile south of Coulsdon and 2 miles north of the M25 and M23.
Netherne-on-the-Hill is an ex hospital estate village, a much sort-after location.
Click here for Bing Maps Directions enter your own postcode and click on the "Go" box. This will take you to the point 6 on Rookery Mead from any direction. Follow our directions from here. Use these coordinates in your SAT NAV to get to the same place N51.292728, W0.142946
Use satnav to get to Woodplace Lane or Netherne Drive, then follow our directions using the map with blue/green arrows:
Woodlplace Lane then
take right into Netherne Lane
left into Blue Leaves Ave
right, still Blue Leaves Ave
left into Rookery Mead which runs into Bowen Way
left into Broadwood Road
right into Tugswood Close
Alternatively from Netherne Drive A
left into Rookery Mead B
right, Rookery Mead C then as 6 - 9 as above
Please park in front and right of the metal gate but leave room for walkers to the side.
The main gate, wooden and white, is locked so access the wood by walking down the footpath and entering the wood by walking along the footpath through the wood - see plans.
Interested in this woodland? Get in touch with us:
Contact Bob Liles on 07793 140 010 or use the form below