Brook Wood - Sold
Details for this wood
Guide price: £72,000 - Freehold
Size: About 7⅓ acres

Location: Kenardington, Kent
OS Landranger: 189
Grid ref: TQ 961 319
Nearest post code: TN26 2NF
Contact: Richard Scholfield
Phone: 07811 818 277
Email: [email protected]
Email to a friend
Description    Undoubtedly ancient woodland long before planting of Grand fir in the 1960's, Brook Wood is now considered to be a plantation on ancient woodland site. Most of the conifer was harvested following the storm of 1987 and now thanks to planting of broadleaved trees and much natural regeneration its status is more of a semi-natural ancient woodland. Strong presence of bluebells and other indicator plants show its conservation status is returning.
Along the south east side is a small seasonal stream, the centre forming the boundary here. In this part oak and hornbeam are mature and well spaced. Elsewhere in the woodland dense hornbeam has become established in which semi-mature oak, cherry and mountain ash are found. At this stage clearing round some of the oak to allow their canopy to spread and opening up clearings would greatly benefit the wood for wildlife. As part of a much larger woodland, wildlife such as the nightingale are attracted into Brook Wood. There is a public footpath running diagonally through the wood.
The pond in the southern part, at present seasonal, could be cleaned and bunded and made suitable for fish in a permanent body of water.
Boundaries  To the west the pathside, north the trackside, east there's a fence and then follows the centre of the stream. The south is unmarked by runs between the mauve marks at either end.
Full-scale maps  Click HERE to download and print a map showing the location of Brook Wood.
Our Maps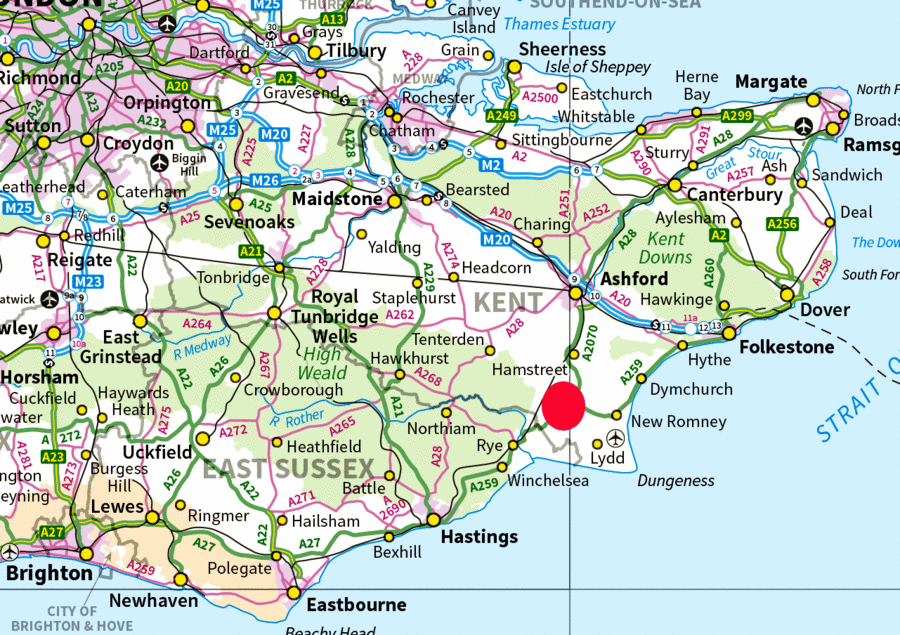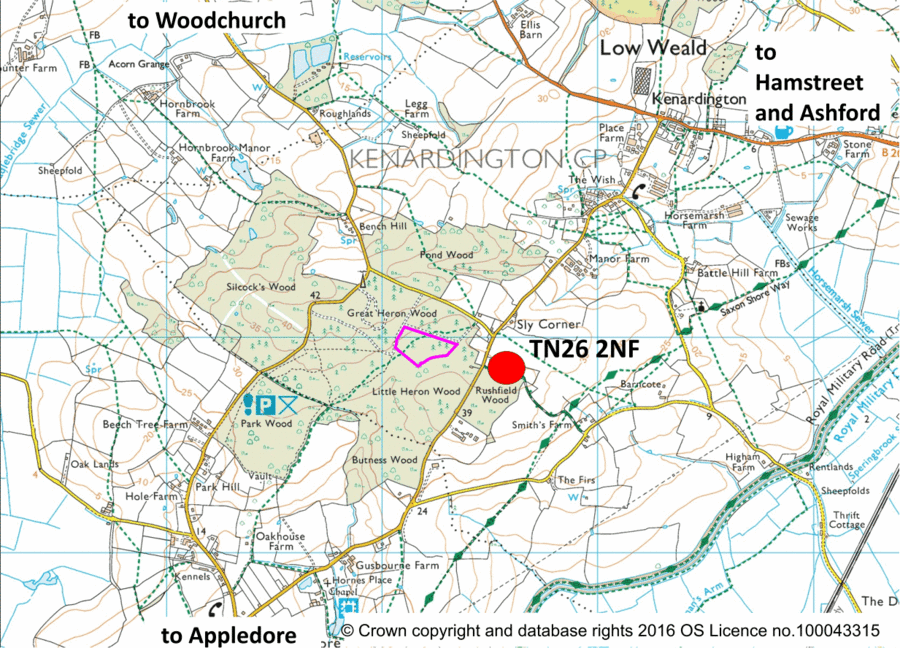 Directions
Brook Wood is about 10 miles south of Ashford and 6 miles east of Tenterden, between Kenardington and Appledore, in the south of Kent.
Click here for Bing Maps Directions enter your own postcode, parking location coordinates are already entered, and click on the "Directions" box. This will take you to very near the entrance to the track down to Brook Wood. Use these coordinates in your SAT NAV to get to the same place. N51.055539, E0.798740
Using the nearest postcode TN26 2NF will take you to the red spot shown on the location maps.
Sly Lane is narrow but there is room to park on the verge opposite, climb the galvanised metal gate and walk down the track until you reach the corner of Brook Wood.