Forge Wood
Details for this wood
Guide price: £120,000 - Freehold
Size: Over 14 acres

Location: Staplecross, East Sussex
OS Landranger: 199
Grid ref: TQ 778 225
Nearest post code: TN32 5QE
Contact: Bob Liles
Phone: 07793 140 010
Email: [email protected]
Email to a friend
Principally an ancient woodland on which Sitka spruce was planted in about 1960 and is now considered to be a plantation on ancient woodland (PAWS). Many of the woodland flowers are here, wide areas of bluebells, wood sorrel and wood anemone. Oak, ash, cherry, chestnut and birch were planted at the same time and although smaller at present are the future for this woodland.  
A gently sloping site in a well-wooded area of low hills, small fields and valleys; a beautiful landscape of the High Weald area of outstanding natural beauty, (AONB). There are plently of clear areas so the wood is easy to walk through and has many suitable spaces for wood craft activities or camping, or camp fires.
For anyone who interested in the sporting aspects the wood is cleared by Sussex Police for calibres up to .357 magnum to be used from the floor, and for .308 from high seats.
Please note, none of these woods are suitable for residential development, other uses such as private summer camping may well be suitable.
Access:  is off  Forge Lane, a public highway,  then along a private track where there is a full right of way. This is in 3 sections from the intersection with Forge Lane through a metal gate then alongside the meadow to another metal gate A-B. Beyond this gate there is a red gate into the wood B-C.  In addition there is a right of way along the top of Forge Wood, again through a metal gate to a wooden field gate at D.  Keys will be provided for the varous gates which are normally locked.
Viewing: You are welcome to visit this wood by yourself, but please ensure that you have a copy of these sales details with you - many of our woodlands do not have mobile phone reception or internet access so we recommend either printing the details or downloading them to your phone/tablet/laptop. Please take care when viewing as the great outdoors can contain unexpected hazards and woodlands are no exception.
CLICK HERE  for better quality maps to print out.
Our Maps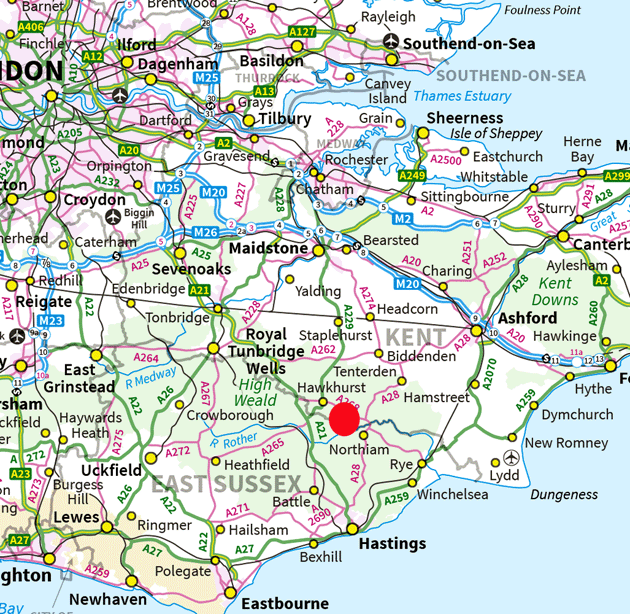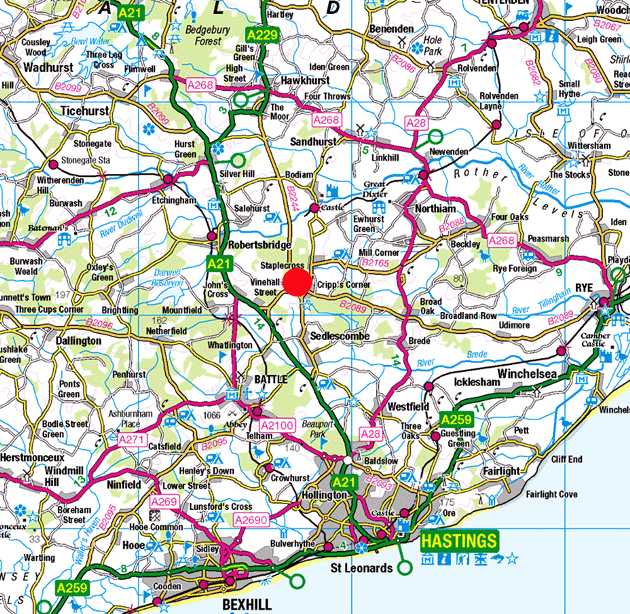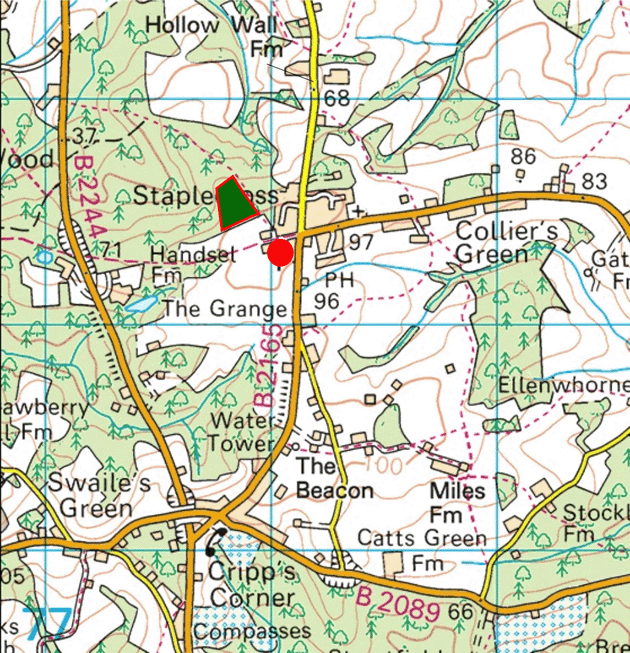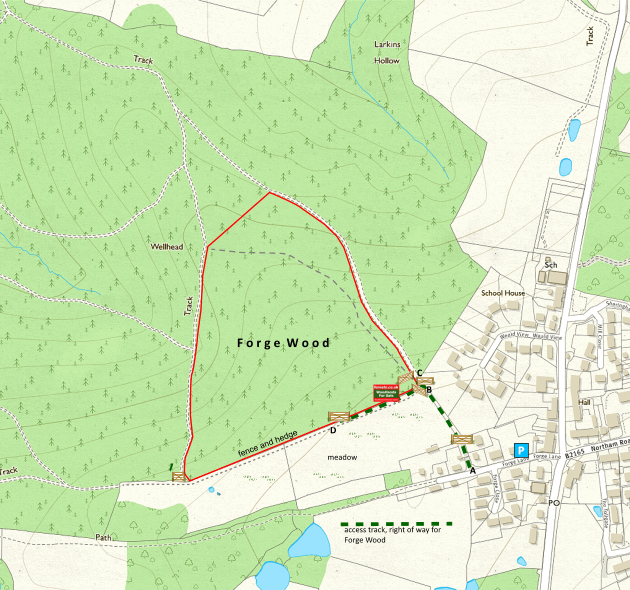 Directions
Forge Wood is just west of Staplecross in East Sussex. It's about 20 mins north of Hastings and about ½ hr south of Tunbridge Wells.
Click here for Bing Maps Directions enter your own postcode and click on the "Go" box. This will take you to Forge Lane.
Use these coordinates in your SAT NAV to get to the same place  N50.973509, E0.535062 
Nearest postcode is TN32 5QE as sown on the location maps.
Please park in Forge Lane
continue along Forge Lane on foot, take the first right turn
there is a metal gate ahead with a small people gate to one side
go through this walk down the track
Forge Wood is ahead and to the left
go through the next people gate and walk to one side of the red gate (on the left) into the wood.
Interested in this woodland? Get in touch with us:
Contact Bob Liles on 07793 140 010 or use the form below